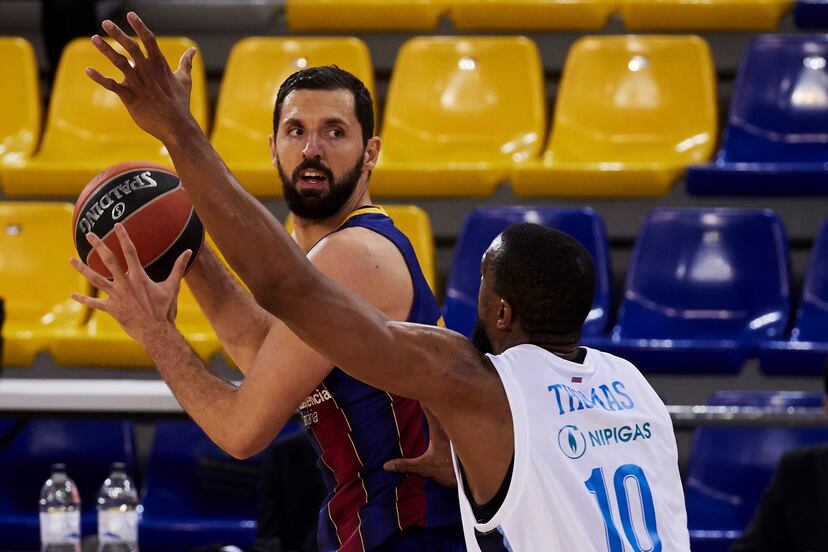 Kevin Pangos was about to leave Barça on the ropes at the Palau last week. But the Canadian point guard Zenit's shot at the end of the second game of the tight and close quarter-final tie crashed at the basket. In extra time, a steal from Hanga to Pangos himself meant that the surprise was not even greater. The 1-1, already unexpected in itself, demands that Barça, first classified in the regular phase, win at least one of the matches that await them this Wednesday (19.00, DAZN) and Friday in Saint Petersburg. The eighth classified in the competition has never managed to qualify for the Final Four, but the threat from the Russian team is very latent due to what happened at the Palau Blaugrana.
Xavi Pascual, the coach who faces the team in which he marked an era from 2008 to 2016, maintains the most cautious thesis despite the fact that Zenit won the first match (74-76) and caressed the 0-2 in the tie in the second (81-78 after extra time): "It is still almost impossible to win three games against this Barça. They are bigger and stronger in almost every position. Not being on the ropes after seeing themselves almost two down will have given them a boost ".
The rhythm of the game, very regulated and efficient, of Zenit, with many shots at the end of possession, chokes Barça. Mirotic's performance expresses the lack of fluidity in the Barça game. He averaged 9 points and 3 rebounds in the first two games, far from the 17 points and 6.3 rebounds on average in the 26 he played in the regular season. Calathes and Abrines were equally well below their usual performance. The fluidity of Barça's attack disappeared before the Zenit defense. Davies, Higgins and Hanga's specific actions formed the response to Pangos' excellent form moment, with 21 points and 6 assists on average, Will Thomas's effectiveness, with an average of 14.5 points, and the contribution of his compatriots Rivers, Hollins, Baron and Poythress.
Jasikevicius rested Mirotic, Higgins, Davies and Calathes in the league match against Andorra on Sunday. In Zenit, the Lithuanian center Arturas Gudaitis is doubtful, who was already out in the second game due to a sprained ankle. Polish forward Mateusz Ponitka, who was unable to play at the Palau, is still injured. Barça's objective is to overcome the tie to return to a Final Four for the first time since 2014. Fans will be able to attend the match in the stands of the Sibur Arena in Saint Petersburg, which was attended by 3,532 spectators in the last match of the regular phase against Maccabi.
You can follow SPORTS in Facebook Y Twitter, or sign up here to receive our weekly newsletter.