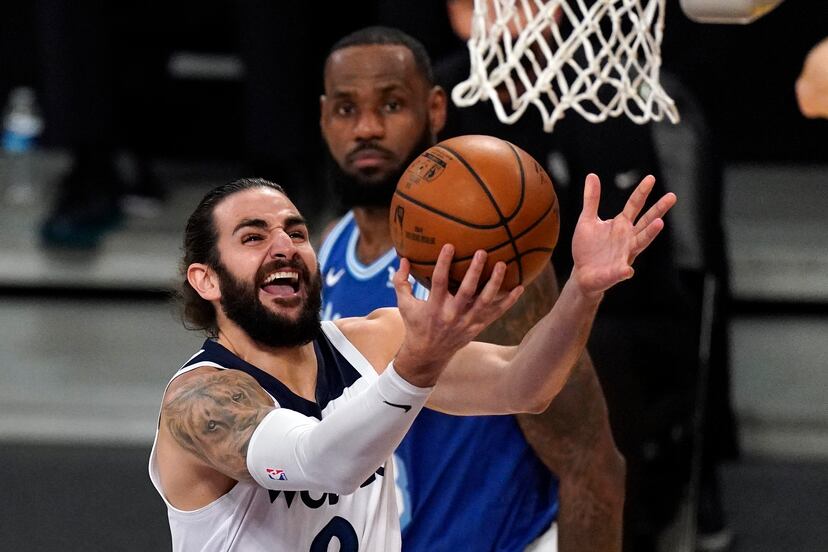 The players of the national team who won the 2019 World Cup in China and relived the ecstasy of Spanish basketball that was the success in 2006, are going through the worst moments of their long careers. The nucleus of that selection was made up, depending on the minutes played, Marc Gasol (228), Rudy Fernández (216), Ricky Rubio (210), Víctor Claver (209), Sergio Lull (193), Juancho Hernangómez (184) and, further afield, Pau Ribas (139), Willy Hernangómez (103) and Pierre Oriola (103). The restlessness increases as the appointment of the Olympic Games approaches. Spain will debut on July 26 against Japan. And it is expected that Pau Gasol will join the team again, who has not competed for two years and this Thursday he was introduced as a Barça player.
"I cannot say that this situation is not worrying. On the one hand it is something natural, considering that the age of the players who won the World Cup is increasing. And there are also particular circumstances. Each case is different. Victor has been injured; Rudy and Llull too. Which does not mean that this is not also a symptom that the years are passing by ", says coach Sergio Scariolo.
Ricky Rubio, the 2019 World Cup MVP, started the season badly. He himself claimed that he did not recognize himself in his game. The 30-year-old point guard has improved in recent games with Minnesota. Despite this, his averages, 8.6 points, 3.1 rebounds and 6.8 assists, are the worst of his nine NBA seasons in almost every section.
Marc Gasol, 36, fundamental in the Spanish success in the last World Cup, had already changed his role in the NBA when he signed for the Toronto Raptors in February 2019. The decrease in his numbers extended to all sections, but this campaign , already in the Lakers, is even more pronounced, with an average of 20 minutes, 4.8 points, 4.1 rebounds and 2 assists. In addition, he has suffered physical problems, has been in quarantine for covid-19 and has not played since February 28.
Rudy Fernández turns 36 next week. The Real Madrid forward, with physical problems, averages 12 minutes, the worst average since his debut with Joventut, in 2003, and 6.2 points, his second worst mark. Sergio Llull, 33, signs the worst average rating in the last two years since he began to have minutes in the League, in his third season with Real Madrid, 2008-2009. This exercise has a PIR of 8 and 1.9 assists compared to a PIR of 11.5 and 3.3 assists in his career.
"We have to accept everything and at the same time be very smart to get the input and the contribution of these players," says Scariolo. "We are always talking about quality versus quantity. The quantity has to go down, obviously, but the quality, efficiency and value of the contribution in smaller quantities can continue to be received and used. On the other hand, and we have been doing this for years, we must gradually plan a gradual emission of new forces. We have pretty clear ideas about what will come next. "
The season is also difficult for Juancho Hernangómez. The last one, after moving from Denver to Minnesota in February 2020, offered the measure of his possibilities. He started the last 14 games and averaged almost 30 minutes, 13 points, 7.3 rebounds and 1.3 assists. But now, with problems due to lack of continuity, he has missed almost half of his team's games, has only started six, and averages 6.6 points and 4.2 rebounds.
His brother Willy signed for New Orleans in November and it has cost him coach Stan Van Gundy to give him minutes. He spent the first 18 games inactive. Starting in February, he began to enter the rotations. He left his mark in some games, with 14 points and 10 rebounds in the victory against Houston and 11 points and 17 rebounds in the loss against Portland, but his averages remain discreet: 16 minutes, 6.3 points, 6.2 rebounds and 1 , 2 assists.
Scariolo points out that collective performance in the national team is usually better than the mere sum of individual performance. "The magic of our team is that it has been able to achieve a collective performance almost always higher than the hypothetical and virtual sum of individual contributions. It really is not magic, but the sum of important factors: the commitment of the players, the ability to bring to the team a feeling of exactly that, of a team, that transcends individual benefits, a consolidation in a game system, of work , of coexistence that has been working well for years and that is changing, adjusting, improving, with the tranquility and confidence that they have been successful. It is a sum of factors that make it possible to limit a hypothetical individual drop in the efficiency of some players ", says the coach.
You can follow SPORTS in Facebook Y Twitter, or sign up here to receive our weekly newsletter.