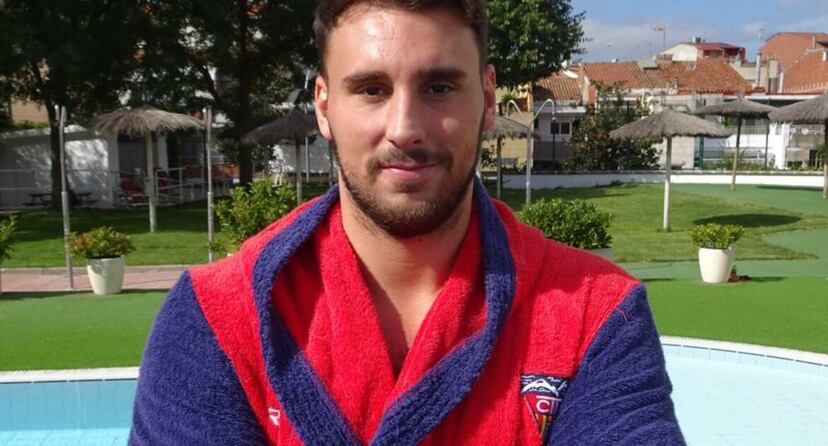 Víctor Gutiérrez has already said enough to homophobic insults. The Club Natación Terrassa player has denounced that the Serbian player of the Club Natación Sabadell Nemanja Ubovic called him a fag during the water polo league match that faced them on Saturday.
Gutiérrez, who in May 2016 became the first elite team sports player to publicize his homosexuality, affirms that at the moment when Ubovic insulted him during the duel, he did not give it importance. "At 200 beats, we can all say things we don't think," he says. But at the end of the meeting, annoyed, he did not greet Ubovic and he repeated the insult. At first, Gutiérrez did not want to give Ubovic's name to avoid pointing out him publicly and not being harassed on the networks. But when he did not receive any kind of apology, he revealed the name of the CN Sabadell player.
Gutiérrez (Madrid, 30 years old) plays in the position of buoy and has been international with the Spanish team on numerous occasions. At the end of the match, he explained to the referees what had happened, but they replied that, having not heard the insult, they could not do anything. The Spanish Swimming Federation will be the one to decide whether to adopt any type of sanction or measure. The RFEN tweeted this Sunday a statement in which "it expresses its total rejection and zero tolerance of any insult, humiliation or homophobia that any athlete may suffer in any situation." "It would make me very angry if the Federation looked the other way and did not take action on the matter," says the Terrassa player. "These behaviors are not in line with the ideals of sport and coexistence in Spain."
Gutiérrez assures that, for him, "fag" is not an insult and that he is very proud of who he is, but that he has publicly denounced the incident due to the "anger" and "impotence" that he feels when noting that some people try to belittle him. others because of their sexual condition. And he regrets that there is no fear of this type of behavior "because nothing ever happens." He explains that similar cases occur in schools and in lower categories and go unpunished.
"I do a disservice to my ideals and to the world of sport if I keep these things quiet. I am an elite athlete and it has happened to me several times, "says Gutiérrez in a video broadcast through his Instagram account. "I am proud of who I am and everyone should feel that way: it is not worth living behind a mask or being ashamed of who we are," he continues in an intervention in which he breaks into tears in a couple of moments. "They are tears of rage, that people are still trying to attack and harm people out there. And tears of helplessness because I know that absolutely nothing is going to happen. I know sport is that pitiful with this kind of behavior. If I can help change things a little bit, I want to give it a try. I'm not going to shut up because it would do a disservice to all my ideals and what I think ".
CN Terrassa has released a statement in which it expresses its "total support" for its player and its rejection of "any sign of homophobia" in the world of sport. The CN Sabadell has also expressed itself in a similar way, condemning any attitude that attempts "against the values ​​of respect, tolerance and equality." The mayor of Terrassa, Jordi Ballart, has stated that he considers this episode of homophobia "intolerable".
You can follow SPORTS in Facebook Y Twitter, or sign up here to receive our weekly newsletter.