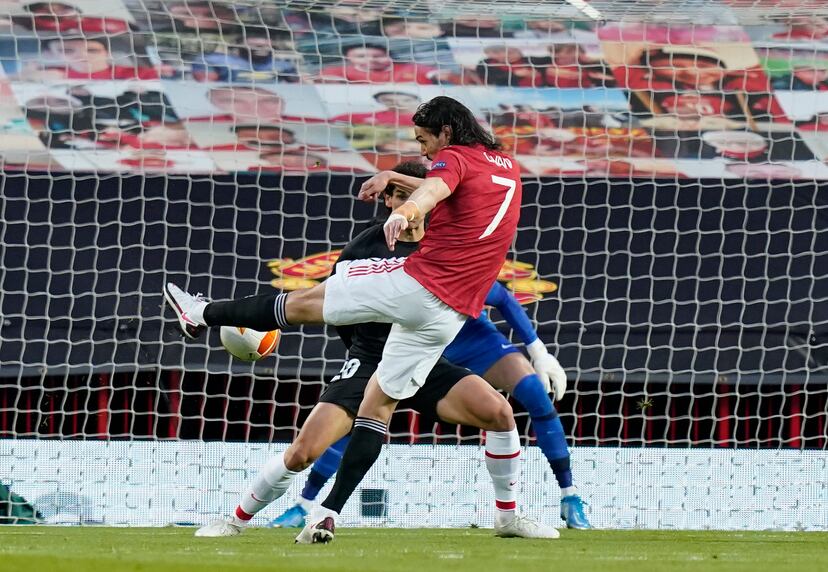 Granada's great trip in the Europa League is over. In its debut in the competition, the Andalusian team reached the quarterfinals of the tournament, to fall before a historic one like United after leaving very beautiful passages in this beautiful adventure, such as the victory against PSV or the elimination of Naples, which speak well of the fantastic journey of Diego Martínez and his disciples through continental football. At Old Trafford, Granada could do nothing against a superior rival, who dominated at will and decided very early, with Cavani's goal in the sixth minute. Any hint of a comeback was a mirage.
There is so much difference between the two teams that the footballer who scored to break the allure of a possible comeback scored his 50th goal in European competitions. Cavani became the first Uruguayan player to reach that figure while Granada, a rookie, has scored 12 in this Europa League. The greatness of football and the moving effort of the Granada squad have led to a historic quarter-final tie, but one in which Granada could hardly dream of. He had the pleasure of playing at Old Trafford, without a doubt, although with little chance of achieving the miracle of coming back from 0-2 in the first leg. It was a worthy Granada in its 50th game in this strenuous season, but in which it was noticed that footballers like Germán, Vallejo, Montoro or Gonalons were too big for the company of knocking down a giant of European football, which, moreover, only he has a chance to win a title this year in the Europa League. A United, in addition, with numerous losses due to suspension, in the case of Maguire or Mctominay, and that allowed the luxury of leaving Rashford on the bench.
Granada's main mistake was, without a doubt, conceding a goal at six minutes too easily by their defensive players. If it was difficult for Germán to anticipate Pogba's movement, Vallejo had to go out to cover Cavani's auction and chose instead to act as a statue. Any hint of rebellion was buried by the Uruguayan goal, who put in the tie a 3-0 in favor of the English that already weighed like a stone. The match plan devised by Diego Martínez, who expected a longer match, was probably also fused.
The only player who did rebel against United's dominance was Herrera. Perhaps for belonging to City and being very motivated on his return to Manchester. Perhaps, also, because he is a great footballer, who, for example, has a great facility for the head shot in his incorporations to the area. Herrera finished off up to three times on the goal defended by De Gea, who has lost ownership in the English league games and is now playing in the Europa League. The clearest occasion was a shot from the Venezuelan at 20 minutes which was very close to being a draw. United barely struggled, except for Pogba's determination to loosen his arms with each dribble, which could cost him an expulsion. It was not like that and Granada's situation became more complicated. Gonalons was injured and Jorge Molina entered. Curiously, the change, very offensive, did not translate into more arrival of Granada to the area of ​​a United that lived with absolute comfort.
The match fell asleep in the second half. Solskjaer avoided any complications by taking the admonished Pogba off the field and bringing in Van de Beek, one of those Dutch footballers for whom a millionaire is paid most of the time without deserving it. Mata played a few minutes as the English captain and De Gea saved Machís's draw just before Vallejo, in the last minute, made it 2-0 at his own goal. Thus, in a somewhat sad way, the farewell to Granada was consummated, which lacked much bite to overcome the giant in front of it.
You can follow SPORTS in Facebook Y Twitter, or sign up here to receive our weekly newsletter.