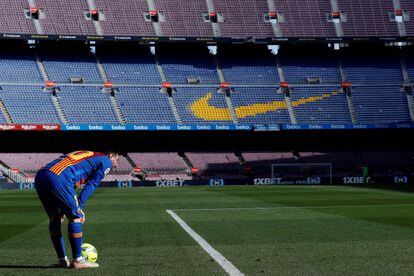 The central government approved this Wednesday the return of fans to the First and Second Division football stadiums, and to the ACB basketball pavilions. This was announced by the Minister of Culture and Sports, José Manuel Rodríguez Uribes, and the Minister of Health, Carolina Darias, after the meeting of the Interterritorial Health Council. The measure will be applied in the last two days of the League (May 16 and 23), in the four finals of the silver category plus the playoff promotion, and in the last two days of the ACB plus the qualifying rounds for the title.
It won't be either way. Everything will be governed according to a protocol. In fact, according to Rodríguez Uribes, the opening will apply only "to the territories that are in phase 1 of the pandemic." This means that, with the current incidence data, on Sunday's matchday fans will be able to access Primera in Valencia-Eibar and Villarreal-Sevilla. For the last day, in Elche-Athletic, Levante-Cádiz and Celta-Betis.
In football, up to 30% capacity will be allowed, with a ceiling of 5,000 people. Smoking and eating will be prohibited, and the arrival of people will be done in a staggered manner and by sectors, under the supervision of security members. Only drinking water will be allowed. Spectators must wear a FPP2 mask and their temperature will be taken at the entrance to the venues.
With this, the teams intend to gradually recover spaces of normality. The tax collection effort, with numbers of fans still low, is scarce. This was an old claim by the clubs, which tried several times since the competition returned after the confinement of a year ago, but they were always met with the refusal of the Executive. The last time, just ten days ago. Now the authorities have agreed to allow the public to return to the fields.
The stadiums of the First and Second Division of football, and the pavilions of the ACB are practically the only sports venues forbidden to spectators. In the Copa del Rey, for example, in which teams from Segunda B and below also participate, fans have already entered as long as the autonomous communities allow it. And the same has been happening in other tournaments and sports, such as the Women's Soccer Champions League (Barça was able to put 1,000 people a few days ago in the second leg of the semifinals against PSG), the Women's Basketball League or handball, which did not They are considered a professional in Spain.
Sunday May 16 (18.30)
Alaves-Granada
Athletic-Real Madrid
Athletic-Osasuna
Barcelona-Celta
Betis-Huesca
Getafe-Levante
Cadiz-Elche
Real Sociedad-Valladolid
Valencia-Eibar
Villarreal-Seville
Sunday May 23 (18.00)