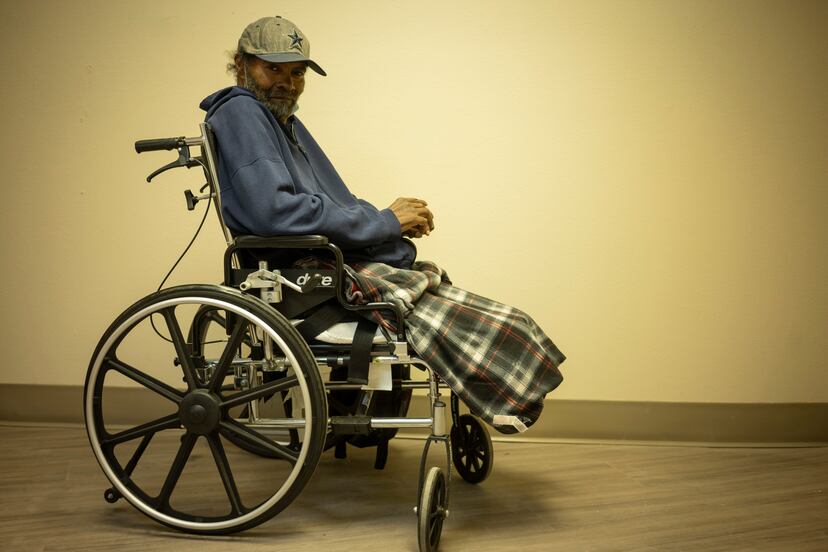 The press called him Black panther. In the late 1960s, there weren't many African-American players in the Spanish basketball league, and even fewer capable of Charles Thomas's feline leaps. That two-meter and one-centimeter Texas forward was one of the stars of Barcelona until, in the mid-seventies, his left knee made him crack during a match against Real Madrid. From that day, Black panther He stopped jumping like before and started to fall. To escape and erase the trail. Charles Thomas became a ghost.
40 years ago, the two-time top scorer in the Spanish league disappeared leaving behind family and friends, a backpack of debt and another even heavier with frustration, guilt and shame. His last traces were lost in the early eighties, amid rumors that he was left for dead in a knife fight in New York or from an overdose in an alley in Mexico. Until a couple of weeks ago, a former Barça teammate, Norman Carmichael, received a call from a clinic in the city of Amarillo, north Texas. Black panther She was not dead, she was having hot soup in a nursing home.
Sitting in a wheelchair with a plaid blanket over his legs, Thomas (74 years old) attends EL PAÍS in the first interview since his resurrection. "My friend told me those stories about him being dead. They are not true. People really like to talk. I've never been into drugs. I only smoke tobacco ".
"Why did it take so many years to notify someone?"
"I went out for a walk but I'm back now."
The ghost has returned from limbo to become flesh and blood again. It has been a long and winding ride. At one point in the interview, Thomas lifts the blanket that covers his legs and two stumps appear under his knees. "It was because of the cold," he explains before covering himself with the blanket again. Winter in Texas can last up to five months, and Thomas lived on the streets for many years. "It is like living inside a refrigerator. You feel like your legs are ice cubes. " Things got even more complicated when he accidentally stepped on a rusty nail while working as a carpenter fixing roofs. He says that the doctors who amputated him told him it was because of "the rusty nail disease."
"Do you ever dream that you play basketball again?"
-Sometimes. But since I broke my knee I never dream of jumping again.
Thomas speaks slowly and from time to time interjects a word in the Spanish that he learned in his almost 10 years in Spain. When he says "knee" he apologizes for not being able to pronounce the double r correctly. "I have lost some teeth along the way." He does not remember when. Nor how many years he spent on the street.
To fix the time when his legs were amputated, he asks about the death of Pope John Paul II. "2005?" Since then he has been admitted to this clinic in Amarillo thanks to an allowance for disabled people without resources. His story up to here is full of holes again. Thomas talks about returning from Spain and getting stuck in the New York airport because "he had lost his documentation." He also speaks of spending several times in jail in Los Angeles: "Two days," "one week," "three months." To go back to a cousin's house in Uvalde, the small Texan town where he was born, to go down to Mexico and go up again to Texas.
– Were you in contact with your family during these 40 years?
-In the beginning. Then I crossed the barrier where no one helps anyone.
During the game that changed everything, that November 1974, Thomas' defender was Clifford Luyk, one of Real Madrid's historical legends, who won 14 leagues and six European Cups in his 16 seasons in white. The first half was not yet over when Thomas receives the ball off the post. After a feint, mark the steps before jumping to the basket. Luyk does not bite into deception. Tighten the defense and just before jumping the fateful moment occurs. Knee to knee. Thomas's patellar tendon snaps like a dry branch.
"If I didn't jump, I wouldn't have been injured, but I wasn't afraid. If I could go back, I would not do it again ", explains the former player. Thomas does not hold a grudge against Luyk: "It's sport." But you wish you could chat with him about the old days. "I wish I could call you. Do you have Clifford Luyk? "He asks the journalist.
On the wall of the room that the clinic has set up for the interview there is a cork with photographs of the time cut from the newspapers. Luyk does not appear, but José Antonio Corbalán, another Madrid legend, does. There are photos of Thomas with Sant Josep de Badalona, ​​his first team in Spain (1968), and with Barca (71-72 to 74-75). In one corner, a bearded Thomas in a patterned shirt looks at the camera alongside a mustache in a turtleneck. They look like Starsky and hutch. The mustache is Norman Carmichael, the other American center of Barcelona whom his partner called a couple of weeks ago to tell him he was alive.
After the knee injury, Thomas spent a whole year without playing and was transferred to Manresa (75-76). Change of team, change of city and change of friends. He never felt good on a basketball court again and began to go out more with a military friend, who opened the doors of the Catalan night to him. His wife separated from him and took his son.
"How did you feel back then?"