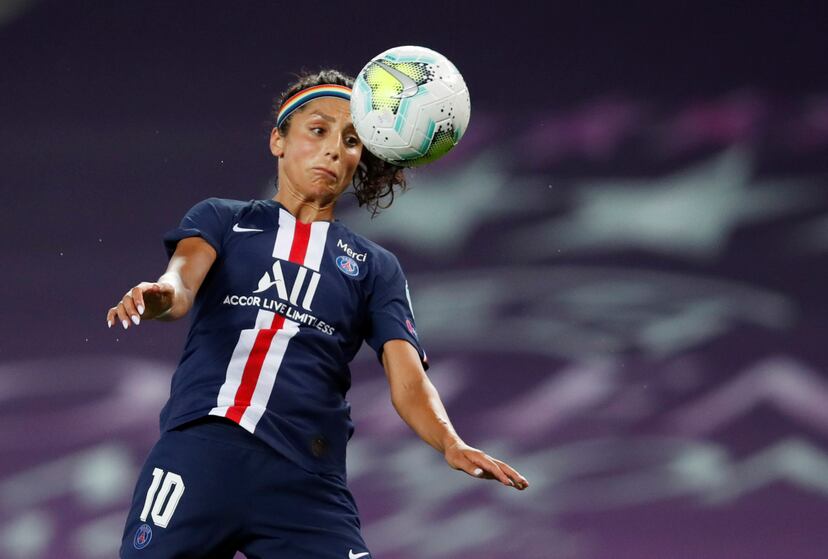 The ball was orange. Of plastic. Virtually uncontrollable in the crushed grass of the refugee camp in Denmark. It was the year 2000, boys and girls from different countries turned off, for a moment, their past by running after a ball. Magical remedy. "I had never seen a woman play sports", explains Nadia Nadim (Herāt, Afghanistan; 33 years old), forward of PSG, this Sunday rival of Barcelona in the second leg of the Champions League semi-final (1-1 in the first leg Paris). His military father had been assassinated by the Taliban and Nadim, along with his mother and five sisters, had arrived in Denmark after a trip by truck from Italy, after passing through Kabul and Pakistan. "Honestly, I don't think too much about the past. It is also true that I give many interviews in which I am invited to reflect on what happened to me. But, inside me, what happened, happened. And I don't know if it makes sense to ask myself what would have happened if I stayed in my country because the answer is too simple: with the war and with the Taliban in power, I would not be alive. "
Nadim explains his story carefully, is detailed and does not escape any questions. Smile, yes, when football appears in the conversation. It's like I can't help it. "After a couple of weeks in the refugee camp, I realized that, behind a large grove, there was a soccer field. I would spend from three in the afternoon until eight at night watching what they were doing and then copying it with that impossible orange ball ", recalls the Denmark scorer. On one of those afternoons, something happened that, until that moment, seemed impossible. "I saw a team of girls. They were all wearing the same shirts and I thought, 'Wow! This is so cool'. I always describe that moment as the one in which I fell in love with football, as if the angels had come down with their music and all that. I wanted to play that sport like those girls did, "says Nadim.
So, 11 years old and with a past to forget, he chose his future. "There was something in me that told me that I had to do that. I spoke to the coach of the team and told him that I wanted to learn how to play. It was a feeling that never left me, that I still have it today. I feel good on the field. This game makes me happy. It makes all the noise around me disappear and I feel alive with the ball ", underlines the footballer of the Danish national team. But the path of immigration, acceptance and development is not easy. Much less for a woman.
"You start from scratch, literally. You have nothing and you are not accepted, "says Nadim; "There are people who are open-minded and welcomed me with open arms, but I also came across another who I had to convince that I could contribute something valuable to them and to society. And I don't think I have convinced everyone in Denmark. There are people who still don't love me because I am different and I represent something different. In those terms, perhaps I have not finished being accepted ". He has played 98 games and scored 38 goals for the Danish team, one in the European final in 2017, when his team fell to the Netherlands.
He has played in Denmark, in the United States, in England and is now part of one of the most powerful squads in Europe such as PSG. All this while studying medicine. In 2019, UNESCO chose her as an ambassador for education for girls and women. "I don't know what I represent. Nor do I know if I am interested in representing something. I seek to be authentic. I know my limits and I try to overcome them. From a very young age, I try to be aware of what I am capable of. He knew that he had to study, as he also knew that there are values, such as helping other people, that he had to promote. I try to make an impact in the lives of other people and make those around me happy. I appreciate what many people have done for me and I try to give it back ", reflects the Afghan-Danish footballer.
What is more difficult to defend? Women's football, immigration or feminism? "The most difficult thing is immigration," Nadim responds. He does not doubt it. And he justifies his reflection: "Women's football has grown a lot. In that sense, it is easy because you see progress. Regarding feminism, we are at a stage where it is easier to talk about certain problems. We already saw what happened to the movement Me too. There was a problem and that problem was discussed. Instead, it is more difficult when it comes to talking about immigration. We are not all on the same page ".
Satisfied with the development of women's football in recent years, especially after the last World Cup in France, the PSG player asks for more investment. "If you compare it to men's football there is still a lot of ground to cover," he says. Women's Super League? "In the male one I would not like it because it would take him away from what football represents. On the feminine side, to create more interest, it could be an idea to analyze. If you look at the leagues, the difference between the teams tops and those that are not is very large. And that leads to some games not being so interesting. PSG is obliged to win, as it can also happen to Barcelona in Spain ", he analyzes.
PSG broke the hegemony of Lyon, winner of the last five editions of the Champions League, and eliminated it in the quarterfinals. "Beating the best does not make you the best. Everything is very even between the four semifinalists, "he says. Nadim still lacks the Orejona. "Everything that has happened to me has made me a really strong person. The thing is, sometimes it can be a bit annoying to have to fight for everything. But that's life".
You can follow SPORTS in Facebook Y Twitter, or sign up here to receive our weekly newsletter.