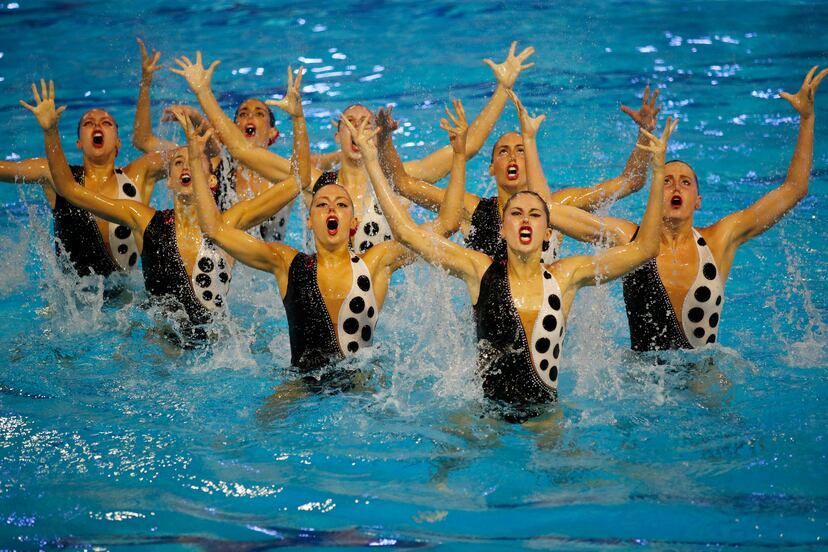 Spanish artistic swimming, previously known as synchronized swimming, suffered a tremendous blow when it was left out of the Rio Olympics in 2016. That elimination opened a great debate about a team that had worsened after the dismissal of coach Anna Tarrés from the conclusion of the London Games in 2012 in which Spain won the bronze medal. Five years after the fiasco in that Pre-Olympic in Rio, the Spanish team is one step away from regaining its place to compete in the Tokyo Games in the qualifying tournament held at the Sant Jordi pool in Barcelona. Three of the seven teams that compete are classified and Spain placed second in the final of the technical routine. This Friday the final of the free routine is disputed. The average mark of both finals will establish the final classification.
The Spanish team led by Mayuko Fujuki completed an excellent exercise by interpreting a theme by Salvador Niebla in which he fuses flamenco with a Japanese air. The Spanish swimmers, with Ona Carbonell as captain following her return to competition in May after giving birth in August 2020, qualified second. Italy, with a score of 90.79, surpassed the 90.55 obtained by the Spanish team.
Spanish and Italian women are above the rest and the third place that qualifies for the Games will in principle be the most disputed. Greece, the team led by former Spanish coach Anna Tarrés, took third place with 87.39 points, while France was fourth, with 87, and the United States, led by former Spanish synchro figure Andrea Fuentes, concluded in fifth place with 86.8 points.
This Friday (15.00, Teledeporte and Esport3) the three teams that will qualify to play the Games in Tokyo will be decided in the free routine final. The qualification process for the Games has been especially tough due to the pandemic, the postponement of the Games and the suspension of the Pre-Olympic that was to be held from May 1 to 4 in Tokyo and which was finally postponed and moved to Barcelona.
You can follow EL PAÍS DEPORTES in Facebook Y Twitter, or sign up here to receive our weekly newsletter.