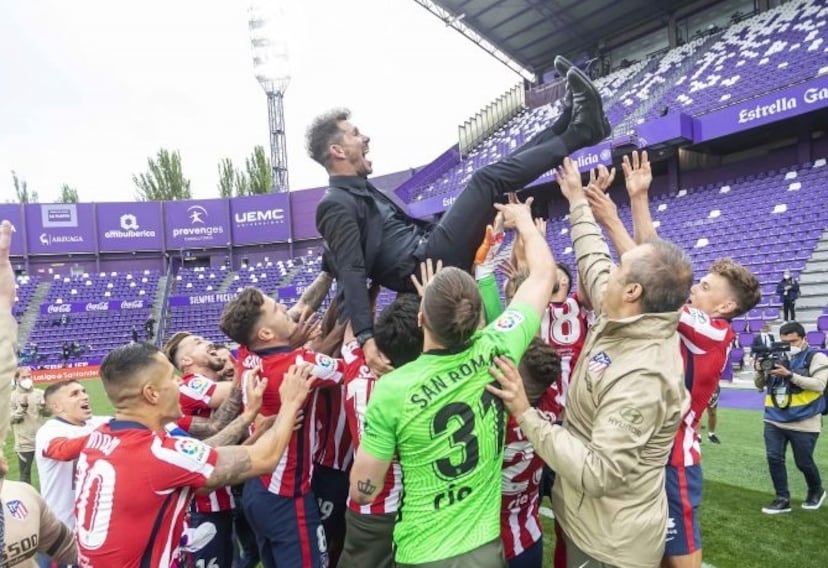 "Today in the solitude that exists in the previous matches, I remembered when we left the Vicente Calderón. At that time, in which they asked us if we were going to continue or not. And the one in which I said I was going to stay because I thought the club had a future, "Diego Pablo Simeone started after winning his second league title with Atlético, his tenth as coach. "Today I realized that I was not wrong," continued Simeone. And he added: "This club has to keep growing. And hopefully we can help him do it. " "What am I going to tell you about Simeone?", Put in Enrique Cerezo, president of Atlético de Madrid; "It will do what it wants to do. But I think it will stay. " And Koke, who has 12 seasons in the first team, pointed out: "People are never going to get tired of Simeone." But Cholo disagrees with his captain. "I think people do get tired. But I am a hardheaded", He stressed.
Before the duel, Simeone got off the coach in the José Zorrilla and waved his arm to greet the fans. The Argentine seemed happy, especially calm. But the calm did not last long. At 17 minutes, after a corner kick in favor of Atlético, Óscar Plano, a former Real Madrid player, culminated an electric counter from Valladolid. Simeone was outraged. He shook and waved his finger, a sign that no. He breathed a few minutes later, when Yeremi Pino overtook Villarreal. "We have always tried to be immersed in solving our game, which is the only thing that concerns us and the only thing that depends on us," Simeone had said in the previous one. "We are only focused on ours," confirmed Claudio Vivas, assistant coach. But the Argentine did have someone to inform him. And as soon as they told him that Villareal was winning at Alfredo Di Stéfano, Cholo, out of emotion, dropped his mobile phone from his hands.
He smiled shyly when Correa dialed. He then approached, hand over mouth, to talk with Claudio Vivas, his assistant. Finally he rested. Luis Suárez scored and Simeone celebrated without much euphoria. He was not upset the moment he learned of Benzema's draw at Valdebebas, not even with Modric's goal. So, yes, he was already focused on Pucela. He talked and talked. He was gesticulating and gesticulating. Simeone in its purest form. With the final whistle came calm, essentially relief. He turned around, stretched out his arms with his eyes pointed skyward, and then looked at the box. Smiled. "When the referee whistled it made me want to laugh. I do not know why. From the hand of Miguel [Ángel Gil Marín, máximo accionista] and Enrique [Cerezo, presidente] the club continues to grow and has stability. Today we are angry that they are not here celebrating, "said the Argentine. Simeone's celebration with Koke and Savic was especially emotional: a strong hug. He consoled Kiko Oliva and went in search of Luis Suárez. Another big hug, symbol of Atlético's title, also of the Uruguayan's revenge.
The 9 ended the season with 21 goals in 31 games in La Liga. "Suárez is Suárez, guys. That last name speaks for itself ", praised Simeone to the Uruguayan. "He is a wonderful person. He is a great player and a magnificent scorer. It is renovated. It only depends on him if he wants to continue or not, "said Cerezo. Atlético won 26 games, scored 67 goals and conceded 25. "We all have merit. To be a champion, everyone has to be at the highest level ", assured Oblak, who added his fifth Zamora Prize (2016, 2017, 2018, 2019 and 2021). In the area the Slovenian goalkeeper, in the other the Uruguayan. "My job is to try to help. Atlético had a great year, despite the difficulties we had. The first lap we did was not normal, nor was the bump we had afterwards. This team was prepared to suffer ", explained Luis Suárez.
At the end of January, Atlético had a difference of 10 points (with one game less), compared to the second. "This team was confident. A lot of people didn't believe when they cut us down. We have had a spectacular league, "explained Koke. "When a group has this union is when great things are achieved," added Marcos Llorente. "Every title is special," said Koke, who was also on the 2014 roster; "They are different groups and you enjoy it differently. At halftime we have all talked. If we did things right, if we threw breaking scores, we were going to win. Little Angel [Correa] He took out his magic and Luis defined spectacular ".
"It is no coincidence that in such a complex, difficult year in which many family and friends died, Atlético won the championship. It is one of the best years to win a title. The world is experiencing a very sad situation and I hope we have been able to give joy to many people who had a very bad time ", Diego Pablo Simeone closed.
"It's difficult, after the situation that I had to live, because of how they looked down on me. Atlético opened the doors for me so that I could show that I was in force. That is why I will always be grateful to this great club. I've been in football for many years and I think that my family is the year that suffered the most ", explained Luis Suárez, through tears, as soon as the game ended. Last summer, Koeman, in a conversation that lasted less than a minute, warned him that he was not counting on him in his project at Barça. Simeone welcomed him into the Wanda. Suarez did not disappoint him.
You can follow SPORTS in Facebook Y Twitter, or sign up here to receive our weekly newsletter.