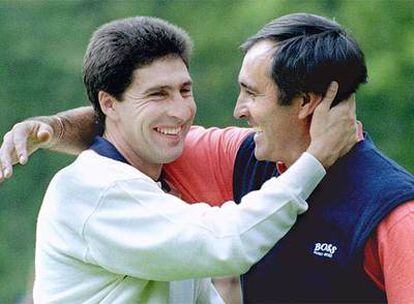 10 years ago a genius died. On May 7, 2011, Severiano Ballesteros passed away after a long game against a brain tumor. Spanish sport lost one of its greatest figures and world golf an unforgettable icon. Beyond his five majors (two Augusta Masters and three British Open) and revolutionizing the Ryder Cup so that Europe would defeat the United States, Seve left such a deep mark for his imaginative play and his indomitable character that still today remains as if still alive. On and off the field, Seve was a storm. And no one did so much as in José María Olazabal (Hondarribia, Gipuzkoa, 55 years old). His student, his heir, his eternal friend. From Alabama (USA), where he plays on the senior circuit, the Basque golfer is moved to tears remembering the myth that he is no longer there.
Question. Ten years without Severiano and he's still so present, right?
Answer. It will always be present as the years go by, especially in some of us. The younger generations who did not get to know him will not have that feeling. For those of us who live with him, Severiano will always be alive.
P. What is the most important thing that Seve left you as a legacy?
R. Above all, the teachings I had with him, the examples he gave me on the golf course when it came to playing, acting and facing situations. It was quite an example. Severiano had an extraordinary attitude, character, fighting spirit, and self-confidence. He thought he could strike any blow, even the most difficult or impossible. He never gave his arm to twist. That spirit of struggle, of not giving up, has left me that has helped me for so many years.
P. Especially in the worst moments with the back injury you suffered?
R. Yes, but more on the golf course. This game is a roller coaster of emotions and experiences, and just like today you are full of confidence, with a wonderful game, in two days you are in the darkest hole you can imagine. In those moments, all the examples that he showed us are those that help us to turn the situation around. And off the golf course, I keep the integrity with which he carried his illness. To take off his hat. The times I was at his house, he never complained about anything that was happening to him. I was surprised in those situations. A young person, in his early fifties [murió a los 54]That he had to face that with some children who were growing up and knowing that he was going to see us grow up… it was worthy of admiration.
P. What memory or special image do you keep?
R. I have many extraordinary golf moments. And off the field, in one of the visits at the beginning, after the first operation, when we were one afternoon watching the British Open that Tom Watson was about to win and Stewart Cink took in the end. [en 2009]. That afternoon I was at his house … wow! Suddenly he would get up and do sit-ups and pull-ups. I asked him why he did that. And he said to me: "No, no, José Mari, I have to get strong, I have to turn this around." They are almost, almost surreal moments. I was wondering how an individual can have that mental strength to be the way he is, still do sit-ups. Oh my! It was extraordinary. And then shots he has taken, holes he has won playing with me at the Ryder… they are infinite. It left you wondering how that man could do that from where he was. Amazing.
P. A phrase or advice?
R. The note that he put me at the box office at the '94 Masters, when I could win it, stuck with me [así fue, como después ganaría también en 1999]. He told me to trust myself, that I had the game to win it, and to be patient. Then Severiano always said that in life you had to fight for what you thought was fair, and that you couldn't do things by halves, that if you made the decision to do something it had to be with all the consequences until the end.
P. What does European golf owe to Ballesteros?
R. Practically everything. He wouldn't have gotten where he is without Severiano. It opened a lot of doors, not just for those of us from behind, which made us believe that we could beat the United States in the Ryder Cup, that we could make big tournaments and we were capable of beating anyone. He put European golf on the map and made it globally respected. And what he did in terms of fans … All over the world, people wanted to see Severiano Ballesteros play. They knew that even if they didn't have a good day they were going to see two or three shots that they weren't going to see in any other player. It created a tremendous hobby. He had charisma, presence. Severiano was an attraction.
P. Today golf seems to have resulted in a more physical game, of great punchers. Are there no longer golfers with that imagination?
R. Very few. Golf has changed, it is no longer so much skill, art, sensitivity … Today it is effectiveness and efficiency, physical preparation, technical knowledge. You have all kinds of devices to study the swing, biomechanics. Everything is much more professionalized. We see players who play golf extremely well with astonishing precision, but also without being able to give the balls the effects that we gave them.
P. Was it valued enough in Spain?
R. More over time than at the time. In his heyday, if Severiano became American or British, he would have been the country's sports icon, no doubt. But the circumstances then in Spain were different. Golf was not popular, it was not known, it had an image that did not help. It was a shame. Hopefully he is truly appreciated how great he was and what he did for golf and sports in general.