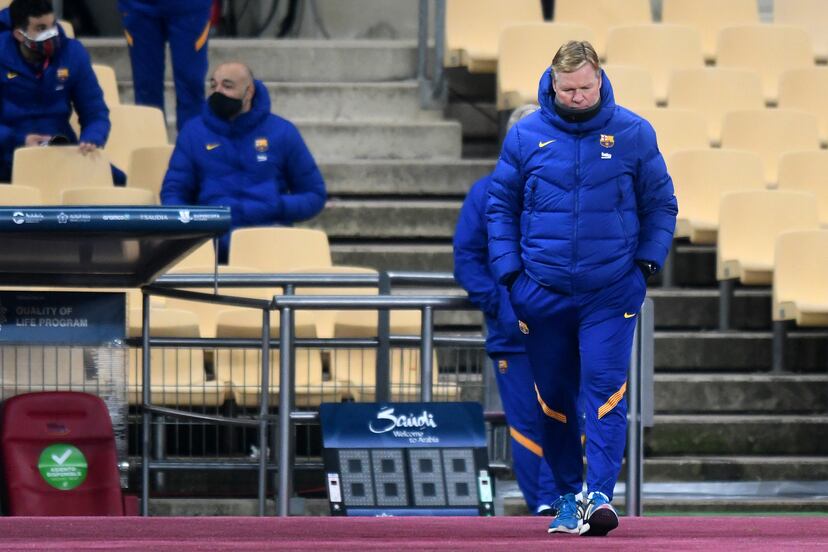 Ronald Koeman has been on the benches of big clubs such as Ajax (Holland) and Benfica (Portugal), he was also at the helm of the Dutch team. However, the coach is still surprised when his future at Camp Nou is questioned every time Barcelona lose a game. "I do not agree, but I will have to accept it. It is strange that you have to answer questions on this topic. I have to do my job, I have one more year on my contract and I know what can happen if I win and if I lose. I accept my job as a coach, it is a great pleasure. But, sometimes, I find it strange ", analyzed the Barcelona coach.
The Dutchman, in any case, is not helped by the public silence of Joan Laporta, the new president of Barcelona. When he landed in Seville, Laporta was asked about Koeman's future in the event that Barça ran out of titles this season. The president did not reply. "I don't need to be ratified. We have already spoken and he has shown me his trust. The president does not have to come out to show me his confidence every time there is information about my future in the press. I know where I am and I know that things have to be won. Despite how the club is and despite how the economic situation is, we are in a final and that is the important thing, "said Koeman.
Laporta, however, was forceful when it came to talking about the future of Messi, who has a contract with Barcelona until June 30. "With Leo everything progresses well," Laporta said. "Are you optimistic about Messi?" They insisted. "I see him very motivated. He is an extraordinary person who wants to continue in the club. I have no doubts, "he added. From the Argentine environment, on the other hand, they put distance. They assure that they do not have any offer from the club, something they understand as logical because Laporta informed them that, before sitting down to talk, they should first finalize the audit of Barça's accounts. "I don't see Messi especially motivated. He is a great player, a professional in every training day, who always gives his best and wants to improve. He knows how to prepare for the big games. He is going to do his best to lift the Cup ", stated Koeman.
"The final is important for the club, to be able to win a title is nice. We must remember that in January, when we were in the final of the Super Cup, the situation was worse. We have improved many things, we had 19 games without losing before the classic. You have to put your energy into winning the title and not think about anyone's future, "said Koeman. "We know that this can give us an important boost for the remainder of the season," Ter Stegen said. The German goalkeeper, who will start again this Saturday against Athletic, does not dribble the favorite poster. "If we do our job we have a very good chance of winning and taking the title to Barcelona. But we have to play a complete game, "he said.
"We are two teams that have suffered a lot to reach this final. Athletic is a very competitive team and it will be the fourth time we have played with them so far this year. They beat us in the extra time of the Super Cup and we beat them in the two LaLiga games. We have to be good with the ball and without the ball. In our last two games we have not been well without the ball, "Koeman closed.
You can follow SPORTS in Facebook Y Twitter, or sign up here to receive our weekly newsletter.