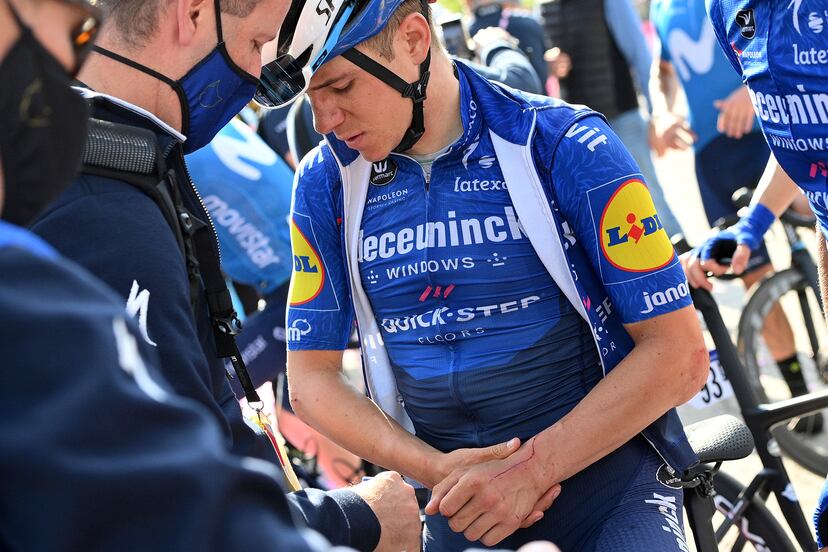 It was 10 o'clock at night in the Maria Doliente de Rovereto bell when the Belgian journalistic corps in the Giro d'Italia hastily left the restaurant tables and flew to their hotels, where a Coca-Cola and some custom pizzas satiated their hunger. An email from the Deceuninck team had upset his break. Remco Evenepoel leaves, it was his content. Four days after arriving in Milan, the adventure of the Belgian prodigy ended in his first major three-week race, the first competition he faced just eight months after his fall in the Giro de Lombardia.
The news cannot be said to have surprised anyone. Since last Monday, since the Dolomites stage set its limit, speculation about its abandonment flourished without stopping. They were fighting his desire to finish, whatever the cost, against the logic that claimed his suffering was unnecessary. Finally, the withdrawal was decided by his fall this Wednesday in the descent of the Passo de San Valentino, his caper on the guardrail in a curve to avoid crashing with Nibali and a few others, fallen in front of him. "It makes no sense to continue with this pain," said Remco, 21, in a statement from his team, which specified that although nothing was broken, the cyclist suffered numerous bruises and lacerations on almost his entire body. "It's a shame to have to go like this, but I have to say that it was, overall, a great experience." Following the crash, Evenepoel reached the top of Sega di Ala more than half an hour behind Daniel Martin and was 27th overall, more than an hour behind the leader, Egan Bernal.
During the first week of the race, until his first bad day on the dirt roads of Montalcino, the young Belgian, who made his debut as Merckx in a big way in Italy, was one of the protagonists, kept a close pulse with Egan Bernal to get the pink jersey, which he did not wear for only 11s. A Hungarian named Attila Valter deprived him of the privilege.
You can follow EL PAÍS DEPORTES in Facebook Y Twitter, or sign up here to receive our weekly newsletter.