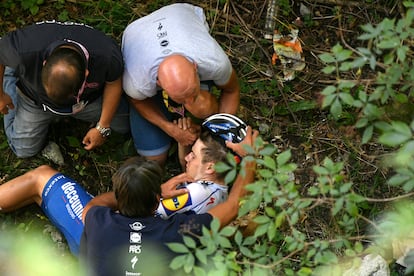 Old people get bored training and want to spend the day competing and thus get into shape, because, if not, they will not be motivated. Young people are the same, only competing amuses them, and in life they only seek fun. On the banks of the Po, in a clean and too quiet Turin that stretches slowly with the spring of the long winter and the pandemic that seems to be easing, they cross paths Peter Sagan, a veteran who wants to run everything and plans to do the big three a same year, to feed, also, his hyperactivity, and Remco Evenepoel, a young man who does not want to miss anything anymore.
The Giro, his Giro, begins on Saturday, and also that of Egan Bernal, another of the young people, and that of the old Vincenzo Nibali, who arrives two weeks after breaking his wrist – and is almost as nervous as Alex Zülle, who broke his clavicle a few days before the 97 Tour, and the ONCE doctor carried a screwdriver in his briefcase to tighten the screws on the plate that they planted him, which loosened with the rattle of the roads – and the Simon Yates of all life, and also that of the Spanish, Mikel Landa, Marc Soler, Pello Bilbao … And their equality guarantees the fight, and perhaps the absence of the Slovenians Primoz Roglic and Tadej Pogacar, who win everything and increase it so superior they are to all.
Everyone is talked about in the corridors of the accreditation center, where the directors queue up and laugh at the new jersey of Israel, which is like a white T-shirt on which someone has spilled a bottle of red, but more than anybody there is talk of Remco, who is reborn.
Remco Evenepoel is 21 years old and has several lives. Two years ago he was the child prodigy, the Mozart of cycling who always waits for a messiah behind every door. Nine months ago, on August 15, he narrowly missed himself falling off a bridge at the Giro de Lombardia. He suffered such serious injuries that few gave a penny for his career. Only in November, three months after the fall, did he ride his bicycle again. He traveled 500 meters and tells that he believed he would die although his morale did not sink as low as the first day he got out of bed. And after overcoming depressions, relapses, fears and pains, concentrations on Mount Teide, in the Sierra Nevada, he sprints and returns, and suddenly, without further ado, he faces the Giro, his first competition with a bib since the fall, and all of Belgium is pending. your child.
A year ago, if he did not fall, he would have reached the Giro as a favorite, aged 20, and would have continued his distance competition with Eddy Merckx, the Evenepoel of more than 50 years ago. After the break, however, the flame of the challenge to Merckx still burns, which made the Giro del 67 its first three-week race. He was also 21 years old and won two stages but, surprisingly, he did not jersey final rose, which took another year to arrive. And apparently, from what he tells himself, Remco will not win his first Giro in his first participation either. "After what I've had badly, I don't come to the Giro with the ambition to win," says the Belgian, so nice, the day before in a teleconference. "I just want to have fun and prepare for the Tokyo Games. In the team, Deceuninck, the leader for the general classification will be Joao Almeida ". And he says it, they count on his team, pretending a maturity that he has not reached yet, because he is still a teenager despite the hours of work with a psychologist invested, and they tell him not to accept the flattery that rains him, but the criticism that perhaps his friends dare not ask him. And although he is the youngest of the Z generation who has hijacked cycling, he reminds him that, alas, time passes very quickly, and if not, ask Egan Bernal.
The Colombian cyclist is only three years older than Remco, and it seems like a century, another time, and he already seems like a veteran, so many things have happened since he won the Tour in 2019 at 22. He was then the youngest who won the big boucle in 110 years, and inevitably it seemed that his dominance would stretch without dispute for a decade. But little more than a year later, and a pandemic in between, Egan had to withdraw from the next Tour with a bruised back in the middle of the second young revolution. He won the Pogacar Tour, who was not yet 22, and took away the record for the youngest post-war winner. A few weeks later Tao Geoghegan, another young man from his team, Ineos, won the Giro, and Egan lost the right to return to the Tour to finish the work he had started. Back to start with the Giro, who wants to win in style. "It will not only be about winning, but about doing it with attractive cycling, attacking cycling," says Bernal, who feels himself a pioneer of a new way of facing great challenges, disdaining the Froome trantran trains, praising the offensive individual and seemingly crazy. "Young people come out with the idea that they have nothing to lose and they try from afar and in a second they change the race …"
And, of course, admits Egan, Remco, "who will be a great one", is one of those young people.
You can follow SPORTS in Facebook Y Twitter, or sign up here to receive our weekly newsletter.