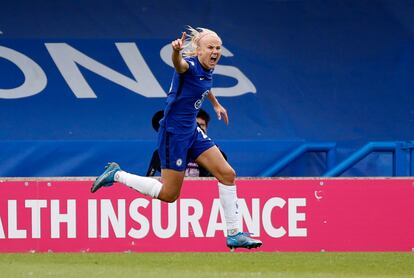 The last Women's World Cup in France left the Brazilian Cristiane's goal against Australia, the saves of the Dutch goalkeeper Sari van Veenendaal, the rebellion of Megan Rapinoe and a kiss. An authentic and disinterested kiss that became a cry of naturalness and normalization. Magda Eriksson, captain of Sweden, finished her match against Canada in the round of 16 and approached the stands to greet her partner, the Danish footballer Pernille Harder. The image, everyday for them, went around the world. "We realized that there was a demand for references in that sense, because what caused that photo was very great and made many people write to us to tell us that they looked at us and how much we had helped them," says Harder. "Then I understood that together we are really powerful. We haven't seen each other like this before, "Eriksson confirms.
Harder, then a scorer and best player in the Bundesliga, watched the World Cup from the stands wearing the Sweden jersey. Much had been written about Ada Hegerberg (the first footballer to win a Ballon d'Or) and her decision to absent herself from France in her fight for equal pay in men's and women's football in Norway; little, however, of the Danish team, led by Harder, who fell in the World Cup qualifiers when the players were on strike in the middle of a brawl with their Federation over that gender-based prize gap. Denmark, finalist of Euro 2017, was left without a World Cup. "It would have been better if we hadn't had to but it was time to fight for change. We were out of the World Cup, the consequences were really hard, but in the end it was worth it ", explains Harder.
Raised in a middle-class family in Ikast, Harder lived through a childhood similar to most girls of her generation: she had no references. "When I played at home, he used to call me David Beckham. I also liked Luis Figo ", he recalls. Until a Brazilian with devilish dribbling appeared, envied by many male soccer players, a reference for girls around the world. "When I met Marta, I had to look up her goals on YouTube. It was not easy to watch a women's soccer match. " In her town, of about 15,000 inhabitants, women used to practice any sport. In the case of football, however, it was not so easy. "There were girls' teams, but the level was not good. I had to insist to play with the boys ", says the Danish woman.
But Pernille Harder, 28, is much more than a kiss. Much more than a fighter for the rights of the LGTBI collective, much more than a feminist, much more than a footballer who forms for Common Goal (a foundation that collects 1% of players' salaries for charitable purposes). "She is one of the best players in the world. What she has done for Chelsea, Wolfsburg and Linkoping, as well as for her national team, speaks to how valuable she has been to all the teams she has been to, "says Chelsea coach Emma Hayes. "Pernille has been the great influence in rebuilding the national team. His influence is the field, of course, but also outside. She is a great leader, "adds Lars Sondegaard, the Danish coach.
In 2020, after four seasons at Wolfsburg (103 goals in 124 games), Harder moved on to Chelsea. It was not just any signing. The Danish, who now shares a dressing room with her life partner Erikson, became the most expensive signing in history: 350,000 euros. It did not disappoint. He has played 34 games and scored 16 goals. This Sunday he will play his second consecutive Champions League final and aims to achieve the treble with Chelsea. He has already won the Premier and the FA Cup. "My goal is to win. That's why I signed for Chelsea ", concludes Harder, an activist, feminist, philanthropist, especially a footballer.
You can follow SPORTS in Facebook Y Twitter, or sign up here to receive our weekly newsletter.