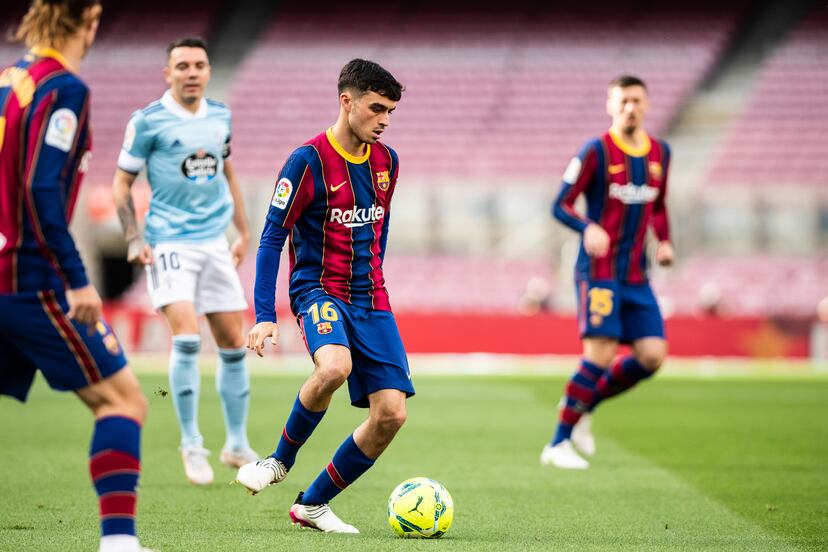 Although he had stomach problems and general discomfort, Koeman asked him to play, as he needed him to avoid throwing the League ahead of time even though the team already gave up after losing to Granada a few days earlier. After hours, Pedro González, Pedri (Tegueste, Tenerife; 18 years old), put on his boots and appeared in the eleven against a Celta who ended up winning the duel and knocking Barça out of the League when they still have one game to play against Eibar. But this challenge, for the first time this season, will no longer be for Pedri, who has finished with his tongue out, exhausted. "He has vacations until preseason," confirms a club employee. "He was very tired and the Euro is coming", they add from the sports area. A needed and deserved rest, although he will delay the return to the island for a few days because he wants to get his driving license.
Koeman was surprised at the beginning of this year by the successive offers that came from Pedri —Mönchengladbach, PSV and especially Bayern Munich—, still without knowing much about that ungainly beardless man who when he put on his boots composed football like few others. "In the first days, we realized that he was different, that he had the level to be here and especially in the future," explains a veteran of the locker room. culer. "As soon as we saw him, the coach told us that he loved him", they confirm from the sports area, excited because he did not notice the change from Second to First, still not reaching the age of majority. "It is that strange as it may seem, because of his physique, he has never been too much of a child and he has always had to fight everything. Although he always got away with it, "says Tonono, Las Palmas sports director, who has followed him from the time he was a small man to having him in the youthful Canarian.
It turns out that in his debut in the elite on a liner like Barça, Pedri was the seventh who enjoyed the most minutes (3,526), ​​only behind De Jong (4,418), Messi (4,192), Alba (4,152), Ter Stegen (3,900), Griezmann (3,813) and Lenglet (3,698). But he has also been the one who has participated in the most games (52 of 53, ahead of De Jong and Griezmann, who are in 50), with the only fault of remaining on the bench in the visit to Hungarian Ferencvaros. "As a child he played the game and went to the playground to play more. It seems weak but has an unusual resistance ", explains Tonono. Although Pedri has only finished seven games, also because Koeman knew he would not grimace at him. "Without him I wouldn't be here," acknowledged Pedri, who has his precedent in Piqué, because in his first season with Barça, under Guardiola, he became the fifth most used player after Alves, Valdés, Xavi and Eto 'or.
"He is young and he is recovering very well due to his physique," they admit from the offices of the sports city. And they put as an example the two duels in a row against Sevilla (League and Cup). In the first, he asked for change. "Muscle injury in the lower part of the left leg," reflected the medical report. Scared — an example of how new everything is to him — Pedri got off the bus on crutches. But six days later, he played 89 minutes to help the team win the only laurel of the year.
A friend of Trincão at Barça and Moncayola in the U21 team, they all explain that he is calm and not a party lover, busy with the ball and with the family. He lives with his brother, who acts as a cook. Although he is also concerned about his lack of aim, perhaps the only thing that can be retracted, since in the League he has only scored three goals – four in total – out of 25 shots, which comes out to a 12% effectiveness, far from the 15.3% of Messi, with 30 goals in 196 kicks, and 17.1% of Griezmann with 12 in 70. But indoors he is comfortable, generous because he has completed 11.8 kilometers per duel, only surpassed in the League by Rico (Huesca; 12.3), Koke (Atlético; 12.2) and Moi Gómez (Villarreal; 11.9). And, although it is clearly offensive, it excels in recoveries, with 133 in the course, the sixth most in Barça in a statistic led by De Jong (198).
In January, Koeman gave him the ears. "With De Jong more advanced and with Busquets closing, in addition to how Pedri is … Yes, we have found our midfield," the Dutchman resolved. Messi, always laconic, summed it up in four words: "Play well this kid". A boy who cost five million and who at most will reach the figure of 18 when he plays 100 games with the first team because he has already fulfilled the other two contractual premises: win titles and go to the national team. A child, too, who will make spoiled balls the last week because he has obtained honors and because Luis Enrique is waiting for him for the Eurocup.
You can follow SPORTS in Facebook Y Twitter, or sign up here to receive our weekly newsletter.