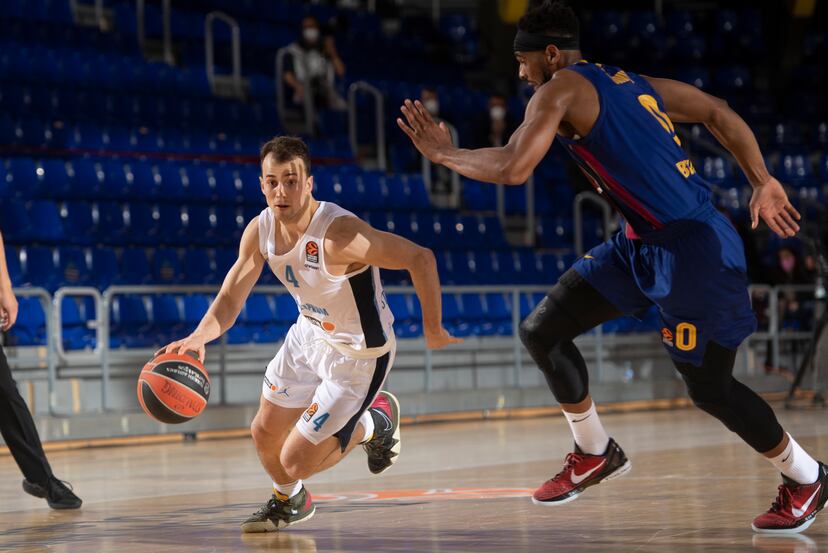 Barça suffered a hot flash and gave in to the damage caused by their old friends Kevin Pangos on the pitch and Xavi Pascual from the Zenit control room. It was known that the key to the success of the surprising team from St. Petersburg, last classified when last season was canceled and now pushed to the quarterfinals, lay essentially in the direction and the punch of the Canadian point guard.
As much as Jasikevicius prepared the antidote, the start of the game by the player who wore a Barça player for two seasons set the tone and was devastating for Barcelona. He added nine assists and 19 points, eight in the first six minutes. And he also decisively pulled the strings in almost all of his team's attacks. Calathes suffered and Hanga suffered when he took over in the attempt to stop Pangos and organize the Barça game. Zenit accelerated from the first moment (12-18) and only lowered the piston when Pascual gave Pangos a break and the Barça pivots linked three triples. The draw at 21 in the first quarter, far from marking a turning point, only marked the beginning of an even more devastating second Russian gale. Power forward Poythress, guard Bily Baron and again Pangos tormented Barça also with triples. The difference rose like foam to 17 points (29-46).
The Barça was so tempered that it did not hit neither an inch of the hoop. He finished the first half with a poor 28% accuracy in shots of two. Zenit took better care of the ball. Barça did not steal a single one and lost seven. Few times had he seen himself so vulnerable – 48 points received in that first half – helpless and even desperate to Jasikevicius' team, without ideas, barely supported by Higgins, orphan of Mirotic's usual production. The Lithuanian coach cut his losses, with a risky decision. He assigned a power forward like Claver to mark Pangos. It worked out well. The Canadian began to feel more uncomfortable. The Barça, with the energy of Davies, the improvement of Mirotic and some triple of Kuric stabilized the situation (51-53). But Zenit did not give his arm to twist. Rivers' character, experience and aim emerged, which again increased the difference slightly (54-61). Pascual's team did not shrink, despite the fact that Gudaitis was injured with five minutes to go. His loss was added to that of the Pole Ponitka.
Higgins tied the game at 68 with two minutes remaining. And Davies, the player on whom Barça's attack pivoted during the final stretch, put his team ahead (72-71). There was one minute left, but if Pangos had already scored a chilling triple before, Rivers once again confirmed his aim and his coolness to make it 72-74. Davies tied thanks to an offensive rebound. Zenit's last attack ended with a one-on-one by Pangos against Davies. The Canadian did not forgive the lunge: 74-76. There were 10 seconds left, but the last action ended with a triple missed by Higgins. Pangos and Pascual reigned in their old home and dealt an astonishing blow.
Barça: Calathes (8), Higgins (15), Abrines (2), Mirotic (10), Pau Gasol (3) -starting team-; Davies (18), Westermann (0), Hanga (2), Smits (0), Oriola (0), Kuric (12) and Claver (4).
Zenit Saint Petersburg: Pangos (19), Hollins (8), Rivers (11), Will Thomas (12), Gudaitis (5) -starting team-; Zakharov (0), Baron (6), Khvostov (2), Zubkov (6), Poythress (4) and Black (3).
Partial: 21-21, 13-27, 20-13 and 20-15.
Referees: Lottermoser, Mogulkoc and Nedovic.
Palau Blaugrana. Behind closed doors. First match of the quarter-final tie.
Best of five games
First match
Barça, 74; Zenith, 76
CSKA, 92; Fenerbahçe, 76
Anadolu, 90; Madrid, 63
Milan, 79; Bayern, 78
Second match
Anadolu-Madrid (day 22, 19.00)