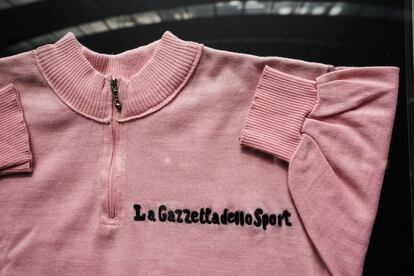 Spanish cycling brings three of its classics to the Giro d'Italia that starts this Saturday (13.00, Eurosport), each with its well-established label: Marc Soler, 27, in the role of promise of always; Pello Bilbao, 31, as a symbol of the so-called late maturation of the Iberian rider specimen, and Mikel Landa, also 31, the idol, and on the back the number 51, that of the greats, Merckx, Hinault, Ocaña.
Maybe not much to compete in a race as loaded with symbols as the pink corsa, a glut of historical appointments and great, monumental landscapes, every year -and in 2021 they will reach the 90th anniversary of the pink jersey, pink like the color of the paper Gazzetta dello SportHow yellow is the jaune jersey of the Tour as were the pages of L'Équipe; pink like the color that that May 10, 1931 in Mantua on the immense body of Learco Guerra, its first bearer, frightened the hierarchs of fascism who loved black, and pink, they said, did not faithfully represent the true Italian male, masculinity warrior they wanted-, but it is what Spain produces, and a phrase: "Why isn't this year going to be my first victory in a grand tour?"
It is pronounced by Mikel Landa, proud creator of the cycling trend of the landism – more or less: beautiful cycling is the blinding flashes, not the regular fluorescent light, and for flashes, Landa; like Landa, none; "And I'm never going to get tired of landismo", warns the Alava cyclist – who celebrates that this year, the 104th edition, the Giro is the way he likes it: little time trial – one to start, 8.6 kilometers, top and down the banks of the mighty Po; another to finish, in three weeks, 30 kilometers in Milan — and a lot of mountains, eight finishes uphill, including the Zoncolan, terrible, and the hardest days, as always, in the last week. "I arrive very well, in one of the best form states of my life, and the rivals are closer than ever," says Landa, who has been a short season (15 days of competition only between March and April) and with good results. in the Tirreno and the Tour of the Basque Country. From the end of his homeland race, on April 10, until his trip to Turin, Landa has been concentrating on altitude, on Mount Teide, "training long passes, increasing depth, maintaining form."
And last but not least, in his 12th year as a professional, the Bahrain leader believes that he will already know how to achieve the ideal of being a regular while remaining Landa. "You gain years, experience, you learn," says a rider who already dazzled in his second Giro, six years ago, third behind Contador and Aru, and two stage victories. "And I hope I have learned from the mistakes of the past." And he also hopes, he says, "to work well with Pello Bilbao, and fight face to face with Egan Bernal, Simon Yates [un inglés con escasa fortuna en Italia con ganas de rehacerse: el ganador de la Vuelta del 18, hace tres años fue líder hasta que le hundió Froome la antepenúltima etapa; en 2020, dio positivo por covid] and Hugh Carthy, the ones I think are the most favorites ".
Bilbao, a Marino Lejarreta of the 21st century, also from Bizkaia, finished sixth in the Giro three years ago and fifth two years later. Regular like few others, and opportunistic in the search for stage victories, he will have to give up his ambitions from the beginning to put himself at the service of the Alava, whose steps through Euskaltel and Astana before finishing in Bahrain he has scrupulously followed. However, and his title of champion of Spain attests to it, Bilbao is a better time trialist than its leader, and ahead of him will end a first stage in which the Italians, awaiting the subsequent reappearance of Vincenzo Nibali, believe in a new enthronement at more than 50 per hour of his Filippo Ganna, and first pink jersey from the last Giro, a gigantic Piedmontese from Verbania pedaling an atomic Pinarello crammed into his rainbow time trial world champion diver with aerodynamic, anti-turbulence reliefs, on shoulders and arms, like almost all of them, of course.
Everything Bilbao does will be fine, because, with respect to Landa, the Gernika cyclist, he starts with the advantage of an almost lack of media appeal, which deprives him of more fame and saves him unfair demands from the fans, who prefers to demand from Marc Soler, for example, to become something that the Catalan cyclist, perhaps, has never aspired to, and only because he won the Tour del Porvenir six years ago, at 21, and the Paris-Nice three years ago, did he that it was worth to him to be designated almost like a new Miguel Indurain. It is a supervening pressure to which Soler responds with a victory from time to time, flashes of class that are called, like those seen in the Aralar stage, the last Vuelta, or, more recently, under the freezing rain of the Tour of Romandie just a week ago. Away from him, the leader of Movistar, the only Spanish team in the Giro, the need to maintain concentration and competitive tension for three weeks.
You can follow SPORTS in Facebook Y Twitter, or sign up here to receive our weekly newsletter.