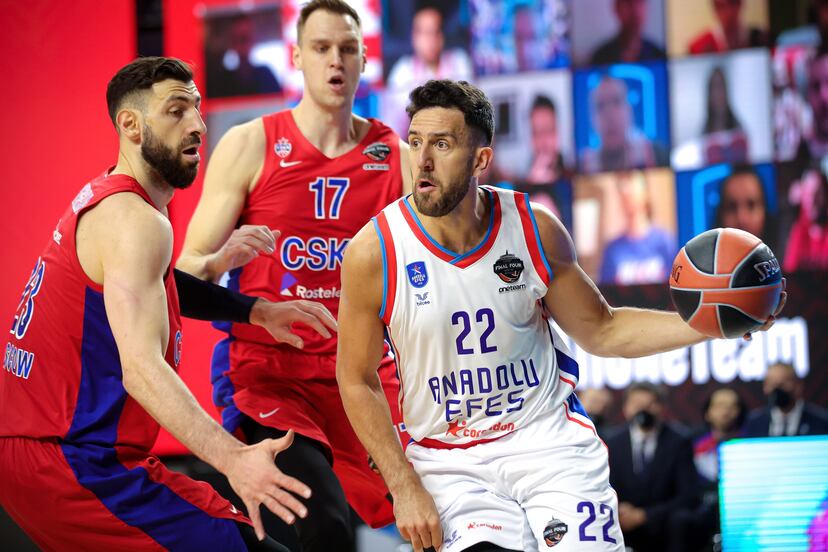 Ergin Ataman was in 2018 the coach of the worst team in the Euroleague. Anadolu Efes only won seven of the 30 games they played. Three seasons later, from the stage of the makeshift conference room caused by COVID in a corner of Cologne's Lanxess, the 55-year-old Turkish coach, sitting next to Pau Gasol, Saras Jasikevicius and Shane Larkin, boasts the day before the final that will face his team and Barça. "We play fancy basketball and we have stars on the perimeter: Larkin, Micic, Beaubois, Simon. Our game is fast and I give the players freedom, especially in attack. That's why they see us as an attack team, but our offense begins with defense, to try to make points from the transition and in quick counterattacks ".
Ataman defines the excellence of Efes in Istanbul, which went from that last position to play its first final a year later in Vitoria. His executioner was CSKA Moscow, the same team he beat on Friday in Cologne in the semifinals. With the same players who competed in that final – something unusual in a sport prone to countless transfers and transfers – Efes were marching in first place in the 2020 Euroleague when the competition was canceled due to the pandemic. This season, again with the same squad, the trend has continued. The enigma is its enormous irregularity because it is capable of overwhelming but also of receiving bulky partials. He had a hard time in the quarterfinals against Real Madrid, which he beat by 37 points in the first game and 33 in the second. He was leading by 13 to six minutes to the end of the third, but lost after a 21-4 run. Madrid rallied again 16 points in the fourth game. The series was resolved in the fifth match in Istanbul.
In the semi-final, CSKA brushed the comeback despite Efes dominating by 21 points. Clyburn missed the shot that could give the victory to CSKA, defeated 86-89. Micic, the 27-year-old Serbian guard, is Efes' main figure. His career prospered with the Zalgiris led by Jasikevicius and with whom he played his first Final Four in 2018. A year later he repeated with Efes. On Thursday he was proclaimed the best player of the season, with an average of 16.3 points and 4.8 assists. Everything suggests that he will play in the NBA next season. Also noteworthy are US guard Larkin —28, a former Baskonia and Celtics player—, 33-year-old French guard Beaubois, also a former Baskonia player, and 35-year-old Croat forward Simon. In the inside game he has three former Barça players: Singleton, 31; Moerman, 32, and Pleiss, 31, in addition to Dunston, 35, and 29-year-old Turkish center Sanli, one of the revelations of the championship.
You can follow EL PAÍS DEPORTES in Facebook Y Twitter, or sign up here to receive our weekly newsletter.