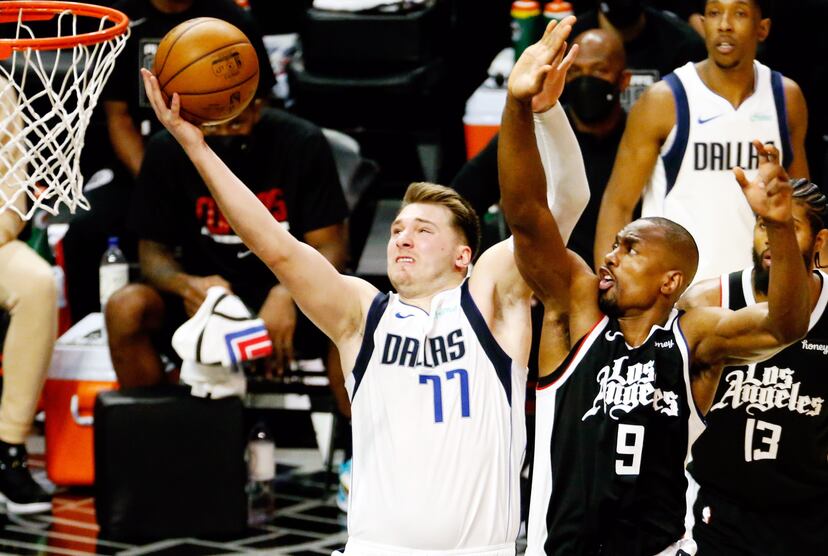 The revenge of what happened in some duels last season was very present at the beginning of the playoffs of the NBA. The Mavericks, who have very fresh the memory of their elimination against the Clippers in that first match in the Orlando bubble in August, now again meet the same rival. In the first game of the best-of-seven series, Luka Doncic led his team successfully and the Mavericks won 103-113.
The 22-year-old Slovenian guard added a triple-double, with 31 points, 10 rebounds and 11 assists. The Clippers failed to stop him despite frequent double-tagging and trying to wear him down with multiple relays in the matchup. Rick Carlisle's team dominated most of the time, leading to a 12-point lead. Hardaway, with 21 points, and Porzingis, with 14, were also those who scored the baskets that finished off the victory of Dallas.
The Clippers were off the 3-pointers, especially Kawhi Leonard who scored only one of six he threw, and Morris who missed all six of his attempts. Leonard, even so, was the most outstanding of his team with 26 points, 10 rebounds, 5 assists and 4 steals. On the other hand, Paul George, despite the fact that in the end he went to more and finished with 23 points, he was not well at the beginning.
Clippers: Beverley (10), Leonard (26), Morris (4), Paul George (23), Zubac (8) -starting team-; Batum (11), Ibaka (8), Rondo (11) and Jackson (2).
Dallas: Doncic (31), Hardaway (21), Finney-Smith (18), Porzingis (14), Kleber (6) -starting team-; Melli (0), Powell (0), Cauley-Stein (0), Brunson (15) and Richardson (8).
Partial: 30-33, 25-27, 25-26 and 23-27.
Staples Center in Los Angeles. 6,117 spectators.
Milwaukee, which was eliminated by Miami in the Eastern Conference semifinals (1-4) last season, began the first round against the same rival with a 109-107 victory after overtime. Giannis Antetokoumpo was the most outstanding and at the same time he was on the verge of causing the defeat of the Bucks because of his failures from the free throw line in the closing stages of the game.
The Greek player added 26 points, 18 rebounds, 5 assists and 3 steals. But, in addition to his 0-for-3 on 3s, he only made six of the 13 free throws he threw. Four of those failures occurred in the last minute, with the aggravating circumstance that they signaled an infraction for being over ten seconds of time to take one of those free throws. It was one more example of his difficulties and doubts when he went to the line. This season he averages 68% accuracy. After his last failure, with eight seconds to go, Butler tied the game at 99 points with a penetration to the basket and forced extra time.
In the added five minutes there was again a very close finish. After a triple by Dragic that tied the game, Khris Middleton decided with a basket with five tenths left to go. Middleton was the leading scorer of the game with 27 points and Holiday also stood out, with 20 points and 11 rebounds. Serge Ibaka added 8 points and 4 rebounds in the 13 minutes he played
Miami couldn't take advantage of the Bucks' dire percentage on 3s, at 5 of 31 (16%). The Florida team shot more 3s than shots from two. He had 20 3-pointers on 50 attempts (40%), but was vastly outscored on the rebound by the Bucks, who had 13 more sacks. Butler failed a great deal. He finished with 17 points, 10 rebounds and 8 assists, but only made 4 of the 22 field goals he threw. Dragic, with 25 points, and Duncan Robinson, with 7 triples and 24 points, were the most effective of their team.
Milwaukee: Holiday (20), DiVincenzo (3), Middleton (27), Antetokounmpo (26), Lopez (18) -starting team-; Tucker (0), Portis (8), Connaughton (2) and Forbes (5).
Miami: Robinson (24), Nunn (10), Butler (17), Ariza (8), Adebayo (9) -starting team-; Iguodala (2), Dedmon (2), Dragic (25) and Herro (10).
Partial: 22-24, 31-26, 27-28, 19-21 and in overtime 10-8.
Fiserv Forum of Milwaukee. 9,107 spectators.
You can follow SPORTS in Facebook Y Twitter, or sign up here to receive our weekly newsletter.