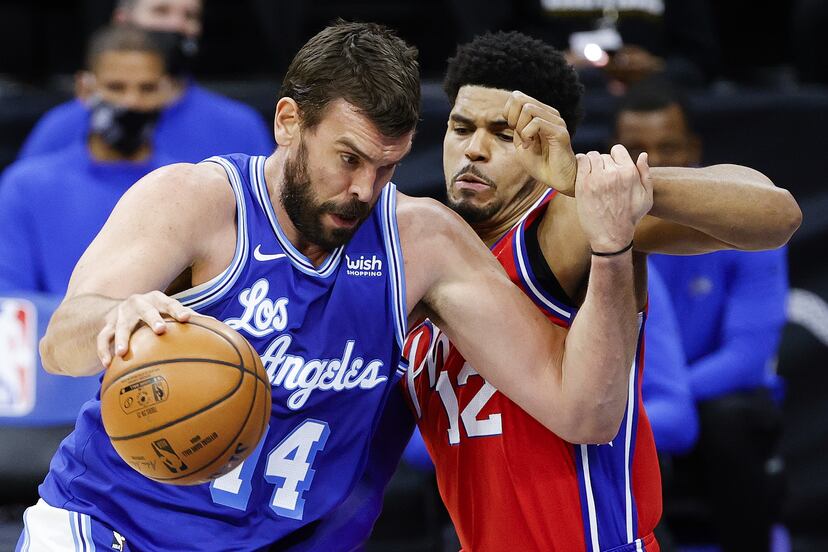 Marc Gasol is no longer a starter for the Lakers. The team's coach, Frank Vogel, explained that the newcomer Andre Drummond will occupy the center position from the game that the Lakers will play against the Milwaukee Bucks in the early hours of Wednesday through Thursday.
Drummond, 27, and 2.08 meters, signed for the Lakers on Sunday after terminating his contract with the Cleveland Cavaliers, with whom he averaged 17.5 points and 13.5 in the 25 games he played this season.
Marc Gasol, 36, who signed for the Lakers in November 2020, averages 4.8 points and 3.9 rebounds in the 38 he has played, always as a starter. On March 25, he reappeared after missing nine games due to covid-19.
"Marc has had a tough streak with health and safety protocols and a few other things," Vogel explained. "Here it is dear. The boys respect him a lot. He has been a true professional. We are going to need our three centers to qualify for the playoffs and in the race to win the title. He is a true professional ". Vogel added that he has not spoken to Marc Gasol about a possible termination of the contract he signed for two seasons.
Drummond will play his first game since February 12, when the Cavaliers decided he was no longer going to start because they bet on Jarrett Allen at center. Since then, Drummond, waiting to change teams, has not played again. Over the past few weeks, Drummond says he has lost weight and says he's in good shape.
The incorporation of Drummond to the starting five adds many doubts about the role of Marc Gasol from now on since the reserve center position is occupied by Montrezl Harrell, who is performing satisfactorily, with an average of 15.2 points, 6.8 rebounds and 223 minutes.
Drummond, 27, will be a free agent at the end of the season and Vogel said the team intends to renew him: "It is what we hope, that he will be a key piece for us, both in the short term and in the long term."
You can follow SPORTS in Facebook and Twitter, or sign up here to receive our weekly newsletter.