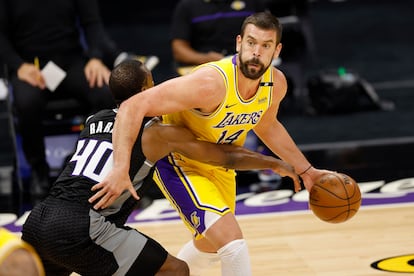 Marc Gasol expressed his disappointment at the loss of specific weight in the Lakers game since they signed Andre Drummond on March 27. The Spanish center did not appear in the starting five in Drummond's first game, against Milwaukee. That change made it clear that Frank Vogel, the Los Angeles team coach, will count less on Marc Gasol, who previously averaged just 20 minutes in the 38 games he had played since his relief, Montrezl Harrell is one of the best players who come off the bench in the NBA and last season, with the Clippers, he was already voted the Best Sixth Player in the League.
Drummond injured his foot in his first game and, in his absence, Marc Gasol started again, played 28 minutes and added 5 points, 9 rebounds and 6 assists in the Lakers' victory in Sacramento (94-115). in a game that LeBron James and Anthony Davis did not play, who are still injured. "I think there is a 'yes'. If they need you. And it's a big 'yes, "the 36-year-old Spanish international said after the meeting. "You are not plan A at the moment. You are plan C, D … You have to accept it because it is your job and for that you signed up. It is never easy to accept that ".
Vogel, after the game before the Kings, said: "I think people should understand how good Marc Gasol is as a player and how valuable he is for what we are doing. And we are going to play with our most important players, so he will help us win the title. This is the plan. That is the vision. Obviously, the arrival of Andre gives us more depth. But we are going to need all three centers (Drummond, Gasol and Harrell). We said it from day one. And Marc is one of our most important players. You've mastered the game, okay? And that's what Marc brings ".
Since Drummond arrived in Los Angeles, Gasol has refused to speak to reporters three times. They asked him if he has considered leaving the franchise he joined in November after playing the last season and a half with the Toronto Raptors, with whom he won the ring in 2019. "Things can change quickly in the NBA, just as they have. changed for me, "he said. "But I am committed to this team. It's a tough pill to swallow because I know I'll be out of the quintet at some point. It is never easy for a player. As a basketball player, you want to play, contribute, especially when you have committed to it. But, we'll see ".
Gasol signed a two-year, $ 4.9 million contract in November. With the Lakers, he averages the worst records of his career, 4.8 points, 2.1 assists. Between February 28 and March 25, nine games were lost due to covid-19. With Marc, the team gained defensive efficiency.
"You wonder if you've done something wrong when you're trying to do everything for the team," he reflects. "It's pretty obvious that I don't care much about my stats and the shots I get or the rebounds I get. I try to beat the player I have to score and help my teammates. It is not easy, but it is life. You have to adapt. You take it as a challenge and you push forward ". Vogel reiterates that the Spanish player will continue to play an important role in the team. "The support for Marc is total," says the coach. "It is a vital piece to win the title. There is no other way to see it ".
You can follow SPORTS in Facebook and Twitter, or sign up here to receive our weekly newsletter.