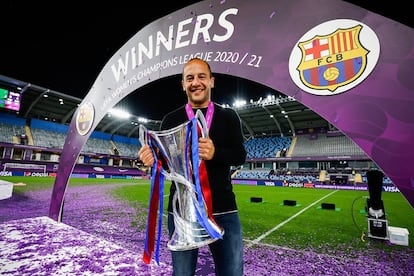 As soon as the final of the women's Champions League finished, in which Barça thrashed Chelsea (0-4), Barcelona coach Lluís Cortés (Lleida, 34 years old), approached the journalists' work area. "The players have made the chronicle easy for them, right?" He joked. The same calm showed before the game. Cortés jumped from assistant to head coach in 2019. Six months later, Barça reached the European Cup final against Lyon. They lost it 1-4. Two years later, the Catalans repeated the final. And this time they did not let her escape. Cortés had convinced the group that the handicap was physical, not technical. You had to work and they followed him. Thus came the first women's Champions League for Spanish football and Barcelona became the first European champion club for men and women.
Question. Do you have the same Champions League finals as Johan Cruyff?
Answer. It is an honor. But I think this will not end here. And I say it convinced. This Sunday, when the game ended, we said internally in the locker room that this was just the beginning. We have a team to win many Champions.
P. Does women's football represent Cruyff's philosophy?
R. The key to this team's success is not just who wins but how they win. We are hooking a lot of people to women's football. They have a good time. And that for us is incredible. We win, but we win by enjoying and making people enjoy.
P. Until this Sunday, the champion of the women's Champions had always played with the same style of play very different from that of Barça.
R. You are right. Until now the teams that won the Champions League were world teams, teams with large budgets that signed the best and won by individualities. But there was no team that played like us. Winning with this style, more atypical in women's football, makes us doubly proud.
P. Barcelona also has a good budget [4,1 millones de euros].
R. We are not the club with the most money in Europe. We are neither the second nor the third. We are still in eighth or ninth place at the budget level. And that makes us very proud. Footballers who want to play for money will never come to Barça. We have that very clear. But now we have managed to make almost everyone want to play for Barça. And it will not be for money, it will be because they want to have fun. They see a team that has the ball, that attacks and now also wins.
P. Against Chelsea without Alexia [era duda antes de la final] would have dropped the invention?
R. Without Alexia the scene would have changed. Not only does she play, she makes the rest play. And for our way of defending, of pressing and of associating ourselves in the triangles on the inside, Alexia is very important. He plays the game very well. For a coach to have her on the field is a blessing. And when he had the discomfort before the final we got a little doubt.
P. How do you explain that practically the same team that lost the Champions League final in 40 minutes in Budapest in 2019, won it in half an hour on Sunday?
R. Regarding the Budapest team, the only two new players are Hermoso and Graham. The difference is that the rest are much better now than they were two years ago. That is the key. We had to work with them to make them better. And that's what we did. We could not sign the best to have a world team. We had no budget to do it. So, we set out to make the ones we had here better. And that's when we all got ready to work, to improve and to grow as a team. And, in the end, well look, we have a Champions League.
P. Is the good coach the one who improves his players?
R. So they say.
P. Can you say that he is a good coach?
R. I want to be it. But it is not only Lluís Cortés. There are many people who work long hours to make these players better. From the nutritionist, the analyst, the assistant, the trainers … It's up to me to show my face.