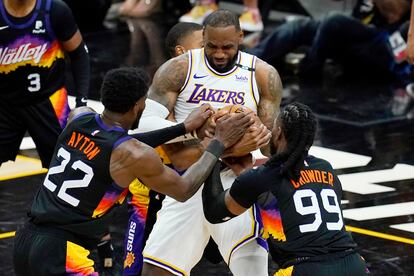 The Lakers were the spitting image of impotence in the first game of the first round of the playoffs in Phoenix. The Suns played with even greater authority than reflected in the final 99-90. They completely dominated. The prospects for the Lakers, already difficult due to their poor classification in the regular phase, with seventh place, worsen after what was seen in that first game of the tie. If you were already aware that a team ranked below sixth never won the title in NBA history, now you are delving into doubts about the level of your game. The champion is in serious trouble.
The Californian team could not hold on to the game at any time. Its stars did not come to the rescue. LeBron James was not lavish in attack even though he was the most inspired of his team, with 18 points, 7 rebounds, 10 assists and 3 steals. Anthony Davis, with a series of 5 of 16 in shooting from the field, finished with 13 points and 7 rebounds and was widely outmatched in the zone. "I have missed a lot of shots, and also the whole team. There's no way we can win a game like this, much less the way I've played, "Davis acknowledged.
The Suns won the rebound battle long, with 14 more sacks (47-33), and were much more effective on defense. The Lakers failed a lot on triples, with 7 of 26 (27%), and also in free throws, with 17 of 28 (60%). Instead, Devin Booker became a nightmare for the Lakers defense. The 24-year-old guard had 34 points, 7 rebounds and 8 assists. He formed the ideal couple with center Deandre Ayton, author of 21 points and 16 rebounds. "Booker is a scoring machine, he puts a lot of pressure on our defense," Vogel explained. "We haven't done a good job, but if we keep them at 99 points in the second game, I think we'll have a good chance to beat them." It was the Suns' first win in the playoffs for 11 years. The last time they played them was in 2010, with Steve Kerr as coach, and Steve Nash as team leader.
There were two moments of special tension during the match. The first was when Chris Paul received an inadvertent hit from his partner Caremon Johnson. The Suns point guard, with pain in his right shoulder, retired for a few minutes, but returned to the court. With nine minutes to go, and as LeBron struggled for an offensive rebound from a free throw, he was caught by Chris Paul. LeBron fell into a bad posture and hurt his shoulder. He was also able to continue playing. But as a result of that play there was a scuffle that resulted in two technical fouls to Suns guard point guard Cameron Payne, who was therefore sent off, and a technique to Caruso and another to Harrell.
Marc Gasol did not play. His coach, Frank Vogel, maintains the idea that Drummond and Harrell share the minutes in the center position, and in some phases he plays with Anthony Davis as the only man inside the zone.
Phoenix: Chris Paul (7), Booker (34), Bridges (10), Crowder (8), Ayton (21) -starting team-; Saric (4), Craig (0), Johnson (10), Payne (5) and Moore (0).
Lakers: Schröder (14), Caldwell-Pope (7), LeBron James (18), Anthony Davis (13), Drummond (12) -starting team-; Kuzma (0), Harrell (12), Matthews (2), Caruso (10) and Horton-Tucker (2).
Partial: 32-25, 21-20, 28-23 and 18-22.
Phoenix Suns Arena. 11,824 spectators.
Sixers, 125; Washington, 118 (1-0)
Early morning from the 25th to the 26th
Brooklyn; Boston (1.30, 1-0 for Brooklyn)
Phoenix-Lakers (4.00, with 1-0 for Phoenix)
Clippers-Dallas (4.30, 0-1 for Dallas)
You can follow SPORTS in Facebook Y Twitter, or sign up here to receive our weekly newsletter.