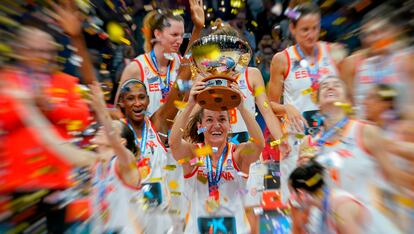 On August 16, 2002, in Vilagarcía de Arousa, a marathon legend began to be written, that of Laia Palau (Barcelona, ​​41 years old). "I don't remember anything very epic about my debut with the national team, none of that 'it's the big day', 'what I've been waiting for all my life'…", he explains. The extraordinary came later, with time and endurance: 19 years of competitive perseverance, 12 medals (three golds, three silvers and six bronzes) in 17 championships and 299 caps. Today, against Nigeria in Córdoba, he reaches 300.
Question. Have you ever imagined such a long road?
Answer. Never. I get tired thinking about it (laughs). In my early days, I was not very clear about anything at all about basketball. I did not even know if I liked it, although it is wrong to say it. Perhaps the last 10 years of my career are the only ones in which I have been a little more confident than I was doing here. But for a long time I felt very strange in this world.
P. And what does the figure of 300 caps tell you?
R. I value time more than matches. I just started in 2002! Before it was not played so much. When I arrived, players like Betty Cebrián and Marina Ferragut had already been there for a thousand years, but they did not have so many international appearances because there were no tours, nor so many friendlies … For that reason, more than the 300, what impresses me the most is the 19 years of permanence here. At 41, it is almost half life in the national team. And there we continue, in the gap.
P. What was that 22-year-old Laia like?
R. Well, a little punk, I guess. A restless girl, who shared a flat in Barcelona with her group of friends, interested in the cultural upheaval in alternative neighborhoods. We were not very much to go out at night but more of cultural days in civic centers, social education issues… I don't even know if my teammates liked me. Not because it was borderline but because it was strange, because it was very much to my roll. In that debut with the national team, I tried to figure out where it was, what had to be done there, how it was organized … I watched quietly. I arrived without having a clue, but I don't remember myself with fear.
P. And in sports?
R. I came to the national team because Ana Belén Álvaro, Nieves Anula and Nuria Martínez were injured. I entered the squad with a carom and I had a strange year, because it was the year in which FIBA ​​imposed the body adjusted as uniform. There was a lot of controversy, with the veterans defending the position against this, and I had to ask the question of 'what do I have to say if they ask me'. They wanted to promote women's sport, but starting with aesthetics was not the right thing to do. It was necessary to fight from the beginning. It was not about coming out prettier or more tight on the track so that they would notice us. That didn't last long but we had to play like that. A frame. I was everything legs, very thin, with my 45 standing, and that thing stuck that looked like you were wearing a swimsuit. That made Australia fashionable, but they were blonde, tall and strong, and we did not give that profile.
P. Has it been much improved compared to that time?
R. We have improved because society has improved. Also in giving women's sport the focus it deserves. In our case, the results were putting us on the map. They listened to us by winning. Later, social awareness has led us to gain recognition and impact.
P. How did you experience the transition from Pancho Villa's army, as Amaya Valdemoro said, to the golds and the seven consecutive podiums?
R. It was an evolution by constancy. We are still not physical marvels. We keep thinking that about 'how am I going to hit this chick who takes three heads off me'. Our dna It remains the same. But it is true that when players like Alba Torrens, Laura Nicholls and Tamara Abalde, the generation of '89, arrived, we said 'my mother, if we exceed 1.85m!' Cindy Lima, Marina Ferragut and Betty Cebrián were great aunts, but the generational change was noticeable. Even so, we continue to wage guerrilla warfare. And there I grew up, adapting to everything from the beginning. At Barça I played as a base, in the national team I started as an escort. Here you always have to adapt. The key is knowing how to do what the team needs. I was for a long time the stopper, the defender. Elisa [Aguilar] was the base, Amaya [Valdemoro] the undisputed star, the one who got them, and Marta Fernández the roadrunner. It was my turn to do a little of everything. I've done a lot of overtime.
P. Did they adjust the formula over the years, can you tell?
R. Before it was not that we did not know what the plan was, it is that there was no other plan than to go with everything. If not, they ran over you. We made our weakness the hallmark. We will not rebound, but we will have to press for what bajini, make them run, drive them crazy and put intensity every second. And that is what we continue to do. With humility, without ever believing it, playing and training as if life depended on us. Thus we have earned a cache as a country. What has happened in the last decade is that our madness has merged with a generation top. Furthermore, when we emigrated the world opened up to us. What I don't understand is how the rivals haven't gotten the hang of it yet.
P. How did you go from 'I don't know what I'm doing here' to being almost 20 years old?
R. I also wonder how I did it, how I got here. I have a pretty firm sense of responsibility, but I marvel at what I do. Because I also have a very rebellious point to which all this does not hit anything. I don't know how perseverance and discipline have triumphed. I had a decisive point in my career, which was my time with Carme Lluveras at Barça. She had no mercy. He said 'this is what has to make you breathe'. It took me to that limit and once I understood that basketball was what was going to rule my life, I took on the rest of things. I jumped that barrier. Then I looked back thinking 'I want to go back', but since I was already on the grass I decided to throw forward. What he was clear about is if he was going to be there, he had to do it without half measures. If I do it, I do it with this level of demand, if not, I don't.