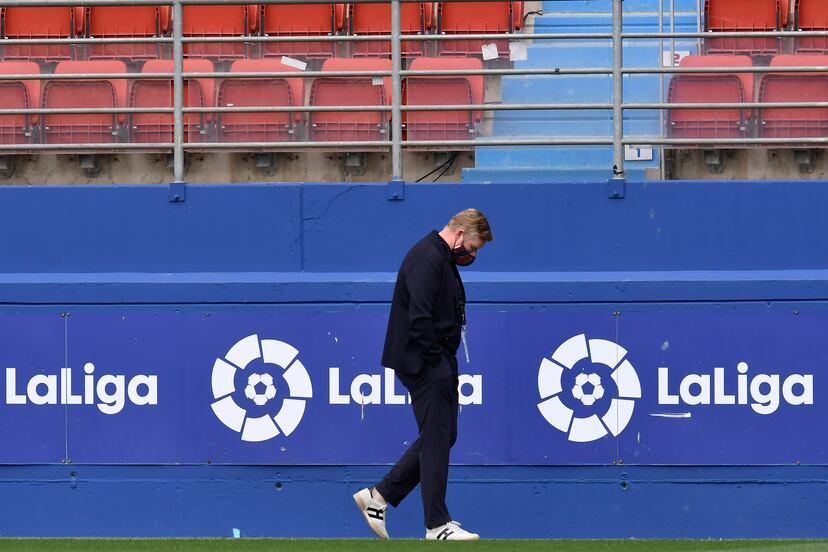 It's been a few weeks since Ronald Koeman wiped the smile from his face, saddened by losing the League and possibly his chair on the Barcelona bench. He always defended that he saw himself as the Barça coach in the next year, convinced and proud of his work. But since Laporta became president – who did show him his confidence but did not give him his word either – he no longer has all of them with him. He is blamed for a not very showy game and a lack of tactical resources, even though they did not bring him signings – Pjanic, whom he has subjected to an ostracism that surprised even the locker room, and Dest on the horn – and started with Messi with a crooked nose because they didn't let him leave the club for asking for it after the deadline. He has won the Cup and finished the League third. "If in August they told me that we would win a title and fight for the championship until the last two games… I, and also a lot of people, would have signed. I think so. It is not a bad season, far from it. You cannot ask for a double every year and less from a squad you are training, "claimed Koeman.
Annoyed by the succession of information that places him outside the club, Koeman faced what is perhaps his last press conference as a Barça coach. "I think it is not my last game. I have a contract. I am calm and if there is something that the club wants to change, it has to speak to me ", defended the Dutchman, who wanted to offer his arguments:" We have taken a template that was made. The only signing was Dest on the last day [obvió a Pjanic]. But for me it was not completely made, it is not the level we want at Barça and many people at the club think that way. There are older players with all due respect, who still have a level for this team. There are also many very young people who have to learn and gain experience. This template is not made. That's why I say that you can't do everything in one season ". And he remarked: "We have made many changes to the squad and I think this project deserves more time."
But in Barça and in football, time is becoming more diffuse and unknown, all the benches being demanded for the results, especially in the domestic championship. "We had a very difficult period in winter and we lost a lot of points. We have been in the fight for the title, but we also lost very important games that could give us the championship. It is a very young team, but I believe in the future of this team and in the young players that we have discovered. It could be a positive year, "said Koeman, clearly dissatisfied with those who do not believe in its continuity. "The problem existed at the beginning because we had to overcome many points and we even won the Cup in a brilliant way. But we have forgiven in important games, such as against Granada, that we were able to become leaders ", he lamented. This is how Griezmann saw it: "Our image was not very good at the beginning of the season and we lost a lot of points. But in 2021 we have done almost perfect less in the key games in which the League was decided, such as Madrid, Atlético and I think against Granada, which is when we lost the tournament. We are hurt and disappointed to lose this League ".
It was taken by Simeone's team. "Atlético has deserved to win the championship. They have a very well made squad and have been up for a long time. They have been a little better than Madrid and Barça ", accepted Koeman. Now it remains to be seen what happens with the technician, also with a changing room that is guessing a new one clean in terms of players and above all cost of the salary bill. But for this year, what was given is over.
You can follow SPORTS in Facebook Y Twitter, or sign up here to receive our weekly newsletter.