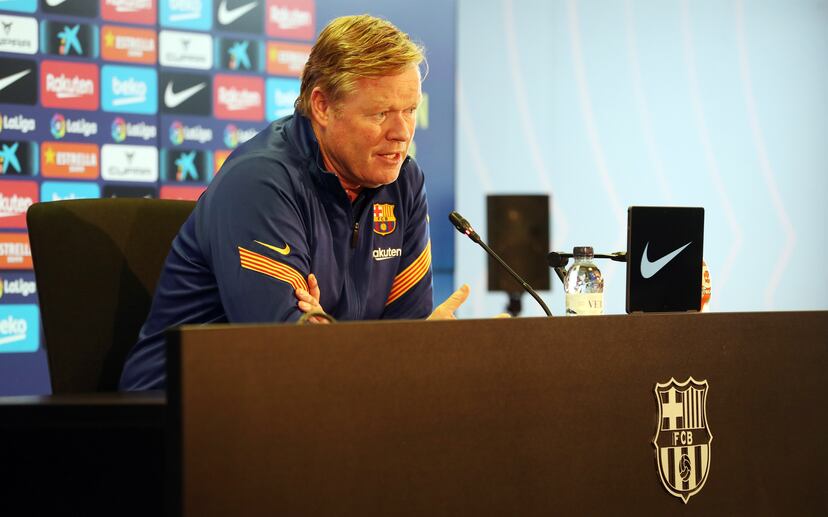 Barcelona is going with the hubbub on their backs, energetic and confident in the final stretch of the course because they won the Cup and because they have been able to overcome 11 points with Atlético de Madrid since matchday 16, the maximum difference of the course. It would also be the biggest comeback in history if he ended up winning the tournament. But to get to the top of the table, he must beat Granada before (Thursday, at 7:00 p.m., in Movistar). "It is important to be leaders. But if you look back, it's an unexpected situation because we were quite a few points behind. What we have achieved is something great, to be able to fight for the League, "said Ronald Koeman, Barcelona coach.
But neither does the Barça coach want to put pressure on his players, according to the philosophy cholista from match to match. "The team is very focused and doesn't think the job is done. In addition, we have already had a time of high pressure, that we cannot fail and that we needed the points. Against Granada it is the same, it is not more important than another game because to win the championship surely you have to win every game ". Although he clarified: "It is never too early to become leaders." And he put in value what his team has done: "In the last 17 games we have won 15. It is impressive. And it had to be that way because if not, we couldn't fight for the championship. But the team has taken the reins, also confidence and effectiveness… If the team is well we can achieve it ".
It happens that Barça is (or was) in a transitional season, without renowned signings due to the lack of money and with the arrival of young people like Pedri and the rise of many homegrown players because it was so decreed by Koeman. "In the team we have leaders, very experienced people who have experienced matches like Thursday's many times. They are the ones who have to transmit it to young people like Mingueza, Araujo, Pedri… ", warned the coach. Although, ambitious as the position demands, he left the tagline: "Mentally we are strong and we have obtained difficult results. But you have to give your best and live with the discomfort, fatigue … to win the League ".
Trust in Griezmann
In a team of moments -sometimes Ansu shone, then Braithwaite, also Coutinho on the side, De Jong more frequently and almost always Messi since he took a liking to being at Barça again-, now the one who asks for a turn It's Griezmann, with two doubles in the last three games. "From the first day I spoke with him, I said that he is a very important player. He was criticized for his effectiveness, but I like him because he works as a team and always trains hard. But it is true that now he is more confident, as he showed in the first goal against Villarreal ", praised Koeman, who is waiting impatiently for the possibility of an audience in the stadiums – especially against Atlético, when they can title-. He is not so concerned about what will happen to Messi, at least for the moment. "Hopefully he continues with us. It has to end here because it has been here all its life. But it is his decision and right now I am not worried at all. I focus on the game against Granada. With Leo, we'll see at the end of the season ". It will also be seen if Barça has made the best comeback in history.
You can follow SPORTS in Facebook Y Twitter, or sign up here to receive our weekly newsletter.