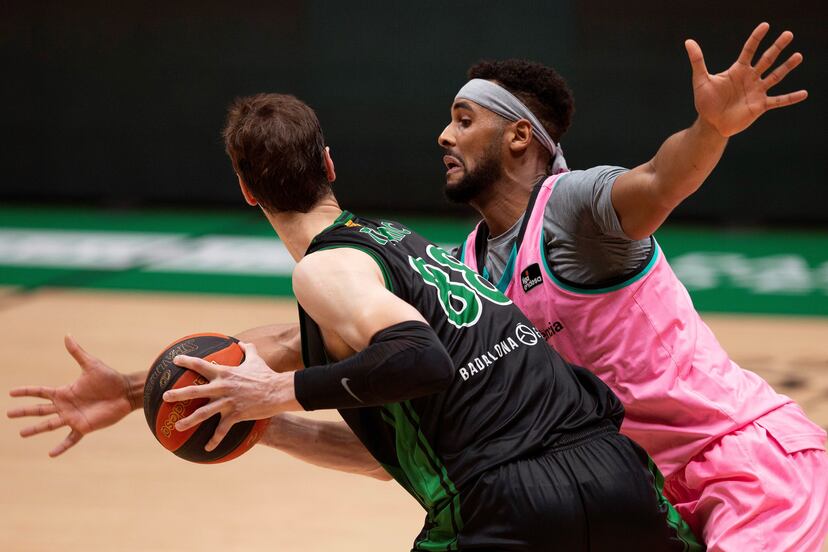 Joventut led a blurred Barça down the street of bitterness and forced the third game of the quarterfinals of the ACB League. The final match of the series will be played this Saturday at the Palau Blaugrana (6.30pm). The winner will face Tenerife, which made history by winning in Burgos 68-92 and qualifying for the first time in its history for the semifinals of the ACB League.
Ferran Bassas made the difference. His claw and offensive success, with five triples and 20 points, made the defensive effort of his team worthwhile. Barça was out of place since its disastrous start (20-5).
Hanga, again a starter in the absence of Calathes, did not give consistency to the Barça game. Bolmaro relieved him and changed the landscape. The Argentine base was more direct in attack. Barça, however, achieved a turning point thanks to defense. To the Joventut all the routes were closed to him and he wasted ammunition with triples out of place. Barça tied at 31 at the beginning of the third quarter, but continued to play poorly and failed to get in tune in attack. He had no choice and trailed between eight and 10 points behind during the entire final stage. His mistake was general and was reflected in the triples, with a 5 of 21 (23%) and even in the free throws, with 12 of 23 (52%).
Bassas' replacement, Macedonian Dimitrijevic also performed at a good level despite injuring his ankle. Its superiority in the rebound was worth nothing to Barça. Only Mirotic and Davies barely complied and the Barça team was shipwrecked in one of their worst performances in attack this season.
Joventut: Bassas (20), Pau Ribas (12), Parra (0), Morgan (6), Tomic (6) -starting team-; Dimitrijevic (10), López-Arostegui (2), Brodziansky (8), Ventura (4) and Birgander (4).
Barça: Hanga (1), Higgins (13), Claver (0), Mirotic (11), Davies (11) -starting team-; Bolmaro (12), Smits (5), Pau Gasol (5), Kuric (5) and Abrines (0).
Partial: 23-13, 8-14, 18-17 and 23-19.
Referees: García, Bultó and Olivares. Eliminated by fouls Tomic and Davies (m.36). Technical fouls were reported to Bolmaro, Joventut coach Carles Durán and the Barça bench.
Olímpic de Badalona. About a thousand spectators.
Lenovo Tenerife made history by qualifying for the ACB League semifinals for the first time after destroying San Pablo Burgos (68-92) in a second half in which they were much superior, thanks to the display of Brazilian guard Marcelinho Huertas (20 points, 3 rebounds and 9 assists) and the outside success of the Canadian Aaron Doonerkamp.
After an even first half, in which Burgos dominated with short leads, the game changed completely after the break. The islanders scored from all positions, doing a lot of damage with their triples to a knocked out opponent who conceded a 27-0 run that left them with no options to extend the tie. Dejan Kravic with 20 points was the highlight of the game by the Burgos, who missed Ken Horton, seriously injured, and ended with this defeat a season in which they met their objectives and revalidated their title of the FIBA Champions League.
Doonerkamp, ​​with six triples, was essential in the takeoff of a Tenerife team in which Marcelinho Huertas shone again, finishing as the top scorer on his team and sharing the game among his teammates.
San Pablo Burgos: Kravic (20), Benite (7), Rivero (5), Rabaseda (3) and Renfroe (9) â? starting five – Queeley (0), Salash (3), Barrera (0), McFadden (10), Saved (9), Sakho (2), Cook (0).
Lenovo Tenerife: Fitipaldo (13), Huertas (20), Shermadini (11), Cavanaugh (6) and Doonerkamp (18) â? starting five – Yusta (0), Salin (3), Jenkins (8), Rodríguez (0), Sulejmanovic (6), López (2), Guerra (5).
Partial: 26-23, 15-23, 11-31 and 16-26.
Referees: Count, Castillo and Baena.
Coliseum Burgos. 879 spectators. Tenerife qualify for the semifinals of the ACB League.