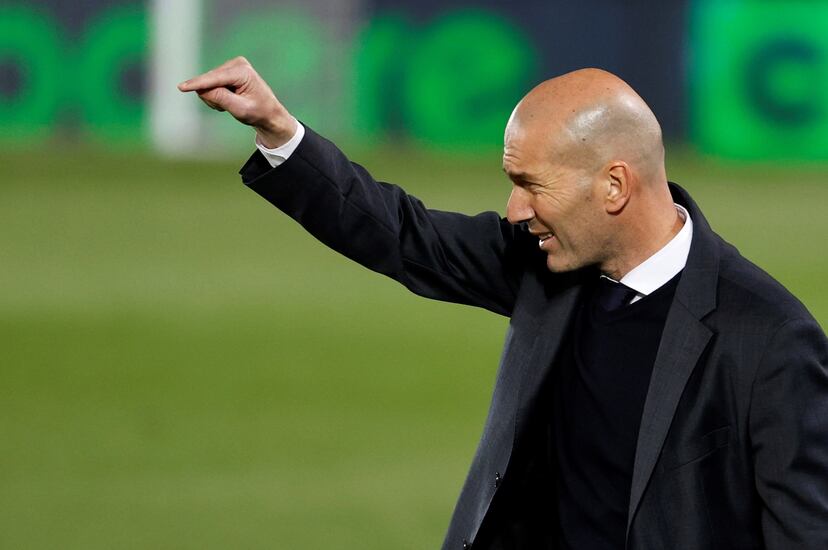 From zero to infinity. Éder Militão's life at Real Madrid multiplies this spring every time he dresses short. To his discovery as a defensive pillar, he added this Saturday the stiletto in attack. He finished off Osasuna with a head butt when the stress began to chew in Valdebebas, and the shouting of Sergio Ramos and Carvajal from the stands increased in volume. His goal was no accident. Already in the first part he had forced Sergio Herrera, a martyrdom until then for the locals, to get two hands of merit. A month ago, no one knew his name. Now, after nine starts in a row, he is the revelation player.
"My thing is work and support from my colleagues to do well when opportunities come," said the central in an orthopedic Castilian after almost two years in Spain. "I had two occasions in the first half. We were doing things well, but we were missing the goal. Now you have to go game by game and see what happens. Step by step ", added the Brazilian, who scored up to four shots against the Navarrese. It was his second as a target, this one with a happy ending. The previous one took place in the black night cup of Alcoy.
His target left a jump from Zinedine Zidane in the band, who already saw how another day against a rival that is not from its Liga was heading for another frustrating outcome. His most hated plan awaited Madrid: a well-sheltered block behind and with a goalkeeper in octopus mode. A night menu that had already been indigestible several times, also against Osasuna in the first round on that snowy weekend and Filomena. In spring, without the weather as a shield, the whites ended up smiling, but it cost them another hot flash.
It was not for lack of trying. Until the break, the whites broke their record for shots this season (13) and that of a home team without scoring in this league, together with Barcelona against Levante. After 90 minutes, they left with 22 attempts by three of the Navarrese.
"When a team plays like in the first half, with three, four and five occasions, it is a bit frustrating for the players. So I'm happy for them. At the break I told them that I was going to arrive. You had to be patient. The 1-0 was a liberation. I'm happy because I knew my players were suffering ", admitted the French coach, who did not want to know anything beyond the match against Osasuna and shifted in his seat every time he was asked about Chelsea. "What we are doing is not easy. Another clean sheet and we scored two goals. Many things have happened to us and there we are. With difficulties, but we are still in the fight with four days to go. I'm not saying that we are going to win, but I am saying that we will do everything we can to try. It can be ", he proclaimed as a call to hope after receiving another disturbing medical news. In the intermission, Varane stayed in the shower due to some discomfort in his right leg. "He told me it was a small thing. Hopefully that is the case, "said ZZ.
Madrid's double obligation in the League and the Champions League left another lineup with an experimental touch. With stiff muscles and fatigue squeezing the bodies, the home tournament is the territory where Zidane allows himself the few licenses that the infirmary leaves him. Despite his avowed devotion to the day-to-day championship, the orejona It continues to be too powerful a call and for next Wednesday's appointment in London Kroos and Modric were saved, who did not even warm up. In defense, he pulled Odriozola and Marcelo as full-backs in a defense of four, a decision from which he had indiscriminately fled in recent months. In the center he again pulled the Blanco youth squad and upstairs he overturned with four men, including Hazard, who since the end of January did not appear from the beginning. The Belgian started from the center, as playmaker, with Asensio and Vinicius on the wings. Like soda, it ran out of gas after two shots at the start. "I saw it very well. Especially in the position, close to Karim [Benzema]. They have tried, "Zizou said.
So many heavy encounters and without excessive traces in attack, this Saturday Madrid did not lack chances. However, Sergio Herrera was for almost everything. "Those two goals in two minutes were a shame. We were super correct, showing a lot of face ", lamented the Osasuna goalkeeper. "They put them in a corner and at a loss. With 1-0 we could still have fought ". The best thing for the visitors was to see Chimy Ávila again in an eleven after breaking the crusader twice in a row. "We know what he has been through. I had a [lesión de esa gravedad], so he with two … ", finished the goalkeeper.
You can follow SPORTS in Facebook Y Twitter, or sign up here to receive our weekly newsletter.