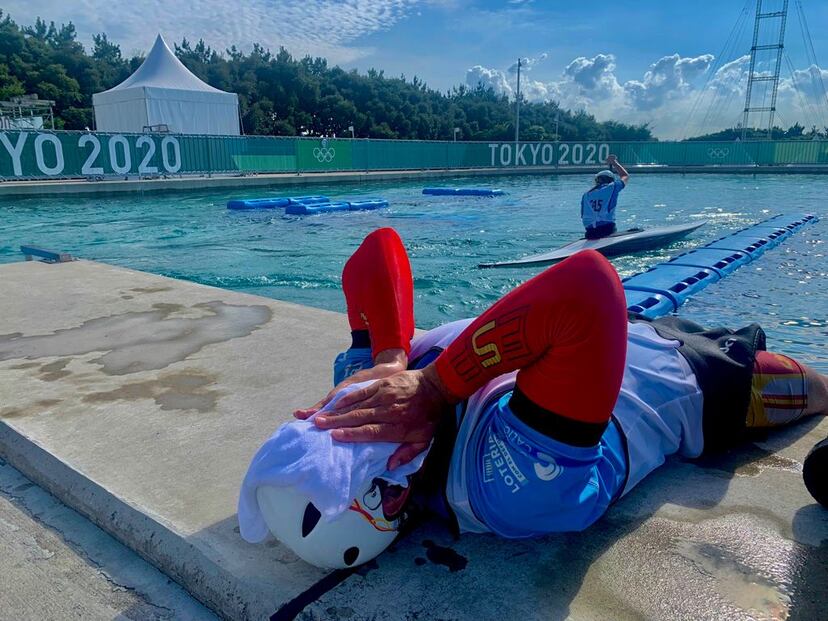 Those who have been in Tokyo the longest are the canoeists from the Olympic slalom team. They landed on the 3rd. On the 8th the International Federation mounted a pre-games training so that, divided by turns and by groups of countries, they could go to the whitewater canal. It is essential in this discipline to know every corner to become familiar with the currents and artificial obstacles of the descent. The sun has begun to hit so hard and the humidity to be so suffocating that the canoeists seek their lives as they can to fight against the heat. From icy showers to wearing ice vests.
David Llorente, the world runner-up who will compete in K1, says that on the first day he appeared at the facilities with a duvet and that, two weeks later, it seems the Kasai canal has become an oven. "We were even cold at the beginning because we arrived on rainy days and since we took naps there between the two training sessions, I took a duvet to be covered. Now, on the other hand, the heat is suffocating, as it is a closed water circuit, the water has been overheating ", he says. So much so that he has decided to train with an ice towel on his legs. "My kayak is black, it seems a lie, but it attracts so much heat that I feel my legs get warmer. In competition it will not matter because it is 90 seconds, but during training I am putting towels on to make it more bearable ".
It is not the only resource that his colleagues (Maialen Chourraut, Núria Vilarrubla and Ander Elosegi) and he are using. They put on a vest with ice in the minutes of rest between descent and descent. "And a towel on the head. To compete in whitewater we have to have a clear head to make quick and correct decisions… and this helps to clear you up a bit these days of very tough sessions ", points out Llorente. The whitewater competition starts this Sunday.
Subscribe here to our special newsletter about the Tokyo Games