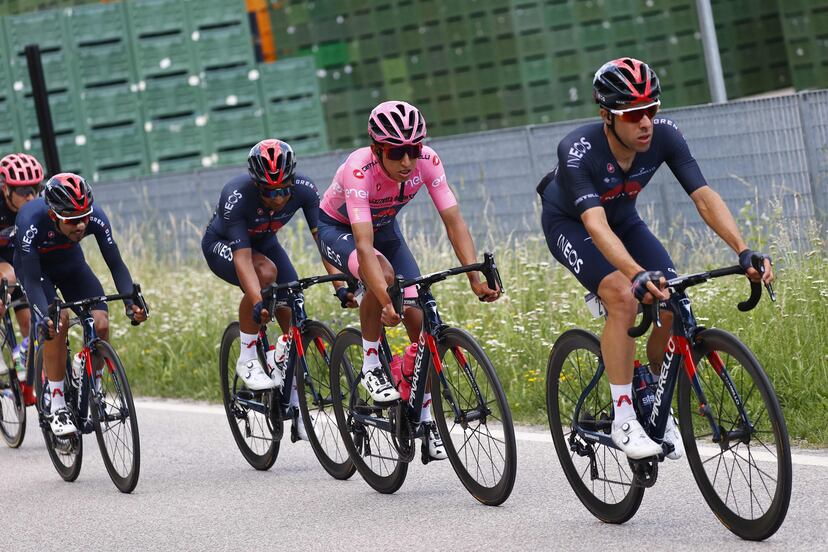 Gorka Izagirre, veteran cyclist worker, leaves the restaurant after having lunch on Tuesday of rest in the Dolomites and stops him to tell him, jopé, how are they now, how they have canceled the Marmolada and the Pordoi for four drops and a little cold, and for cold and snow the year of the Giro de Nairo, when you fed him almost like a small child and told him to wrap up warm before crowning the snowy Stelvio, and how you encouraged him to attack going down. And then you fell and when you got off the bike you had to walk with crutches, you were so broken, but you did not give up … The eldest of the Izagirre brothers, 33 years old, stares at the chatter and cuts him off, but how, how can you remember that?
It is the problem of the great gregarious, who do not give value to their work, who hardly earn headlines, it is their obligation, without more, as explained by his partner in Astana Luis León Sánchez, who has passed, in his long career , for the roles of great hope, of specialist in time trials, of skillful winner of stages in great races, and now he acts as gregarious-captain of the route: "if you don't win it seems that you do nothing and that nobody takes you into account".
"The trade lengthens careers," he says. "Many times it is about situating yourself. Know what you are here for, what you have come for. That the team knows what it has to do, also, how it has to run. Placing yourself in the squad is the best thing you can do for yourself. We are here for what we are, and to do our best. And get out of here well ". He talks about the Giro, where he and Izagirre acted as the old guard of a young Russian, Aleksandr Vlasov, which is not that he generated much confidence in them. "We are doing well, we are eager, we know that he is a young and inexperienced boy. Let's see how far it can go. Between his inexperience and what remains… ", Luis León said in the middle of the race, when Vlasov still seemed like a serious rival for Egan Bernal. The Russian with a bright future finished fourth, behind three riders, Egan, Damiano Caruso and Simon Yates, who, like their cold Russian, counted as great road captains, trusted advisers, with veteran Spanish cyclists, masters of the issue.
Retired by fall, broken and touched, the leaders with aspirations, Mikel Landa and Marc Soler, the Spanish protagonists are called Luis León and Gorka. Or Jonathan Castroviejo, 34, in whose wisdom Egan trusts so much that he does not take a step, does not make a decision, without consulting him, without letting him take the tactical and strategic command of the entire Ineos on the road. Or Mikel Nieve, 37, the Navarrese from Yates, who is always there, even if the Giro was not as fine as in other years. O Pello Bilbao, 31, the Spanish time trial champion, who finished fifth last Giro and had the right to demand respect, but agreed from the start to work to help his friend Landa and ended up being the key to the stage victory and the Second final place for Caruso, the supervening leader of Bahrain, one who, precisely, in his victory, vindicated his trade, his profession, his entire life of gregarious champions, Nibali, above all. "The difference between a gregarious and a champion is the pressure of the result. The responsibility of the gregarious is to serve, and he lives more calmly ", says the Sicilian. "But there comes a day when you look in the mirror and say to yourself, but why settle for it? I've been a conformist all my life. Why not dare, dare to look for something more? You have to have dreams, but never impossible dreams ". And so he defines better than anyone the mind of a gregarious person.
The mind of Castroviejo, a great time trialist (European champion and world bronze in 2016), is that of an accountant, must and will, expense and profit, investment and profit. He sets Egan's steady pace in the mountains when defending, and he does so even with a flat tire, and sets the exact pace for the final time trial, which the Colombian steps on almost to the second. And it calms him down, erases his anxiety, fear. "Egan is a good rider, he is a good cyclist. He always gets on very well, "says the Basque, who arrived at Ineos the same year as Bernal and with him there was good chemistry instantly. The experience helped Castroviejo, who had already been the closest cyclist for several years, the chosen counselor of another Colombian champion, Nairo Quintana, and was always by his side because they used the same bike size, and by his side, Quintana he won a Giro, a Vuelta, and was second in the Tour twice. And in the Sky, Castroviejo was next to Geraint Thomas who won the Tour of 18, and with Egan in the Tour of 19, and in 20, when Egan, injured, sunk, left, Castroviejo also left. Faithful to a colleague, a boss, a friend of whom he says: "I also had no reason to be low on morale. This year he started performing very well in Tirreno, in Strade… I think he simply puts too much pressure on himself. He'll get over it. I see him very well and we hope he continues like this ".
You can follow EL PAÍS DEPORTES in Facebook Y Twitter, or sign up here to receive our weekly newsletter.