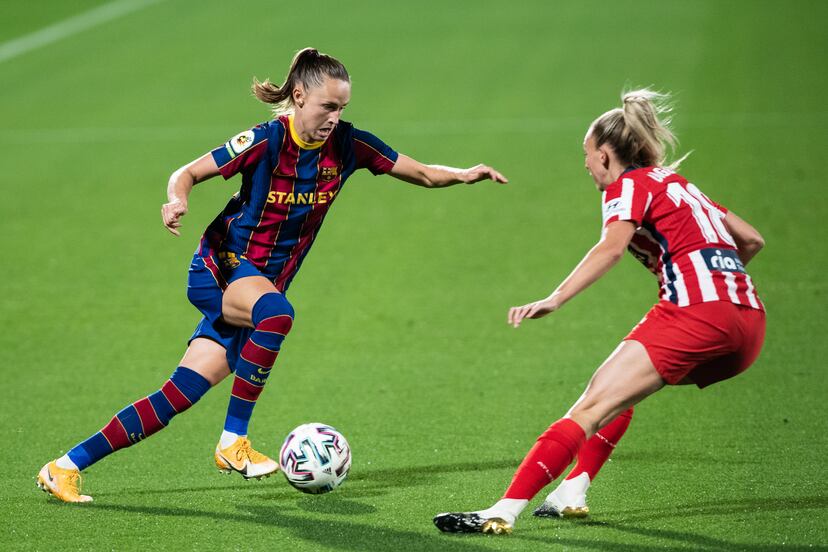 As a child, Caroline Graham Hansen (26-year-old Oslo, Norway) watched Magnus Carlsen play chess, listened to her grandmother talk about astrology, and read poetry. He also played soccer, of course. And very good. Nothing changed with the passage of time. "You have to be careful with Graham," they warn in Manchester City, Barça's rival this Wednesday in the first leg of the Champions League quarter-finals (12.30pm, Barça TV and E3; the duel is played in Monza due to sanitary restrictions). "It is the best in the world, although they do not recognize it with awards", they boast in the Barcelona Sports City. To the Barcelona forward the accolades do not matter to him. He is interested in vindicating women's football. And he is obsessed with winning, as much as enjoying life off the pitch. "Some people like to shop, others play Play. I play chess, read and watch documentaries about the universe. That motivates me, "says Graham Hansen.
Ask. Are you as well known as Haaland in Norway?
Answer. Me? No, no, not even close. I'm not interested in fame either. I know that many people can know who I am, although I do not have a real dimension of that. In my head, I am just a soccer player. I'm not too interested in the rest. When I meet people, for example, I always think that they don't know who I am. But I also know perfectly well that I have to behave in a certain way because I can be a role model for many young girls.
P. In Norway, women's football, world champion and Olympic, has been more successful than men's.
R. Yes, but as in many other parts of the world, the male is more popular than the female. We have had an incredible increase in impact after the last World Cup. It's been a big change, but now we also have superstars in the men's like Haaland, Odegaard and Joshua King.
P. Is the number of boys who play soccer today similar to that of girls?
R. I don't know if it is 50 and 50 in numerical terms, but I know that girls no longer think that soccer is just a men's sport. This is very important. Soccer belongs to men, women and all the people who enjoy this sport. And that's how it has to be.
P. Why doesn't your name appear on the podiums of the Ballon d'Or and The Best?
R. Individual awards are not important to me. I'd rather win the Champions League than get an individual award. I am not amused by the attention of the press. And another thing, I give assists, I don't score so many goals.
P. What does that mean?
R. We live in a world where the media do not play our game in the same way as they do men's. Which means they take note of only who scored, rather than paying attention to what each player did in the match. At Barça, I am surrounded by great footballers who are not even close to obtaining any kind of recognition. This is the main thing: the media does not pay attention to our game. But I don't want to use my voice to win a Ballon d'Or, I'm only interested in using it so that our football is more recognized. And so people can see us. If we can achieve that, we would no longer be talking about these things. We must use our energy to achieve more equality and justice. If we do nothing, nothing will change. At least you have to try.
P. Can Barça win the Champions League or is that impossible?
R. It is possible, absolutely possible. It will be difficult, but that's the interesting part. Only the best remain. It will be intense. We can lose against City, but if we play the way we have to, we can win. And if we go to the round, we will have another super difficult game against Lyon or PSG, but one that can also be won.
P. You seem like a specialist on the extreme right, as if you grew up in La Masia.
R. I really like the one on one and I enjoy when I give assists. It's something I'm good at, qualities that are useful than in the game we do at Barcelona. I develop my football and have fun, but I also help the team and the club's philosophy.
P. When he arrived in Spain, from Wolfsburg, the idea was that his presence would take Barça and the league to a higher level. Do you think that has happened?
R. I don't think I have done anything other than try to enjoy this football and this league. I do not know what people outside can talk about what my presence means. I have nothing to do with it. I am only concerned about helping my team and the type of football we do. Soccer is entertainment, so it's supposed to be fun to watch. And if I can contribute to that, then I am very happy.