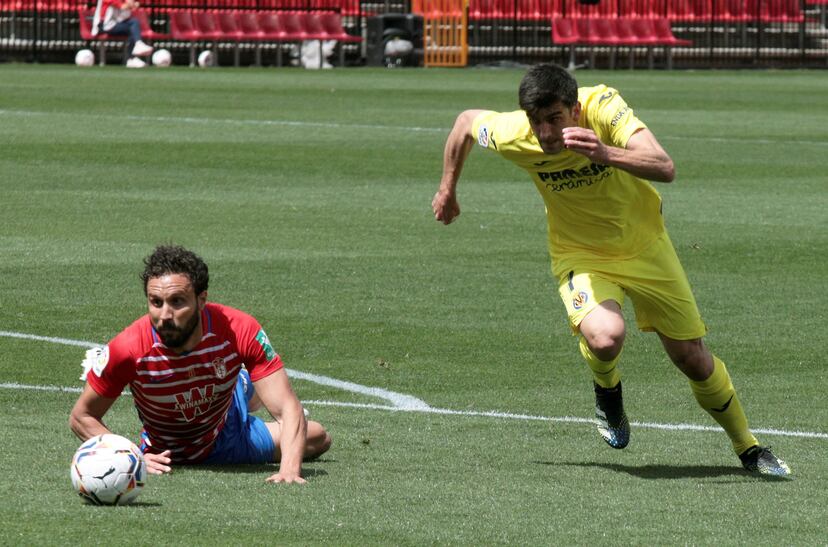 Elite records within the five major European leagues. In 2021, Gerard Moreno (Barcelona, ​​29 years old) rubs shoulders with the aristocracy of goal. His 18 goals, in all competitions, the same as Haaland, are only surpassed by Lewandowski (22) and Messi and Mbappé (21). Behind are, among others, Cristiano Ronaldo (16), Kane (15), André Silva (14), Benzema (13) and Lukaku (12). His numbers are completed with six passes on goal, which have allowed him to participate in 24 of his team's goals, a number only improved by Lewandowski (25) and Messi (29).
"It is chameleon. Super smart. I have seen few forwards who understand the game like him. It is much more than a goal. He associates well, he has a great influence on the team game, a brutal last pass, a great one-on-one. He is not a sprinter, he is not explosive, but he knows how to win spaces. His physical tests gave us figures more of a midfielder than a forward. Almost as a long distance runner. It has great resistance and a commendable capacity for work. No wonder he improves his scoring records. Last season he already scored 18 goals and only one penalty ". These are the words of Javier Calleja, current Alavés coach, who last season trained Gerard Moreno and who will face him today as a direct rival. "We are preparing the game and we do not know how we can stop him better. And that I know him well! If you block the exit to the good leg, the left, it goes the other way. If he plays as a first reference, he knows how to get away from the centrals. It comes naturally to him to fall to the right wing. I think that's where you feel most comfortable. For me it is not a pure nine. He plays better with a reference in front that fixes the defenders and he lets go wherever he wants ", adds the Madrid coach.
Consistency is another of his best qualities. He rarely disappears from the scene. It's constant. He likes to be present in all the attack actions of his team. It is offered, it is never hidden. Without being a typical area striker, he knows how to reach finishing areas thanks to his mobility. Bargain with the body. It is dropped to one side and can come out the other. It starts from a standstill, in the purest Butragueño style, and the most veteran fans will find in it details of José Eulogio Gárate, Atlético's fine center forward, who played on horseback between the sixties and seventies, and modified the striker canons of all life.
Juan Manuel Llaneza, current vice president of Villarreal, signed Gerard Moreno for his club when he was sports director in 2010. He was the first to bet on him. "I was in the Badalona youth team. Espanyol dropped him. We signed him in the second year of youth and Real Madrid went for him and his father told them that he was committed to us. He was loaned to Mallorca. He returned to Villarreal and the coach did not count on him. He went to Espanyol and we managed to keep 50 percent of the transfer. He uncovered and we went to get him and we had to pay 20 million, well paid, we are delighted ".
In terms of football, Llaneza highlights his virtues. "What I value the most is how he offers himself to others. He is not the classic forward who is with the cane ready watching them come. No. He defends as the first, that he should not do it. He is not handsome at play, he is not finesse personified. It's not pretty as Luis Aragonés said, but with Luis he would be the undisputed starter in the national team. It has many things. It does not mark by chance ".
If his statistics are extended to the entire course in office (20-21), his accomplishment capacity shoots up to 28 goals: 20 in the League, six in the Europa League and two with the national team. In the two dozen league games he has scored seven at home and 13 away (26 out of 31 possible games played). Four have been with the right and 16 with his dominant leg, the left, nine of them from penalties.
At Villarreal he is beginning to write his own chapter. He is five goals away from becoming the best scorer in club history. He has 78 goals in 173 games and is only five away from surpassing the 82 for Giuseppe Rossi, who needed 192 games. In First he already adds 53, to one of Forlán and Rossi himself. He has also become the first Catalan player to score 20 league goals in 60 years. His predecessor was Joaquín Murillo Pascual, who scored that figure for Zaragoza in the 60-61 season.
On Sunday he will see them with Messi. The top scorer in the championship (23) against the top national scorer (20).
You can follow SPORTS in Facebook Y Twitter, or sign up here to receive our weekly newsletter.