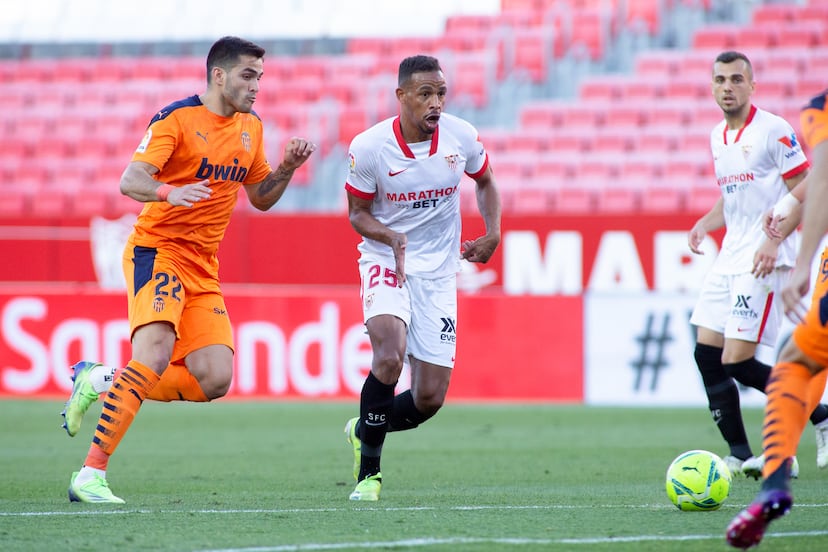 Fernando, at 33, gave a half-hour lecture that caused Sevilla, bland and insipid, to end up defeating a worthy and revitalized Valencia by Voro, but light years away from the Andalusian team, which scores 35 points. Fernando attended, commanded and cut. Under the mantle of their general, well escorted by Papu and Acuña, Sevilla overcame a gray first half and a second where Valencia was better driven by Guedes. Fernando entered, however, and ordered it to stop. His pass was greatly used by En-Nesyri, who scored his 24th goal in an excellent season. Sevilla then carefully guarded their advantage against a Valencia who tried to the end. At those moments, the figure of Fernando reappeared to cut off the approaches of Voro's players. Sevilla reaches 74 points and puts some pressure to get two points behind Barcelona and one from Madrid while waiting for Zidane's men to play in Granada. Valencia, almost saved, did what it should by beating Valladolid to escape hell.
It usually becomes a trend, at least in Sevilla. When their coach, Julen Lopetegui, decides to make numerous changes to his starting eleven, the team is predictable and lacks depth. The reason may lie in the agglomeration of players with a very similar profile, such as Suso, Óliver Torres, Jordán or Óscar. Also in that the footballer who enters does not want to clash and risks less than the one who knows himself to start. Or the same is because no matter how hard the technicians try, there are always starters and substitutes after Lopetegui left Rakitic, Fernando, Acuña, Papu and Ocampos on the bench. The fact is that Sevilla, which came from drawing in Valdebebas against a Madrid that was playing the League, could hardly ever overcome the framework that opposed a very orderly Valencia, which Voro organized with five defenders, four players ahead and Maxi in solo point.
The match was very thick, with Sevilla playing too slow, without the ability to alter the rhythm of a clash that required overflow and daring. Valencia, who did not go through difficulties, was the first to scare with a shot from Manu Vallejo. Then, Sevilla, with strokes, could disturb thanks to Suso's movements. The man from Cádiz was the only one who knew how to understand that the crash was crying out for some action. After scoring in an action canceled for offside, Suso drew his favorite play for Cillessen to cover the goal. The other options for Sevilla, who were not in any trouble either, were outlined in shots from outside the area, such as one by Gudelj that brushed the post of the Dutch goalkeeper. While Guedes was trying to move his team a bit, in Sevilla he was missing, for example, Navas' internships were missing.
Valencia was better at the beginning of the second half. He even had a clear option in the 53rd minute, when a play by Guedes ended in a death pass that Manu Vallejo missed by inches. Lopetegui did not wait any longer. Fernando, Papu and Acuña entered at a stroke. The game turned in a spectacular way. The reason, the quality of the spare parts and a better occupation of the spaces, especially in visiting areas. Something that is explained in how much Fernando pushes his teammates, who feel supported. The Brazilian, the protagonist, gave a great pass to En-Nesyri, who scored by cheating Cillessen. The position was fair, but valid behind the lines drawn by the VAR. Sevilla reaches 74 points while lamenting that goal from Madrid in Valdebebas in the 94th minute that made it 2-2.
You can follow SPORTS in Facebook Y Twitter, or sign up here to receive our weekly newsletter.