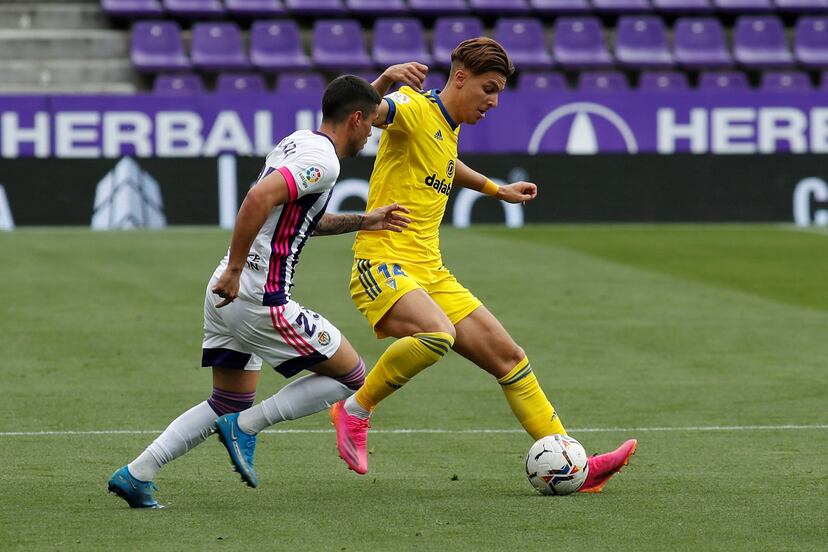 It is very difficult to play football with the anxiety that grips Valladolid. With fear embedded to the bone, Sergio González's men played a great first half, where they beat Cádiz, to collapse in the second with a more than discreet performance. In that period, the evident improvement of Cádiz, almost saved and revitalized with the changes, pushed to demolish a Valladolid that was shrinking due to its mentality problems, those that derive from having achieved only one victory in the last 15 games. Nervous and lost, fearful before time that Cádiz would hurt him, Valladolid fell to relegation places after Elche's triumph. Cádiz, full of unusual players, played a terrible first half. He could only improve in the second, where with a little order and pressure he found a draw that serves to almost grab the permanence. Cala, on the only clear occasion for Cádiz, scored after a set-piece commotion at the exit of a corner kick. Valladolid neither wanted nor could react because it is a blocked team.
"This is not my Cádiz", Álvaro Cervera must have thought at halftime. The coach had not been too happy with the performance of his team in the duel against Madrid, which ended with a 0-3 defeat and the losses due to suspension of Jonsson and Salvi. But Cervera went further. He made eight changes and presented a team riddled with unusual players. And, between one thing and another, Cádiz was not Cádiz. Well that a needy Valladolid took advantage of it, who jumped onto the pitch with the knife between his teeth, with much more tension than a practically saved rival. The Andalusians were protected by goalkeeper Ledesma, who made a couple of great saves before the inevitable for his team arrived, the goal of the Castilian team.
Míchel combined very well with Weissman, who made a great move to filter a great pass to Óscar Plano. The winger dribbled to Ledesma and scored 1-0. Cádiz, a team that does not usually have the ball, had lost its essence. Defensive strength, theft of the ball and quick exit to the counterattack. None of that was seen in Cádiz, surpassed time and again by a Valladolid that was accumulating occasion after occasion. Ledesma saved in a double shot by Joaquín and Weissman and the Argentine still reacted in time after an own error to avoid the 2-0 at Marcos André's feet. While his players headed down the dressing room tunnel at halftime, Cervera remained on the bench reflecting on the weak performance of his team, unable even to have thrown between Roberto's three sticks.
Cádiz improved a lot in the second half as Valladolid, without any obvious explanation, was falling apart. Cervera's changes gave his team a plus, with Fali commanding in the center of the field and an attitude much more in line with how Cádiz competes. Sobrino squeezed a lot and Cala, in a set piece action on the Andalusian team's only goal chance, made the tie. The truth is that the Andalusian team even saw the opportunity to win the match before the mental collapse of their rival. Cervera smelled it too and put José Mari and Negredo on the field in the final stretch. The second goal from Cádiz did not come and Akapo still had to cross in a fantastic way in the last minute against Guardiola to avoid greater evils. Much stronger and more competitive, Cádiz caresses salvation while Valladolid laments its physical and mental weakness. Now, although with one game less, in the relegation zone.
You can follow SPORTS in Facebook Y Twitter, or sign up here to receive our weekly newsletter.