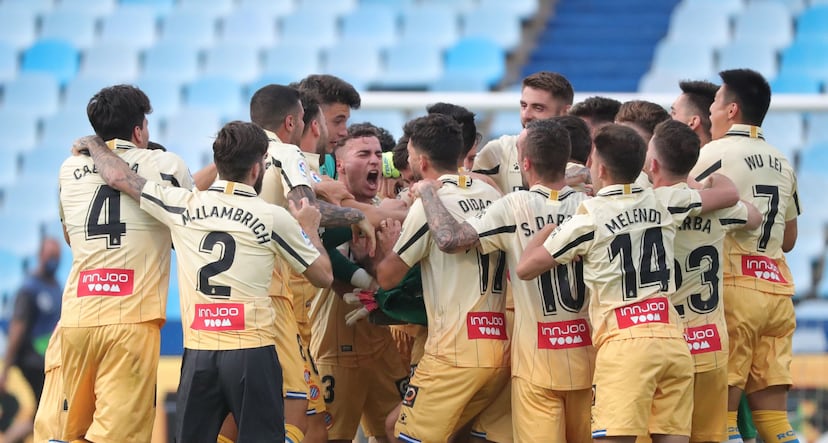 Espanyol is First. Vicente Moreno's team drew against Zaragoza (0-0) and certified their promotion to the elite of Spanish football on matchday 38, with four remaining for the closing of the Smartbank League. "There was a pending account to settle, we have a huge feeling of relief," said Vicente Moreno, as soon as he got the promotion of Espanyol, the fourth in his history after getting one with Nàstic de Tarragona (from Second B to Second A) and two in a row with Mallorca (from Second B to First). "We have to think it was a bad dream. The situation we encountered when we arrived was a trauma, but I am left with the strength of this group to reverse that situation. David López has made a speech in which he has been moved and in which the feeling he has for the club was noticeable. Espanyol had to be in the First Division ", insisted the blue and white coach.
"The first thing I think about is last season. People do not know how much we players suffered with relegation. We are where we deserve to be ", intervened Darder, one of the leaders of the dressing room. Espanyol had a budget of 72.5 million, the highest in the history of the category. The money, in any case, did not ensure an immediate return to First. Since the 2000-2001 campaign, only 20% of relegated teams achieved promotion the following season. Atlético de Madrid, for example, took two seasons to return to the gold category. "People thought this had to be normal. We have been blamed for the whole season on the budget issue. But we have achieved it because we work a lot, "Moreno stressed. "When it comes to entering the field, the numbers don't count. Nobody gave them anything. We had pressure and we knew how to carry it, "Cabrera added.
Last season, after 27 consecutive first place, Espanyol dropped to Second for the fifth time in its history. The previous four were in the 1962-1963, 1969-1970, 1989-1990 and 1993-1994 seasons. Whenever it had been relegated, the blue and white club had returned to Primera the following season. This campaign was no exception. Espanyol, the sixth team with the most games in the first division (2,736), will play its 86th season in the First Division. "The great responsibility belongs to the head of this group, which is the coach," said Cabrera.
Espanyol also aspires to two records: Raúl de Tomás wants to stay with Pichichi. The forward, positive for covid, has 22 targets. And Diego López wants Zamora after receiving 23 goals. "Now we have to go find the League," Cabrera closed.
You can follow SPORTS in Facebook Y Twitter, or sign up here to receive our weekly newsletter.