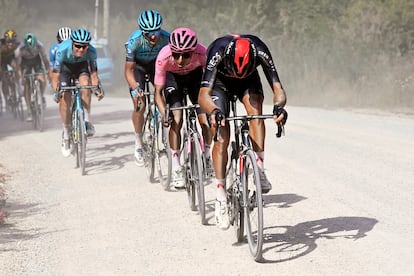 Also on May 19, but 27 years ago, Luis Ocaña should have taken the car to travel to Bologna from his home in Nogaro, in the south of France, among Armagnac vineyards. The Giro d'Italia was waiting for him to comment on it, so that on the radio he would unleash his genius, sometimes bad, his criticism of modern riders, so comfortable, so used to riding, so incapable of defying bosses . He did not get into the car. Before, he shot himself in the middle of the afternoon. Nothing complacent, not even with himself, always dissatisfied, always looking for something more, in search of an absolute that only gave him death, and always determined to end the tyrant Eddy Merckx, Ocaña, from Cuenca, the only Spanish cyclist, would have Egan Bernal was surely applauded when, at the sight of the first stretch of dirt road and white dust, he made his giant Ineos accelerate, Filippo Ganna, always.
It would have been seen in him, in the wonder child of Zipaquirá who bends Remco Evenepoel and surpasses all the others, without respite. And Ocaña might even think that an invisible thread on the timeline joins him in his hunger, in his desire, in his insatiable need to go further, to hit it harder, to accelerate in the lead as Bernard Hinault did his days. big, and on those old roads that are not postcard but authentic cycling. Of attack cycling. And he fills the screen by himself as in western movies they were filled riding with handkerchiefs by outlaws, lonely cowboys, a pony express rider, and a cloud of dust is his wake. 25-millimeter tubulars for Egan, pressure 5.5 atmospheres; The rubber is wider than on asphalt days, less swollen. There are almost 70 kilometers of stage left. The race no longer stops. And it is not a lottery, but a fight as equals, each with his own. "I have had fun, I have had a great time," says Bernal, a happy boy who is no longer even afraid of back pain, and every Giro day is an opportunity for an adventure.
Everything happens within minutes of an adventurer escape to whom the peloton gives a quarter of an hour and from which another fruit of the new Swiss wave emerges to win the stage, Mauro Schmid, a 21-year-old boy who started with cyclocross and the track, he seeks happiness and freedom on a bike and turns, with his technique, with his power, the dusty roads into burnished Siberian pine wood, which is what good velodromes are made of.
The one who attacks wears pink, because he is the leader. He wants more. He runs as if he felt that there is a stain on his skin that he cannot erase no matter how much he pedales, no matter how much he attacks in the head, pulling everyone, without calculation, adrenaline and emotions, like those who wash their hands 20 times in a row and continue thinking that there is an unpleasant smell that turns your stomach, and no soap can wash it
Giant cypress trees with pink ribbons on their trunks on their vertical roots mark the curve of the road towards the very Tuscan hill on which the castle stands, and below it the town, wineries and wine shops, and narrow streets. Trees are seen and unseen. Quickly they pass one after another for the group that undertakes the descent of the section at such speed that Ganna goes off in the curves, but they pass slowly, interminably, by Remco, who is not the child prodigy, but a tormented being who loses positions in the I walk so white, and he hangs out with other favorites, Carthy, Yates, Vlasov, who can't stand the frenzy of the march. The head is not enough for everyone, and Remco is not helped either by his lack of experience, of bicycle handling technique, his apparent fear reflected in a look of anguish and anger. His team, the Deceuninck, empties itself and manages to connect it, and all those who feel like protagonists connect with it, and each one of the stretches of land is like a movement of a symphony. The allegro of the first, in which, contaminated by their enthusiasm, the Movistar of Marc Soler collaborate with the Ineos de Bernal, immense then, and the wounded warrior Vincenzo Nibali, is followed by the adage of the second, a hard climb, in which the rhythm is set by Luis León for Vlasov. The scherzo of the third marks the drama of Remco, his loneliness, behind everyone, letting the front wheels roll away while Moscon accelerates in front, and Egan always at his wheel. Remco is dejected. Lost. Disorientated. He angrily removes the earpiece from his ear because he cannot bear what they say from the car, because he cannot see Almeida, his partner, who is waiting for him and whose wheel is barely holding. And despite everything, he fights and doesn't let go. He's a great fighter, Remco, and he only loses two minutes.
In the final port, called that of the Out-of-Lamp (Lume Spento) because so much wind was blowing that the torches that illuminated them were extinguished. Egan, the scherzo of the fourth movement, turns off the lights at all. Attack alone now. Outstanding. Arrive alone. Ahead of all the greats, and he says, with the modesty of champions after a unique recital, so close to the absolute, "we have saved the day."
You can follow SPORTS in Facebook Y Twitter, or sign up here to receive our weekly newsletter.