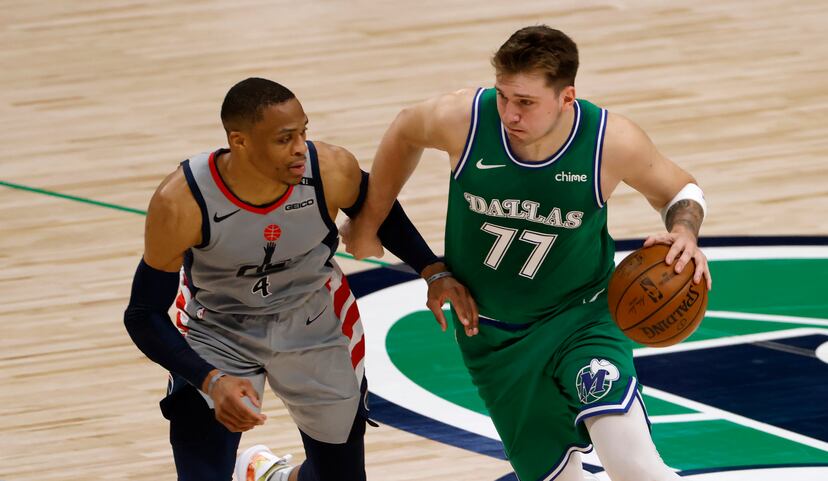 Luka Doncic's talents and astonishing records are enhanced this season by the remarkable career of the Dallas Mavericks. The Slovenian star once again led his team in the victory against Washington (125-124) with an exceptional triple-double: 31 points, 12 rebounds and 20 assists. Dallas has 36 victories and is in fifth position in the Western Conference, ahead of the Lakers.
Doncic's mark, which broke his record for assists, allows him to become the fourth player in NBA history to record a triple-double with a triple with at least 30 points, 10 rebounds and 20 assists. They had only gotten Oscar Robertson (32 points, 15 rebounds and 20 assists in a Miwaukee-Chicago in 1961), Magic Johnson (32 points, 11 rebounds and 20 assists in a Lakers-Sixers in 1988) and Russell Westbrook (35 points, 14 rebounds and 21 assists in a Washington-Indiana this year). "I am more impressed because I have only lost the ball once. That's something that never happens, "said Doncic, who is averaging 4.3 losses this season.
Doncic was facing Westbrook precisely and in the last action of the game he gave the assist that allowed Finney-Smith to score the triple that decided the game. The Mavericks had an 18-point lead in the first half, but in the fourth quarter Washington rallied and came to dominate by eight points. Dallas adds 36 victories and 27 defeats and is in fifth place in the Western Conference, with the same balance as the Lakers, sixth.
Westbrook led Washington with 42 points, 10 rebounds and 9 assists. The Wizards, 10th in the East, posted their third loss in the last 15 games. Bradley Beal scored 29 points and put the Wizards ahead on the scoreboard. But the Maverickcs rallied and had, in addition to Doncic, the contributions of Finney-Smith, with 22 points, Kleber, with 17, and Hardaway, with 16. Porzingis was out due to injury.
Doncic had gone 21 games without getting a triple-double, his longest streak since it took 44 to get his first as a rookie in the 2018-2019 season. This season adds 10. "Luka's poise down the stretch has been spectacular," said coach Rick Carlisle. "All his actions have been appropriate and he got the last rebound after Beal's failure on the last shot."
Denver is in third place in the Western Conference after beating the Clippers (104-110). Jokic was the most outstanding with 30 points, 14 rebounds and 7 assists, along with Porter, with 25 points. Campazzo started and had 10 points, 3 rebounds and 3 assists in 32 minutes. The Clippers accused the discreet performance of Kawhi Leonard who, with physical problems, added 16 points and 6 assists. Paul George had 20 points, Rondo, 18, and Cousins, 16.
New Orleans beat Minnesota (136-140). Zion Williamson, with 37 points, 9 rebounds and 8 assists, and LaMelo Ball, with 33 points, 11 rebounds and 8 assists led the Pelicans game. Willy Hernangómez started and contributed to his team's victory with 12 points and 12 rebounds in 27 minutes. Minnesota had 29 points from Edwards and 28 from Towns, Ricky Rubio added 11 points, 3 rebounds, 7 assists and 6 steals in 32 minutes, and Juancho Hernangómez, 14 rebounds, 3 rebounds and 2 assists in 21 minutes.
You can follow SPORTS in Facebook Y Twitter, or sign up here to receive our weekly newsletter.