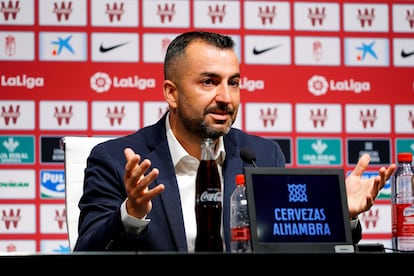 "When I signed for Granada, my friends told me that I had sat in the electric chair," Diego Martínez recalled at the Granada farewell press conference three years after his arrival. Then, in June 2018, the coach reached an entity in the Second Division that had failed in its attempt to return to the highest category. Three years later, Diego Martínez has become the oldest coach in the history of the Andalusian team to accumulate merit after merit. He achieved promotion in 2019, leaving him seventh in the first year in First to achieve the first historical classification of the Andalusian entity. In this course he reached the quarterfinals of the Europa League achieving a comfortable stay with ninth place. On the way, a Cup semifinals in 2019 lost to Athletic Club. The coach said goodbye to his great adventure at Granada after several days of reflection.
Diego Martínez, the youngest coach of LaLiga Santander, came from a negative experience in Pamplona, ​​with Osasuna, whom he could not take to Primera in the 2017-18 season, but with the enthusiasm and desire intact to accept the job offer of a team and a city where he studied and was forged as a coach from his native Galicia. From the first moment there was a brutal connection with the entity and its entire environment. It was Monchi, the sports director of Sevilla, the first to realize the talent of a coach who he signed from grassroots football in Granada to work in the Sevilla quarry. Sponsored by Monchi, he was the youth coach, assistant to Míchel and Unai Emery until in 2014 he took over the subsidiary, Sevilla Atlético, which he promoted to Second Division A in 2016 and kept it for a year in the second category of football Spanish.
"I thank Diego Martínez for everything he has done. There are the results. He told us that he was not continuing and we respect him, "said Fran Sánchez, Granada's sports director, who will now have to look for a new coach. "Neither money nor demands. I haven't asked Granada for anything. I'm leaving because I'm exhausted and I can't take it anymore. I think Granada needs a new boost without me ", clarified Diego Martínez. The coach who in his first year in the First Division had Granada leading, whom he later put in Europe to play a historic quarterfinal of the Europa League against Manchester United. "He has run out of strength to continue feeding the Granada project," they say from their close circle. Players such as Víctor Díaz, Germán Sánchez, Montoro or Puertas appeared at his farewell, those who forged the nucleus of a dressing room that was always considered a family since the promotion of 2019 with Diego on the bench. "We are a team. It's painful to make that decision, but I feel like I had to do it, "added the Vigo coach, overwhelmed by the signs of affection received.
Also present was the goodbye Roberto Soldado, a forward who adapted perfectly after the promotion to the demand of a coach adored by the Andalusian fans. For many of them, Diego is the best coach in the history of Granada, taking into account that names such as Janos Kalmar, Marcel Domingo, Joseíto, Miguel Muñoz or Joaquín Peiró have passed through his bench. None were three years in a row, as Diego Martínez has done. The Galician led Granada during a total of 146 games, of which he won 69, drew 30 and lost 47. It all started in an Elche-Granada (0-0) on August 18, 2018 and ended with another 0-0 against Getafe on May 23. "I am without a team, it is reality, what happens in the next few days nobody knows. If I was afraid, I wouldn't be a coach ", concluded Diego Martínez.
You can follow EL PAÍS DEPORTES in Facebook Y Twitter, or sign up here to receive our weekly newsletter.