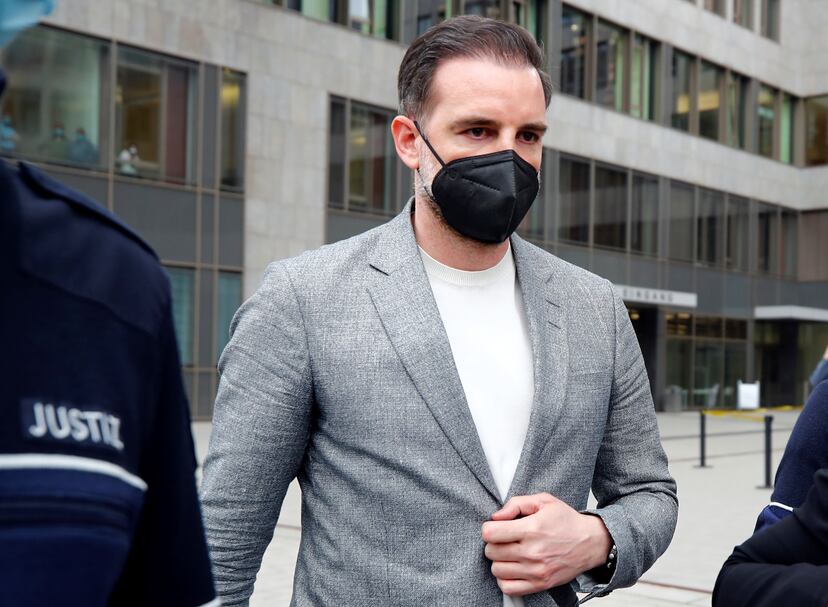 Christoph Metzelder, the former player of the German national team, Real Madrid, Dortmund and Schalke 04, was sentenced this Thursday to ten months in prison on probation by a Düsseldorf court after having confessed to the acquisition and shipment of 18 pornographic files of children and young people. "I will accept the sentence and I apologize to the victims of sexual violence. I will carry all my life with the guilt of having caused this evil to society, "said the former soccer player before the judge handed down the sentence.
Metzelder pleaded partially guilty to the charges against him, to the possession and exchange of 18 files, although not of the nearly 300 contemplated by the Prosecutor's Office. In total, he faced a sentence of between three months and five years in prison. The trial was scheduled to last until May 10, but the magistrate, Astrid Stammerjohann, handed down a sentence sentencing him to 10 months in prison on probation.
According to the Prosecutor's Office, Metzelder would have sent photos by WhatsApp between August 10 and 13, 2019 in which sexual abuse and rape of children under ten years are seen. Prosecutor Kathrin Radtke also revealed in her barely 17-minute appearance that a total of 297 files had been discovered on her mobile phone.
According to the accusation, Metzelder would have sent ten recordings of images with child pornographic content to a witness between July and September 2019. According to the accusation, the former player also sent 16 photos and two videos with child pornographic content to another witness through the same channel , and a third woman would have received a photograph of child pornography.
The surprise came after almost four hours of trial. On the verge of tears, Metzelder confessed in court that he had sent child pornography. The material consisted of thumbnails that he had photographed on freely accessible websites and submitted as screenshots. "In these talks he exchanged extreme fantasies, which also included the unspeakable," said the former player. "I was never on forums or on the Darknet. But my fault remains for these incriminating files. I know the unspeakable suffering behind each of these photos. I ask here, on behalf of all victims of sexual violence, your forgiveness. I know that I am leaving a wound that may never heal ", he admitted, visibly moved.
At the beginning of the trial, Metzelder had issued a brief statement summarizing biographical details and admitting that the investigations against him had censored his life and that he had lived all this time in seclusion. He also said that he would return all the awards he had received, regardless of the outcome of the process. In 2011, Metzelder received the Order of Merit from the State of North Rhine-Westphalia for his social commitment. A few years later, Federal President Frank-Walter Steinmeier presented him with the Cross of Merit on Ribbon.
The trial was suspended for an hour and the parties withdrew for a legal discussion. According to the judge, there were no previous conversations with the defense to reach an agreement, but the meeting apparently served to convince the former player to admit, in part, the facts.
On April 21, the former footballer's defense attorney, Ulrich Sommer, broke the silence around the accusations. "He knows what he did and that it can be considered a crime, he will face his responsibilities. He himself is surprised to have this kind of double life ".
Metzelder's nightmare began in early September 2019, when police officers from the state of North Rhine Westphalia came to a football school, located in Hennef, where Metzelder worked as a coach. The officers interrogated him for more than two hours and subsequently escorted him home, where they seized his phone and computer.
The investigations against Metzelder had started in August of that year, when the Hamburg police received a complaint from a woman who, apparently, had been in a relationship with the former player. The woman sent 15 pornographic photographs that Metzelder would have sent her on WhatsApp.
The former central defender of the German national team was training as a coach at the German Football Federation (DFB) when the investigation was opened in September 2019. The public television channel ARD, to which the player had recently engaged as a commentator , immediately decided to "suspend their cooperation" during the investigation.
Metzelder played 47 times with the German national team, between 2001 and 2008. Between 2000 and 2013 he belonged to the disciplines of Borussia Dortmund, Real Madrid and Schalke 04. During and after his active career he supported various social projects and was a voluntary ambassador for an association that fights child pornography. He had also been mentioned as a serious candidate to head the powerful German Football Association (DFB) and one of his former teams, Schalke 04, wanted him as an active member of its executive board.
You can follow SPORTS in Facebook Y Twitter, or sign up here to receive our weekly newsletter.