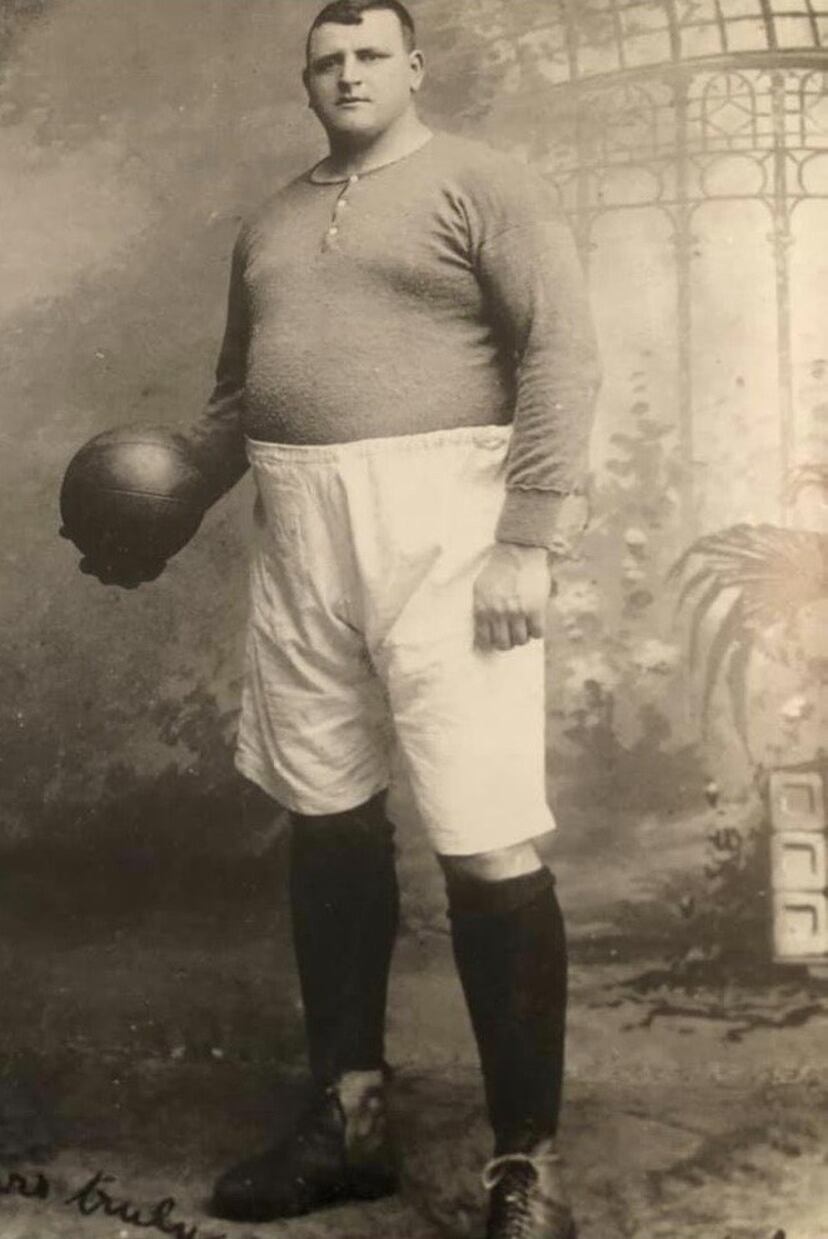 When the Mears brothers founded Chelsea in 1905, they chose Billy as goalkeeper, captain and emblem. Fatty Foulkes, a 31-year-old giant who was 1.96m tall and weighed 150 kilos. That guy really attracted attention.
Born in April 1874 in Dawley, a miner in his teens, he was soon noted for his ability for cricket and soccer. He made his professional football debut at the age of 19 with Blackwell. His 1.96m was exceptional at a time when at 1.80 you were already considered a big man. Lean and agile, he was a striking doorman. So much so that he was signed by Sheffield United, one of the greats, with whom he debuted on September 1, 1894. At the age of 20 he could not grow any more, but he did gain weight. He strengthened, his shoulders widened, he grew stronger with exercise and abundant food, his great passion. It didn't look bad, because those goalkeepers had to take tremendous loads from the forwards, so it was convenient that they were big guys. The light ones were put into the goal hugging the ball.
That early William Foulkes was exceptional. He contested and won the bow from a legend, Arthur Warthon, a Ghanaian mulatto famous for his agility and extravagance, some of which he copied and even improved upon. He hung from the crossbar, left the area to play, scored a goal, argued … He was excessive and exhibitionist in everything. And also an exceptional penalty kick (it was worth getting ahead to the edge of the small area). He made his debut with the national team in 1897, against Wales. England won 4-0.
But he did not return. The lanky boy who became strong and stocky was breaking into cheeky fat. He ate excessively, but as he was gifted, while maintaining agility to go down, Sheffield tolerated it. Two cubic meters of goalkeeper covered a lot of goal. The last striker who tried to carry him was lifted by one leg to show him upside down.
He charged five pounds a week, the maximum. Sheffield won with him the League 1897-98, and the FA Cup of 1899 and 1902. By this last date he was already at 130 kilos and produced a great scandal. The final ended 1-1. He claimed offside on Southampton's goal, to no avail. In the shower, he warmed up and came out completely naked to demand explanations from the referee, Tom Kirkham, who hid in the broom room. It was difficult to narrow him down among several while he tried to tear the door open. He played the tiebreaker and won his second Cup.
One day, due to the color of his jersey with a rival, he covered himself with a sheet as a toga. He cleared the door and one critic wrote: "Fatty Foulkes kept the sheet clean (clean sheet) ". Since then, clean sheet is equivalent to leaving a clean sheet and the award for the best goalkeeper is awarded for the number of clean sheets achieved.
He kept getting fat and cracked up. One day he split the crossbar in the Sheffield derby. Every time it went worse down and the criticisms were getting worse. Sheffield wanted him to drop from five pounds to three and got angry. Just then the interest of the Mears brothers came to captain their brand new Chelsea, enrolled in Second. Sheffield took 50 pounds and let him go. The new club already had the big claim that would allow it to steal spectators from its neighbor Fulham.
He was 31 years old, he was already 150 kilos. The founding photo, the 11 lined up under the crossbar, him in the middle, is emblematic. He looks like an adult surrounded by twelve-year-olds. The first impact was produced when he went down to breakfast before anyone else and ate eleven eggs, leaving the others without theirs. His appetite was legendary.
He stopped his, showed off his very powerful serves to the other field, unprecedented up to him. He did his quirks, he did the job of putting the new club on the map, but underneath he was a wreck. Chelsea came third (did not move up) and the Mears thought that one year was enough. They let him go to Bradford, where he played two more seasons. He retired at 33 with 167 kilos.
He set up a shop in Sheffield and then a pub. He died at age 42. Not of pneumonia and ruined, as it circulated, after being a fairground attraction under the label beat the goalie (beat the goalkeeper), tried to stop penalties to those who paid. Perhaps it was some impersonation. He died of cirrhosis. Has a prominent grave in Sheffield. Today in the English fields the fat people are sung to mortify them: "Who ate the cakes?" And the victim's name is chanted. It is said that it began with him, although it is not certain, because the melody that is used was born after his retirement. But who knows.
You can follow SPORTS in Facebook Y Twitter, or sign up here to receive our weekly newsletter.