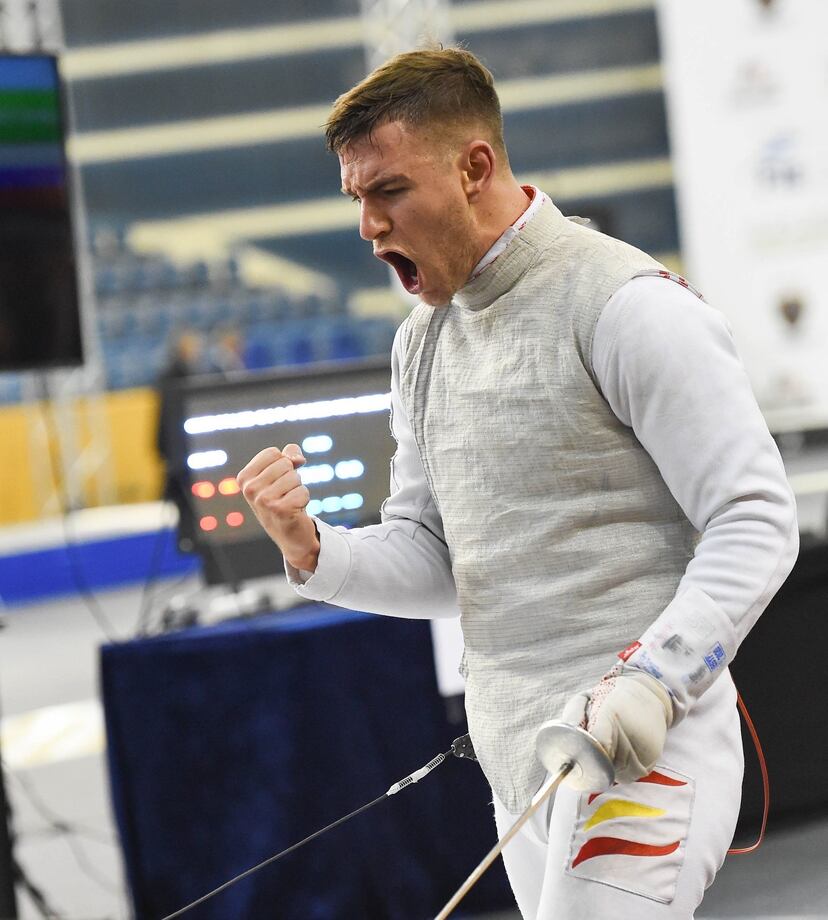 The only Olympic medal for Spanish fencing was achieved in Beijing 2008. It was the bronze of José Luis Abajo, Pirri, in sword. It was also the last participation of a Spanish shooter in the Games. Lack of talent? Of tradition? Or something else? "People do not know everything that is behind it, the amount of sacrifices. What I am most proud of is having reached where I am with the means I have had; to have continued fighting for my dream. It was all for the love of art and passion… ", Carlos Llavador says by phone from the Frascati club (30 kilometers from Rome), the cradle of Italian fencing.
It is also the factory of Olympic champions, where he moved in 2015 to train with the best and thus be able to progress. "The total budget of Spain for all weapons [florete, espada y sable] it is the one that Italy has for a weapon and a genre… They have six times more budget than we have and of course, that in the end is seen ", he adds.
Llavador is 29 years old and has qualified for the Tokyo Games in foil mode. It is world bronze (2018) and European (2015). Until 2016 he had to pay for trips, competitions and a stay in Frascati. He did it by selling T-shirts, throwing away savings and with money from friends. As if it were a hobby rather than one of the sports with the longest Olympic tradition. "When I came to Italy I had something saved and I said: let's see how long I can last with the savings, I'll look for some bloke at the club working as an assistant and something will come out," he recalls. The English teacher at the academy where he was studying came to the rescue. "I see as something inconceivable that someone cannot achieve their dream due to an economic issue … whatever you need, I'll help you," says Llevador who told him. "He started sponsoring me, it was the boost I needed to come to Frascati, be calmer and focus solely on fencing," he details.
When Pirri (who has been president of the Federation since last February) won the Olympic bronze, Llavador was still a junior and had been in the national team for a year. "The stage in Spain was the hardest. In 2008 the economic crisis began and ended with everyone, from the group that had I was left alone with the teacher Jesús Esperanza. Jesus told me that I had to continue, that I was going to achieve it, that as soon as I began to have good results I would enter the ADO scholarship. I spent three years training alone and combining it with the INEF classes. When I went to the senior category, the Federation could not invest in me because there was no structured national team, I was alone and they saw it as a bit far-fetched, "he says.
That led to a series of incidents. "I had to pay for the world cups (the fencing competition circuit) … if there are ten a year, I would compete in three because it was the maximum I could aspire to with my money," he adds. About 600 euros for each departure: in Europe and going to the cheapest hotels and returning as soon as you finish competing. The world cups are necessary, among other things, for the Olympic qualification.
Travel alone and without a coach
He won bronze in the under 23 category in 2015. He also paid for the trip out of pocket. "I decided to go because I saw that I could do a good result. A friend of mine made me a logo [ponía C LL, florete] and I stamped it on my shirt and took the podium with it. He rolled through the networks and they commissioned me about 250. With that money I financed more competitions and a month I got the European bronze in the absolute category, "he says. "I was just thinking: the work, the sacrifice, they have been worth it," he adds.
"It was the change that was needed for the Federation to say: 'OK, we have to invest in him," he explains, recalling many trips he made alone, without a coach. "I used to get together in concentrations with Argentines, Chileans, Brazilians to hang out with someone."
Shouldn't it be the other way around, investing so that there are results and not when they have been achieved? "Fencing is unfortunately in such a situation now. You have to be making a name for yourself. Instead of creating a structure for you to get there, you have to get there by your own means ", he answers while trusting that with Pirri things will change. The 2018 world bronze changed his life, which allowed him to receive the ADO scholarship.
Now savor qualifying for Tokyo. Not forgetting how close it was to Rio. "There is a very ugly thing that happened in his day with the Federation that marked me; it was when the olympic qualification started [abril 2015] for Rio. I told them that I was considering paying for a trip to Shanghai because it was the World Cup that scored the most, it was expensive, but I wanted to give it a try. Since I couldn't go to all of them, I chose the one that scored the most. They set the Spanish Foil Championship on the same dates. I asked them to change it and they answered: 'first consider the level you have, don't go to waste your money… ", he recalls. The dates did not change, he did not go to Shanghai. "The Spanish championship scored a lot for a scholarship from the Community of Madrid to athletes and it was the only funding I had to pay for the following competitions," he reveals.
"I was the first European who did not qualify for Rio, I had two competitions to do so. Maybe I could have qualified with those two [Shanghái y San Petersburgo]… You never know but instead of competing in 10 events, I played it in 8 ". Llavador says that the wear and tear of having to find a life to compete left its mark because it led to a lot of pressure. "I thought I had a level, that's why I asked them to invest in me. It was an added pressure because at the same time that I asked that if I later got a bad result, I saw myself more vulnerable. I saw myself with that responsibility ", she is sincere.
Italian teachers in the Spanish federation
"Carlos has made many sacrifices to be where he is. It is not easy or cheap to leave your country, go to another, pay your rent, maintenance …", says his coach, Fabio Gallí, teacher, among others, of Daniele Garozzo, the champion Italian foil Olympian at the Rio Games and Llavador's training partner at the Frascati fencing center. A place envied by other countries. Italy is the country with the most Olympic medals in fencing (125, 49 gold, 43 silver, 33 bronze). In Frascati there are about 250 shooters, from the youngest to the elite group of athletes and from the Italian team.
Right now there are seven more foreigners apart from Carlos (a Brazilian, a Cypriot, a Pole, a Luxembourgish, a Slovak and an Argentine and a Spaniard). Galli says that last year he started a collaboration with the Spanish Federation at its request. "Once a month we send a teacher to teach courses to Spain. The goal is to create a culture with a common foundation to be instilled and inspire. The problem that existed in Spain was a bit that, that each one did what they considered, a bit on their own, "explains Galli.
The culture Italian fencing is the one that captivated Llavador when he decided to move there. "The difference is the level. The speed, the perfection that you have to do in all the movements to get the point is much higher. You are all the time at the limit. You fail a millimeter and you don't touch [el blanco]. In Spain, with the level we had, you can miss centimeters and still manage to get the point ", he analyzes. Galli, his technician, defines fencing with the words his teacher told him one day "it is a chess game played at 200 km per hour" and summarizes how Carlos has improved since he trained in Italy.
"What he lacked was level people to shoot with and some Italian tactics and strategy. He is an attacker, he is very fast, he has a 'beautiful hand' [mano bonita] as they say in fencing jargon. He moves it in a way that allows him to find the hit points with extreme ease. It has improved a lot from a tactical point of view ", he describes. What is missing to become top-top? "From a mental point of view, he has to work a little more still. You have to believe even more how good it is, "says Galli.