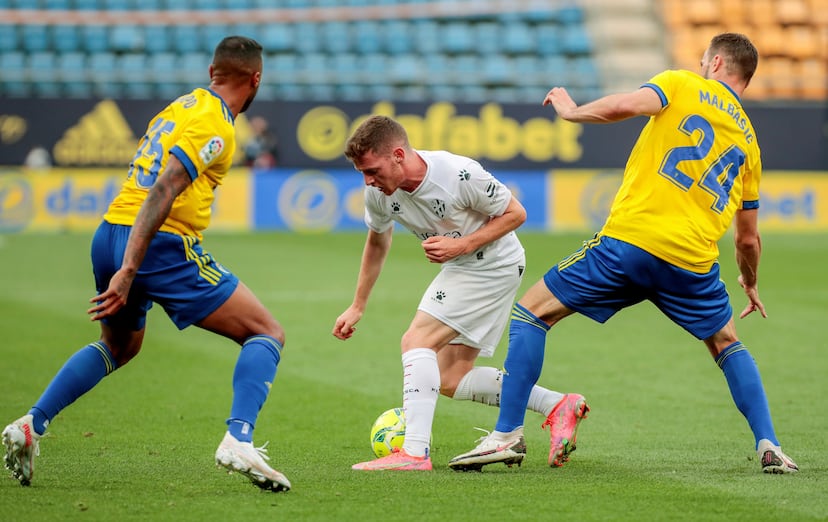 Cádiz was First in a virtual way. Now, after beating Huesca, it is mathematically three days before the end of the competition. A merit of the group led by Álvaro Cervera, who drowned a little more than a Huesca that showed gross errors in defense. The goal scored by Rafa Mir to make a hopeful 1-1 did not earn Pacheta's team. He was shipwrecked in defense and then, at 2-1, he fell into the trap that all teams that face Cádiz usually fall into. Huesca had the ball, but for nothing. Only Siovas had a chance to tie in a shot that hit the post. The rest was an unsuccessful domain, with Cádiz very well in defense, sustained by the efforts of players like Fali or José Mari. Even Jairo, after a great action from Negredo, had a great option to score the third goal. Huesca remains in relegation places, one point from salvation in the best of scenarios and with three finals ahead.
Cádiz was so close to permanence that Álvaro Cervera allowed himself to line up footballers with a few minutes throughout the championship, in the case of Alejo, Akapo, Malbasic or Saponjic. Cádiz has already overcome their fears, being able to compete without nerves, away from the uncertainty of risking everything in each play. Without that pressure, the Andalusian team played very calmly against a really needy Huesca. The Huesca team arrived at Carranza with significant losses in defense, in the case of Insúa and Pulido. Well that was noticed in the development of the crash. Especially in the final stretch of the first half, where the match, after practically nothing happened for 43 minutes, exploded with three goals in four minutes. It cannot be understood that Huesca concede so many goals from set pieces, something that Marcos Mauro took advantage of to make it 1-0.
Four games later, Rafa Mir once again demonstrated his quality with a goal that was also helped by the poor positioning of Ledesma. An impressive hit from the left wing surprised the goal, somewhat ahead, who could not react. To Pacheta's astonishment, Cádiz took the lead again on the next play. A long ball that Vavro swallowed, immobile as a marble statue, allowed Malbasic to stand before Álvaro. The winger neither shot nor passed the ball, but his strike avoided the goalkeeper. Gastón Silva, wild throughout the game, got the ball into his goal. Nothing worse than friendly fire for a gripped and nervous Huesca.
Cádiz dominated the situation at will in the second half. Huesca played and played, but without creating danger, entangled in the spider web made by the Andalusian team. Only Siovas, after a set piece, could tie. Huesca lacked football and depth, without the ability to overcome a highly organized rival who already enjoys a very comfortable stay. Álvaro Cervera's Cádiz is already on vacation while Huesca has three finals ahead of them against Athletic Club, Betis and Valencia. Pacheta has done a great job, although doing a miracle may be too much.
You can follow SPORTS in Facebook Y Twitter, or sign up here to receive our weekly newsletter.