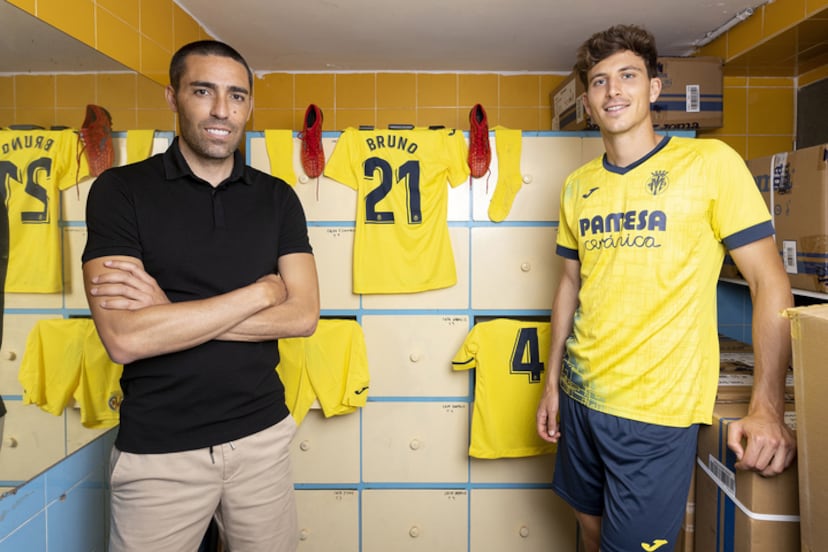 The past is integrated into the present and the future of Villarreal. Bruno Soriano (Artana, Castellón, 36 years old), former midfielder, the last great yellow captain, 14 seasons in the team, visits defender Pau Torres (Vila-real, Castellón, 24 years old) in the brand-new Ciudad Deportiva on the eve of the final of the Europa League. They became teammates and are now analyzing the club's trajectory to this game against Manchester United that represents the culminating moment of an old dream.
Question. You have been 12 years apart, but you have one season as partners. How do you remember those moments when the kid of the house makes it to the first team?
Bruno Soriano. Yes, we played the 2019-20 season together, when Pau returned from his assignment in Malaga. Before, he had already trained with us and had been called up for a game. When he got up, he was already well controlled. I liked to notice the kids who stood out the most. And it was his case. You could see that he was going to have a future in the first team. The departure to Malaga was very good for him and he was trained in the Second Division.
Pau Torres. I will never forget the first day I trained with the first team. We had to fill in the gaps, the teammates from the subsidiary and the youth team had a game and called me. The coach was still Marcelino. We were in Second. It was the year of promotion. It was only a training session, but I remember it with special affection. Later, I already did the 18-19 preseason, but I realized that I was still very young and that I could use a loan.
P. Pau has confessed that from a very young age he always paid attention to Bruno, his behavior on and off the field. Why precisely in him?
PT Because he was the number one benchmark for all the kids in the quarry. He was the captain, he was from here, he had never left the club despite having offers. Even the year of relegation stayed to help get back to Primera quickly. That marked me. In addition to being a youth squad, I was a Villarreal fan and I highly valued that position. Then I thought that when I grew up I wanted to be like Bruno.
BS This kid goes really fast, for the better. He has already been the captain of the team and the issue of the bracelet, perhaps for having worn it, is something that carries a lot of responsibility. It is not the same to play with the bracelet as without it. It assumed a great responsibility on and off the field and one of them was to be aware of the players who came up from the quarry. Pau is the best heir the bracelet can have, even though he's not yet the first captain … I hope he can stay a long time. I am what I want, really.
P. When Bruno noticed Pau, he saw himself reflected in him a few years before …
BS Yes. He is from the town. I'm from Artana, 10 minutes from here, but he has even more merit. It is very difficult. The kids in the house have always had great competition. I have played with many colleagues who came from all over Spain and abroad and that is why it is so important for us to have reached the first team and to be proven players. It is not only to arrive, then it remains to stay, play from the beginning, play the 90 minutes. Pau has achieved it and with a loan. That shows that he is a mature person. He left for a year and won back to be already a benchmark in the first team. That is not easy.
PT It was not easy to get out. In the first team there were centrals who were doing very well and, to be honest, I didn't see a place for myself. The subsidiary did not go up to Second B, which would have been a good option, and I realized that it needed minutes to continue growing. I spoke with my family and with the club and I was not afraid, although it was the first time that I was going to leave home. My mother and brother even came with me for the first few weeks. Then they left me alone.
P. Bruno was scared, he was in the quarry and made the decision to go back to Artana and play for the town's team.
BS It was a 10-minute drive, but it seemed very far to me. They told me that I had to stay and live in the Residence, study here and all that for me was a world. He did not think he could become a first team player. Nor was it my main objective. I saw football as fun, what I liked to do the most, I enjoyed it a lot, but nothing more. It was about being with my family and my people in town. I'm very shy and this looked like Mars to me. I went home, but luckily they came looking for me again and my second stage began.
PT I did dream of the first team. You see that you are burning stages and you see it closer, although at first I was not obsessed either. In my case, I was close to my people because I live here and that also helps.
P. Bruno had to retire due to an injury after almost three years of ordeal. Pau had a very important injury when he was 13-14 years old that also endangered his future …
PT I was in the cadet and it was a tournament in Manchester. I broke my tibia and fibula. Serious. They put me in a cast to the top and many regular airlines wouldn't let you fly in those conditions and I had to return in a medicalized plane that they put me between the organization and the club. Fortunately it was a tournament organized by the Premier with good insurance. I spent a lot of time at home and one day a jersey signed by the president and all the first team players arrived in an envelope. It was an unforgettable detail.
P. The image of Pau crying as the team qualified for the final against United went viral. Did Bruno cry too?
BS Yes, indeed. And look, I'm not a man with an easy tear. Quite the opposite. I only remember crying when we went down to Second, an incredible blow. I am excited, but tears do not stop me. The other day was different. Seeing Pau cry like that, they escaped me too. I am aware of what the final means for the people, for the history of this club and I know that everyone loves Pau because he is from right here.