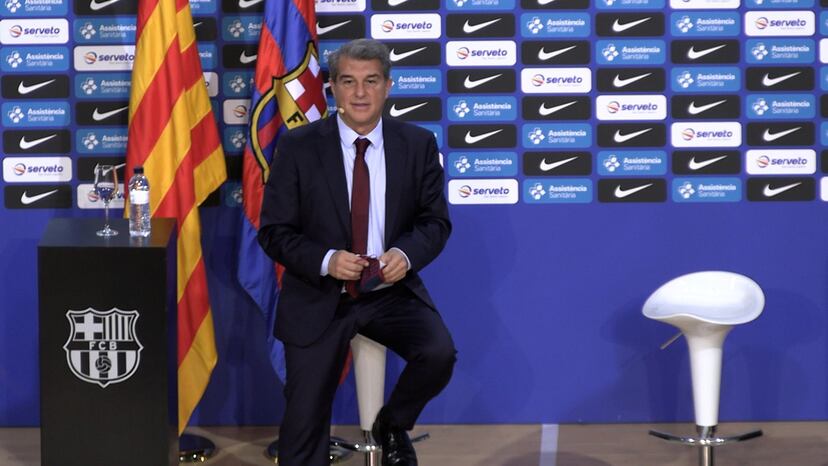 The economic situation of FC Barcelona is much worse than expected by different media and analysts after the resignation in October of President Josep Maria Bartomeu. The figures handled by the board of directors of Joan Laporta, elected on March 7, place the losses at the end of this season around 350 million euros, according to TV-3. The amount exceeds any previous estimate – this newspaper placed it at 250 million – after the audit commissioned by the current board, which also foresees that the next fiscal year would be negative and only benefits would be recorded from the 2002-2023 academic year.
Board sources assured that the audit is not yet completed and, therefore, declined to make any assessment, although they specified that the moment is especially delicate and that any forecast involves convincing Messi to continue at the club and therefore renew the contract that ends on June 30, as well as they agreed on the need to reinforce the team with a first-rate striker – the initial bet points to Erling Haaland, currently at Borussia Dortmund. Laporta will also have to face the continuity of players considered essential such as Ilaix Moriba and Ousmane Dembélé after extending the contract of Álex Collado, player of the subsidiary, until 2023.
The Barça club needs first of all to reduce the salary mass, a circumstance that also invites them to dispense with players who have not yet been amortized -the most striking case is that of Coutinho-, and fight a debt of 1,173 million, 730 in the short term. The economic reorganization plan goes mainly through the figure of Ferran Reverter, the general director who will not be fully incorporated until June despite the fact that he already works at the Camp Nou. The economic vice-presidency, on the other hand, has already been assumed by Eduard Romeu, also vice-president of Audax Renovables, a company that helped complete Laporta's endorsement.
The organization chart includes five vice-presidencies: Rafael Yuste (sports), Elena Fort (institutional and spokesperson), Antonio Escudero (social), Juli Guiu (marketing) and Romeu (economic). Miquel Camps will act as deputy spokesperson; Josep Cubells will be the manager responsible for basketball; Joan Solé, the handball player; Xavier Barbany, from roller hockey; Aureli Mas, from futsal; Xavier Puig, from women's football and Joan Soler, from formative football. It was also agreed that Josep Ignasi Macià will take care of the social area; Jordi Llauradó from Espai Barça; Alfons Castro, from the security officer, and Josep Maria Albert will be attached to the CEO.
The sports area will be directed by the football director Mateu Alemany.
You can follow SPORTS in Facebook and Twitter, or sign up here to receive our weekly newsletter.