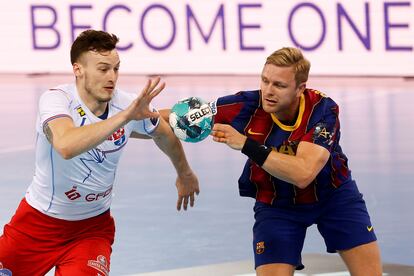 Barcelona qualified for the Handball Final Four after overwhelming Meshkov Brest of Belarus 40-28 in the quarter-final second leg. The Barça team has won the 18 games they have played to qualify, the 14 in the regular phase and the four in the round of 16 and quarter-finals, something that no one had achieved until now.
Barcelona's rivals in the meeting of the four best teams in Europe, in Cologne, on June 12 and 13, will be PSG, Aalborg and Nantes. On the 25th, the draw for the pairings in the semifinals will be held.
The team led by Xavi Pascual will play its ninth Final Four in 12 seasons. Since the competition began in the current format in the 2009-2010 season, Barcelona have reached five finals and won two. They are the club with the most titles in the European Cup, nine, well ahead of second in the standings, German Gummersbach, with five.
The German Kiel beat Barça 33-28 in the final of the Champions League corresponding to last season and that, due to the pandemic, was played, also in Cologne, in December. The azulgrana team added its 11th consecutive league in March. Despite this, the club decided that Xavi Pascual will cease to be their coach once this season is over. The 53-year-old Barcelona coach, who has led the team for 12 seasons, was applauded by the thousand spectators present at the Palau, with reduced capacity due to the measures against covid-19, when the announcer pronounced his name during the presentation of the teams. Barcelona overwhelmed Brest with Mortensen (7), Aleix Gómez (6), Mem and Janc (5), Dolenec, Fabregas and Álex Pascual (3) as top scorers.
You can follow SPORTS in Facebook Y Twitter, or sign up here to receive our weekly newsletter.