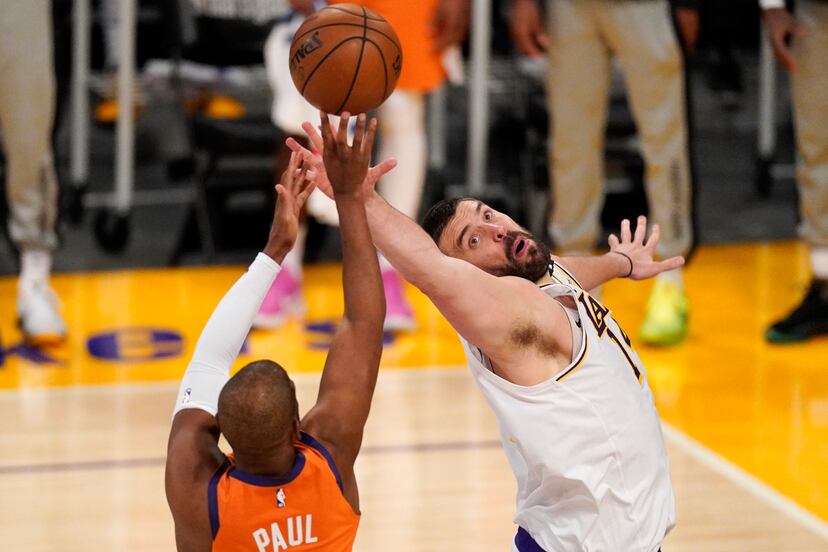 The Lakers lost 92-100 to the Phoenix Suns and Anthony Davis again injured his groin and did not play during the second half. Davis' absence was decisive, although he was not successful during the 19 minutes he played. He only got two baskets in nine field shots and added 6 points and 4 rebounds.
The Suns tied the series at two in a game in which Chris Paul shone. The point guard convinced his coach Monty Williams to include him in the starting five despite the discomfort he suffers in the shoulder and which already affected his performance in the third game in which he only scored 7 points in 27 minutes. Williams, who had originally planned to leave Chris Paul on the bench, agreed to the player's request, who stood out with 18 points, 9 assists, 3 rebounds and 3 steals.
The Lakers could not with the defense of the Suns. LeBron James only scored one of the seven triples he threw, although he was the leading scorer for his team with 25 points, in addition to 12 rebounds and 6 assists. Marc Gasol added 12 points, 8 rebounds, 3 assists and 3 blocks in 23 minutes. The Suns were more solid. In addition to Chris Paul, Deandre Ayton, with 14 points and 17 rebounds, Booker and Crowder, with 17 points each, also shone.
Dallas succumbed with a crash in his fourth game against the Clippers. The Californian team won 81-106 and tied the tie at two. Doncic had 19 points, but only made one triple of the seven he threw and also missed all five free throws available. The Mavericks only scored five of the 30 3-pointers they shot (17% correct). The Clippers based their triumph on the success of Kawhi Leonard, with 29 points and 10 rebounds, and Paul George, with 20 points and 9 rebounds. Serge Ibaka did not play because of his back pain.
Brooklyn's stellar trio expanded against the Celtics (126-141). The Nets dominate the tie 3-1. Kevin Durant led the offensive festival with 42 points, Kyrie Irving added 39 points, 11 rebounds and James Harden, 23 points and 18 assists. The Nets were 59% accurate on 3s with 16 hits on 27 pitches. Jayson Tatum stood out for the Celtics with 40 points, 7 rebounds and 5 assists. The TD Garden was close to full for the first time after the pandemic. The game was attended by 17,200 spectators and booed by Kyrie Irving who played for the Celtics from 2017 to 2019. A spectator threw a bottle at him as he was leaving the court.
Atlanta, 113; New York, 96 (3-1)
Early morning from Monday to Tuesday
Washington-Sixers (1.00, Sixers dominate 3-0)
Memphis-Utah (3.30, Jazz lead 2-1)
You can follow EL PAÍS DEPORTES in Facebook Y Twitter, or sign up here to receive our weekly newsletter.