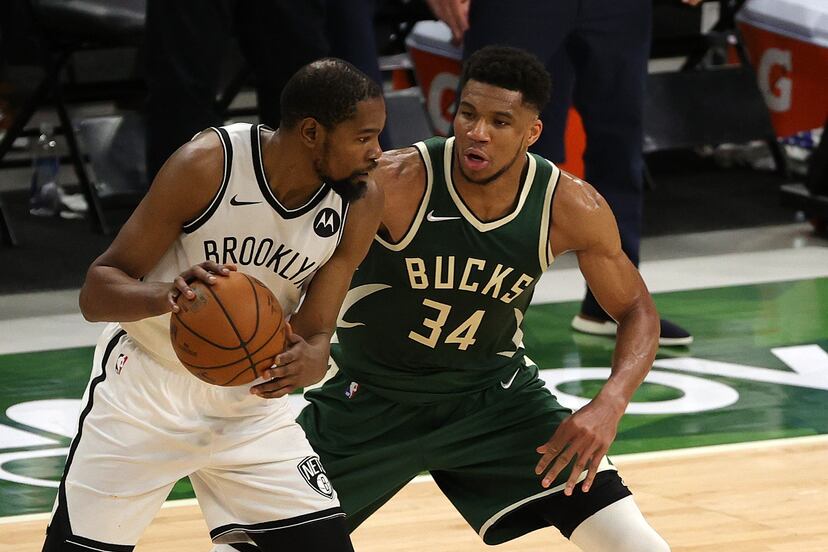 The game between the Milwaukee Bucks and Brooklyn turned into an extraordinary heads up between Giannis Antetokounmpo and Kevin Durant. The Bucks won 117-114 and their Greek power forward scored 49 points. The American forward of the Nets finished with 42 points and missed the triple in the last second with which he tried to force the extension.
The party lived up to expectations. They faced two of the main candidates for the title in the Eastern Conference, two teams with great players, despite the loss of James Harden, injured. The Nets, with 42 victories, lead the table ahead of the Sixers, and the Bucks, who reduced the difference and are now two wins behind the leader of the Conference. The meeting was extraordinary, entertaining and exciting. It led to that hand-to-hand in which Antetokounmpo once again claimed his status as the very first figure, which earned him the MVP award of the last two seasons and to which he aspires again despite the prediction that this time Nikola Jokic, the Serbian center of the Denver Nuggets may be the chosen one.
Kevin Durant, after missing all of last season due to an Achilles tendon injury, once again showed that he is exhilarated. The two took on the offensive weight of their teams. Anteto had 49 points with a series of 21 baskets on 36 shots, including 4 of 8 on triples, and 3 of 6 on free throws. He also added 8 rebounds, 4 assists and 3 blocks in 36 minutes. Kevin Durant was a little longer on the court, 40 minutes, during which he scored 42 points product of 16 hits in the 33 field shots he made, including a fantastic series of 7 of 13 in triples, and in addition to 3 of 4 in free throws . He also had 10 rebounds and 2 assists.
Anteto surpassed his best scoring mark this season, surpassing the 47 points he scored against Portland on April 2 and edged his league record, the 52 he scored against Philadelphia on March 17, 2019. Durant also equaled his record this season because he also scored 42 points in the games against Indiana and Orlando. His record is the 54 points he got against Golden State in January 2014 when he played for Oklahoma City.
The Bucks, in addition to Anteto, had the abundant production of Khris Middleton, author of 26 points, 11 rebounds and 6 assists. Point guard Jrue Holiday was also noted with 18 points. In the Nets, in addition to Durant, three players also stood out: Kyrie Irving with 28 points, 7 rebounds and 6 assists, Shamet, with 17 points, and Blake Griffin, with 10 points and 11 rebounds. The duel will be repeated at dawn from Tuesday to Wednesday.
You can follow SPORTS in Facebook Y Twitter, or sign up here to receive our weekly newsletter.