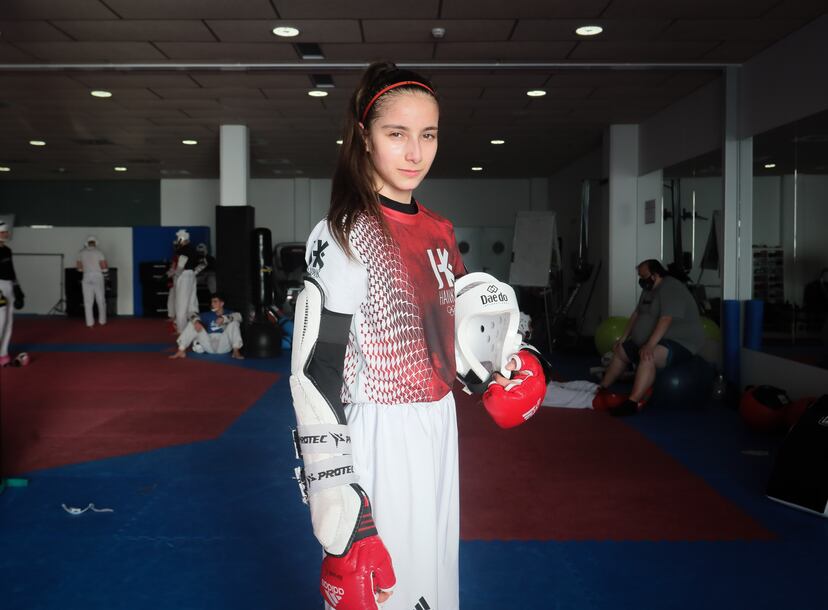 Spain can get two more Olympic tickets in taekwondo this Friday. He already has three direct classifieds by ranking for the Tokyo Games in the men's category (-68kg: Javier Pérez Polo, -80kg: Raúl Martínez or Daniel Quesada; and -58kg: Adrián Vicente or Jesús Tortosa) to which Adriana Cerezo can be added (-49kg) and Cecilia Castro (-67kg). The first two of each weight are classified. It would be a spoil of world power. In London 2012, Spanish taekwondo won three medals (Joel González, Nico García and Brigitte Yagüe); de Río 2016 returned with two (the silver of Eva Calvo and the bronze of Joel González).
Spain can only take two taekwondo players to the pre-Olympic so the Federation had to discard; Marta Calvo was left out. "The technical committee has chosen the two people who a priori have shown in recent events to be in a better state of form. Adriana, apart from her youth [tiene 17 años], has been the European champion at -49 kg and has also faced and won top-level rivals (such as the Olympic runner-up in Rio). Cecilia is a veteran athlete, with good results and in very good shape, "explains Miguel Ángel Herranz, coach of the national team.
The expedition to Sofia is led by Adriana Cerezo, 17, who debuted in the senior category just 12 months ago. And she has done it with the maturity and power of a veteran. Of the eight medals that Spain won in the April European Championship, Adriana's was the only gold medal. "It is a guarantee and, in addition, it has the surprise factor of coming from the lower categories and not having excessively faced rivals that it will have in the pre-Olympic", analyzes Herranz.
"It is a locomotive, it never stops, never", defines it Jesús Ramal, her coach since the young woman from Alcalá broke into the Hankuk in San Sebastián de los Reyes at the age of 11, a club where she continues to train and has signed up about 400 children of all ages (in pandemic they have been cut in half). She is part of a special technification program.
"I was going to my ball"
Cerezo, who is in the second year of high school, says that at first he practiced taekwondo secretly from his parents, who did not see with good eyes that his daughter did a combat sport. They wanted – "especially my mother," she says – to do what all girls do. "I did a lot of sports… I was good at it, but I was totally on my ball. I played tennis and they almost threw me out because I didn't feel like playing games and I was going with the ball and the racket on my own… it was the worst. I also did figure skating, ballet, flamenco: and I remember there crying every day because I didn't want to go into the room. I also did rhythmic gymnastics, everything. And in taekwondo what happened to me that had not happened to me with any sport: I couldn't wait for training to arrive, I was super disciplined, I wanted to train. Only with taekwondo did I feel that, "he recalls now on the other end of the phone. It is Sunday afternoon and he attends EL PAÍS while he takes a break between study hours. Take advantage of any dead hour of the day and trips to competitions.
"She never wants to stop. If it were up to her, she would get off the plane and come straight to train. And don't tell her no, she gets angry! "Ramal jokes, who admits that he has to stop her many times. "We assess the children who come to the sports school and what we highlight in Adriana's reports from the first day is the desire with which she came to train and the smile she brought every day. He is happy with what he does. And that infects others and transmits it in competitions ", explains Ramal. "He likes what he does, he has a good time. For me that is the great talent that Adriana has, because there are many, millions of girls like her in Russia, China, Korea, but she is happy with what she does. This is what we continue to do: we work to maintain that spark and positive energy ", adds the coach, who does not forget the first day he saw her appear in the gym. "And this tadpole how she talks like that in this talkative and mature way!"
At the age of 12, Cerezo already won his first competition in the cadet category, an Open in the United States. It has not stopped progressing since then. He has won everything in lower and junior categories and has just hung the gold in the absolute European. She says that those who keep her feet on the ground are her parents, Mai and David; those who are in charge of taking her and bringing her to training by car.
Feet on the ground has; But how to dream is free, of course you dream of an Olympic square. "We have been working for this for a year, so that if the opportunity arises, we can take advantage of it," he says. The philosophy that she and her coach have is: "Not wanting to win, not wanting to lose; just do ".
You can follow SPORTS in Facebook Y Twitter, or sign up here to receive our weekly newsletter.