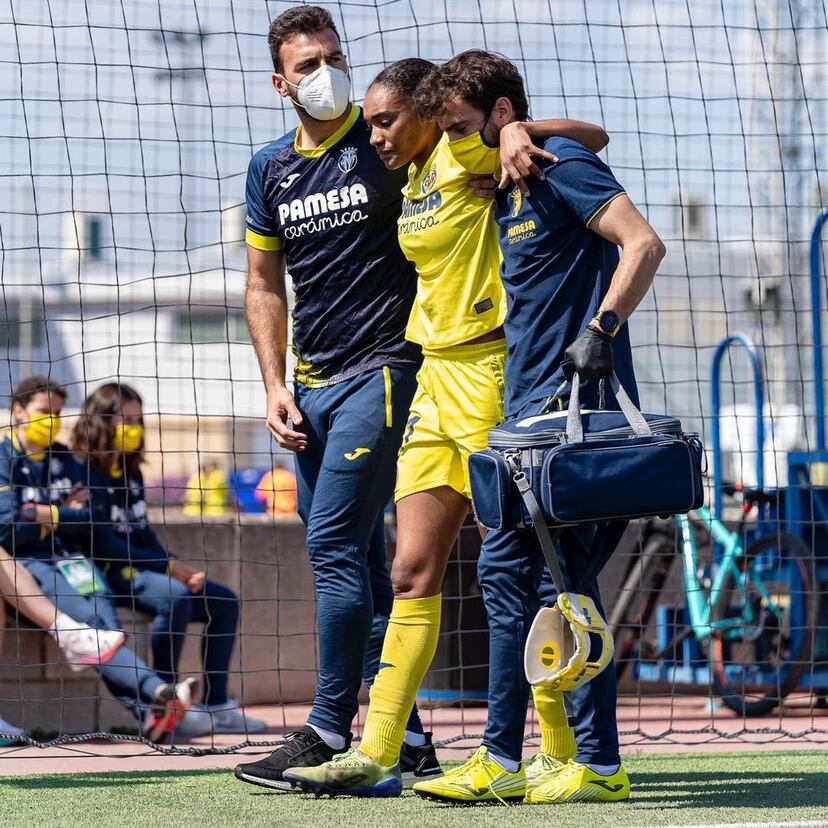 In sport, as in life, illusions share parallel realities. Successes and failures coexist, moments of maximum joy and infinite sadness. Salma Paralluelo now knows it first hand, with a knee injury that suddenly takes away several dreams, including attending the Tokyo Games this summer.
Paralluello proposed from a very young age that she wanted to be a footballer and an athlete. He wanted it all and he is getting it all. For this reason, she combines her hobbies: she is a Villarreal player and the top scorer in Segunda, with 15 goals; He is also an athlete at Playas de Castellón, and an international in both sports. At 17, the double effort on the tartan and on the grass is procuring her income in both disciplines in which she has reaped great successes: she was the U-17 World Champion in soccer and also achieved several Spanish and European records, in addition of two golds in the 400 meters hurdles, his specialty, and the Medley relay at the European Youth Olympic Festival. She is one of the most outstanding U-20 athletes in the international concert and was recently distinguished with the Princess Leonor Award for the best athlete under 18 years of age at the National Sports Awards. An award for your redoubled effort.
But sport has its dark and bitter side. Last Saturday, at noon, Paralluelo enjoyed one of his passions on the synthetic grass of one of the fields of the Miralcamp sports city, in Vila-real. His team, Villarreal, was gambling against Granada for the possibility of being promoted to the First Iberdrola in the absence of four days. In the 17th minute, Salma, with her speed, won the back of the Granada defense and, with a left foot, scored the goal of the yellow tie. The celebration, the individual and collective euphoria, did not last long. Minutes later, Salma, in an attempt to protect the ball, made a bad gesture by supporting her left leg and her knee gave way. The gestures of pain of the Aragonese foreshadowed a drama. On Monday afternoon the worst suspicions were confirmed: rupture of the anterior cruciate ligament in the left knee. Six months will be the minimum period to be able to practice your two hobbies professionally.
"I had a dream when I was little, when they asked me I said I wanted to be the best athlete and the best footballer in the world, and this complicated step is not going to take away that dream," Paralluelo laments and encourages herself at the same time, that in a few days he had to face two beautiful challenges: the promotion to the First Iberdrola of Villarreal, which can be produced mathematically next Saturday; and, in two weeks, the World 4×400 Relay in Poland. In the medium term, it will also be deprived of playing the European and the U-20 World Athletics Championships and the first phase of the European Under-19 Football Championship. Also, say goodbye to all your options and yearnings to participate in the Tokyo Olympics. "It is a very hard time, but he is already discounting the days to come back stronger," confesses Félix Laguna, his coach on the athletics tracks.
"I cannot be more proud of you, the player you are becoming, having you as a player is one of the greatest fortunes. We all have a lot to learn from you, your values ​​and human qualities. We'll be waiting for you. You are unique. Always in my team ", Sara Monforte, her coach at Villarreal women, has declared on social networks. Her club mates at Villarreal who are experiencing or have suffered the same injury, such as Iborra, Alberto Moreno or Asenjo, as well as Santi Cazorla, from Qatar, have also expressed their support for the footballer-athlete.
"Now I think that I will not be able to bear it, I feel collapsed, angry with the world. Everything was going so well, everything was so perfect that falling from so high costs me a lot. Not everything is good in sports as in life itself, and yes, I know the theory, but how difficult it is for me to assimilate it, "he wrote on his social networks. And he continued: "It is part of my destiny, part of my evolution, and it will also form part of my maturity process, sport now takes me away, but above all it gives me and has given me unique and beautiful moments, that for them, for to enjoy them again, I will try to make going through this not so much. This will make me stronger, it will make me grow and it will give me even more strength and motivation to continue working for my dreams ".
"I know I am not well, but I will be fine, nothing is going to take away my blind faith that I have to fulfill my dreams, I have worked a lot and I still have to work twice as hard, but I will not stop working until I achieve them." Mature reflection of a doubly champion teenager whose injury slows down the pace of her parallel career as an athlete and footballer.
You can follow SPORTS in Facebook Y Twitter, or sign up here to receive our weekly newsletter.