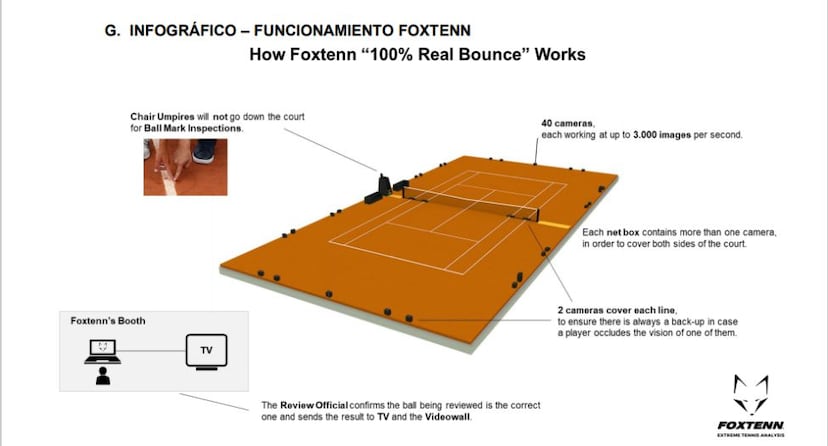 The scene is recurrent these days in the headquarters of the Caja Mágica. Faced with a doubtful ball, the tennis player complains and the referee, instead of descending from the chair to check the bounce of the ball, just press a button. Immediately, the notice reaches a production booth, located at the top of one of the funds, and there the operators certify whether it has entered or not. How? Through a sophisticated system of 40 cameras, installed at the foot of the runway and synchronized with lasers that process the information and refine the decision.
The system, devised by the Barcelona-based company Foxtenn, has made the Mutua Madrid Open the first Masters 1000 tournament on clay to use the electronic review system. It was previously used in the 2018 Godó and this season it was also used in the Rio de Janeiro tournament, as well as in Charleston. In total, according to Foxtenn, it is present in more than 30 ATP, WTA and ITF tournaments. With the Electronic Line Calling, the chair umpire does not have to go down to the court every time a player claims it, since it substitutes the inspection of the ball's footprint.
Unlike other traditional methods, the ELC It is not based on estimates or projections, but instead processes the image of the actual bounce of the ball and determines whether or not it has passed the line. Specifically, it integrates 40 high-speed cameras that capture up to 3,000 images per second, compared to 150 from systems such as the Hawkeye (Hawke eye). These cameras are located at court level, at the end of each line, and are synchronized with laser scanners to immediately send the signal to a control center where the boat is monitored and the referee is advised.
Foxtenn, which will also be present at the Federation Cup Finals, can also be used to process statistics during matches, in real time. In fact, in the 2019 Davis Cup edition, also held in the Caja Mágica, the team captains had access to the data through a tablet.
You can follow SPORTS in Facebook Y Twitter, or sign up here to receive our weekly newsletter.